AVS Chrome Door Lever Covers
A set of chrome door lever covers
Constructed from strong ABS material
Deep chrome plating
Custom-made for perfect fit
No-drill installation
Limited lifetime warranty
Proudly made in the USA
Get Easy-to-Install Parts. No Hassle.
Choose one of the following options:
Sorry. There are no products matching your selection. Try reseting filters or choose different options
The Lowest Price Perfect Fit Guarantee
Our #1 value is customer service.
We believe in doing right by our customers, no matter what it takes.
In keeping with that, we offer a "perfect fit guarantee" that ensures your satisfaction on 3 levels: low price, free shipping, and perfect fitment.
- Alan Marek, Founder of PartCatalog.com
The Lowest Price Anywhere--Guaranteed
At PartCatalog, we'll beat any competing vendor's price. And we're so confident in our rock-bottom prices that we'll refund the difference if you find a lower price elsewhere.
Free Shipping Both Ways
Our "free shipping both ways" policy means that returns and orders ship free of charge. When you place an order, you pay only the list price and any applicable taxes. We cover the shipping to save you money and ensure timely delivery.
100% Guaranteed to Fit
In the highly unlikely event of a fitment problem, we'll return your purchase at no cost to you. We pay return shipping on all orders, so it won't cost you a penny to send back a defective part.
Enhance your vehicle's appeal with added protection using these great chrome door lever covers
Highly durable, thanks to the strong ABS construction
Has a long-lasting shine due to the deep chrome plating
Custom-made to ensure it fits precisely
Easy to install as you wont have to drill
Backed by a limited lifetime warranty, ascertaining high-quality of materials and perfect workmanship
Proudly crafted in the USA by experts, using authentic materials
Chrome Door Lever Covers
AVS Chrome Door Lever Cover is the best way to enhance the appearance of your vehicle without having to break the bank. It helps you achieve a customized sleek appearance while complementing the existing chrome trim.
Durable ABS Construction
The chromed ABS material ensures your door lever covers last longer than any ordinary covers. The ABS thermoplastic is resistant to impact, heat and chemical effects.
Long-lasting Shine
Enjoy a long-lasting shine, courtesy of the deep chrome plating. They give your vehicle an upscale look and make you the envy of your peers. Other than the classy shine, this chrome finish also ensures long-lasting durability.
Precise Fit
These great lever covers are custom-made to ensure they are a perfect fit, regardless of the make, model or year of your vehicle. There's no further modification required before installation.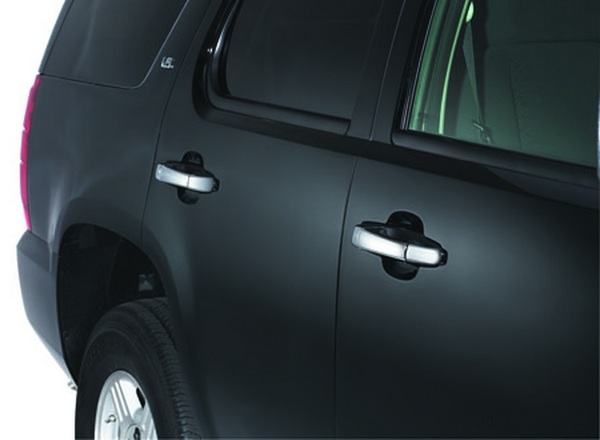 Easy To Install
All you need to have your AVS Chrome Door Lever Covers functioning is a 3M Automotive Tape. You need not to worry about drilling or any complex tools when installing them.
Limited lifetime warranty
The manufacturer has absolute confidence in these lever covers, and has backed them by a limited lifetime warranty. This warranty ascertains that they work great, and that they are free of any workmanship or material defects.
Proudly made in the USA
These chrome door lever covers, just like other AVS products, are proudly crafted in the USA. They are precision-engineered using the finest authentic materials.
Sorry, there are no videos available.
This product comes with the manufacturer's limited lifetime warranty.
The following part numbers are available in this product line:
685401, 685402, 685403, 685406, 685408
To purchase this product for your vehicle, please select the Year, Make and Model of your vehicle at the top of this page.
Chevrolet (1999-2014)
Avalanche 1500, Avalanche 2500, Silverado 1500, Silverado 1500 Classic, Silverado 1500 HD, Silverado 1500 HD Classic, Silverado 2500, Silverado 2500 HD, Silverado 2500 HD Classic, Silverado 3500, Silverado 3500 Classic, Silverado 3500 HD, Suburban 1500, Suburban 2500, Tahoe
Ford (2004-2014)
F-150
GMC (1999-2014)
Sierra 1500, Sierra 1500 Classic, Sierra 1500 HD, Sierra 1500 HD Classic, Sierra 2500, Sierra 2500 HD, Sierra 2500 HD Classic, Sierra 3500, Sierra 3500 Classic, Sierra 3500 HD, Yukon, Yukon XL 1500, Yukon XL 2500