Corsa Sport To Xtreme Resonator Delete Kit
Aggressive sound on acceleration
X-pipe design
Replacement for stock resonator
Easy bolt-on installation
Stainless steel construction
Manufacturer's warranty
Made in the USA
Get Easy-to-Install Parts. No Hassle.
Choose one of the following options:
Sorry. There are no products matching your selection. Try reseting filters or choose different options
The Lowest Price Perfect Fit Guarantee
Our #1 value is customer service.
We believe in doing right by our customers, no matter what it takes.
In keeping with that, we offer a "perfect fit guarantee" that ensures your satisfaction on 3 levels: low price, free shipping, and perfect fitment.
- Alan Marek, Founder of PartCatalog.com
The Lowest Price Anywhere--Guaranteed
At PartCatalog, we'll beat any competing vendor's price. And we're so confident in our rock-bottom prices that we'll refund the difference if you find a lower price elsewhere.
Free Shipping Both Ways
Our "free shipping both ways" policy means that returns and orders ship free of charge. When you place an order, you pay only the list price and any applicable taxes. We cover the shipping to save you money and ensure timely delivery.
100% Guaranteed to Fit
In the highly unlikely event of a fitment problem, we'll return your purchase at no cost to you. We pay return shipping on all orders, so it won't cost you a penny to send back a defective part.
Produces an aggressive and bold exterior tone on acceleration
X-pipe design to increase exhaust flow and optimize engine performance
Replacement for stock resonator to improve your vehicle's sound level
Easy bolt-on installation with no drilling
Stainless steel construction for strength and toughness
Manufacturer's warranty and guarantee of quality
Made in the USA with local labor and materials
Aggressive Sound On Acceleration
The Corsa sport to extreme deleter kit produces an aggressive sound on acceleration. It essentially acts as a second muffler that adds a raspy tone to your vehicle. It cancels out harsh noises and blends exhaust tones to a bold roar. If you are a racetrack fan, go for it.
Improved Horsepower and Performance
The resonator features the X-pipe design that increases exhaust flow by providing a smooth path without deterrents. This boosts torque and improves its horsepower for better vehicle performance.
Replacement for Stock Resonator
If your vehicle has a stock resonator, you may want to consider replacing it with this one. It has excellent noise-cancelling effects that you may not be able to achieve with the latter.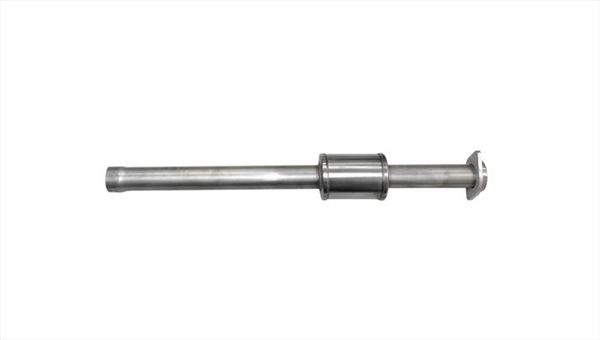 Easy Bolt-On Installation
The Corsa sport to extreme delete kit is easy to install. It is an effortless bolt-on procedure with no drilling required. The purchase includes all the hardware you will need for installation and detailed instructions.
Stainless Steel Construction
The components are made with tough stainless steel that is resistant to corrosion and rust. It will maintain its strength and value for years after use.
Limited Lifetime Warranty
Corsa provides a limited lifetime warranty for every purchase of the resonator kit. The company guarantees that it will perform without failing and will stay in great quality even after years of use. Feel free to contact PartCatalog for any assistance with your warranty.
Made in the USA
The Corsa sport to extreme resonator kit is made in the USA. The company creates thousands of jobs for Americans every year and uses locally produced materials to support American businesses.
Sorry, there are no videos available.
This product comes with the manufacturer's limited lifetime warranty.
To purchase this product for your vehicle, please select the Year, Make and Model of your vehicle at the top of this page.