2009-2017 Nissan 370Z Car Door Molding Set (5 Painted Styles)
Custom made for your 2009-2017 Nissan 370Z
Several painted custom styles to choose from
** Different size and shape than 370Z factory moldings **
Made & painted to order, most orders ship in 3 business days
4 piece door set, 2 pieces per side
Get Easy-to-Install Parts. No Hassle.
Choose one of the following options:
Sorry. There are no products matching your selection. Try reseting filters or choose different options
The Lowest Price Perfect Fit Guarantee
Our #1 value is customer service.
We believe in doing right by our customers, no matter what it takes.
In keeping with that, we offer a "perfect fit guarantee" that ensures your satisfaction on 3 levels: low price, free shipping, and perfect fitment.
- Alan Marek, Founder of PartCatalog.com
The Lowest Price Anywhere--Guaranteed
At PartCatalog, we'll beat any competing vendor's price. And we're so confident in our rock-bottom prices that we'll refund the difference if you find a lower price elsewhere.
Free Shipping Both Ways
Our "free shipping both ways" policy means that returns and orders ship free of charge. When you place an order, you pay only the list price and any applicable taxes. We cover the shipping to save you money and ensure timely delivery.
100% Guaranteed to Fit
In the highly unlikely event of a fitment problem, we'll return your purchase at no cost to you. We pay return shipping on all orders, so it won't cost you a penny to send back a defective part.
Custom painted car door molding set
Made to order for your 2009-2017 Nissan 370Z
Protects your doors from door dings and paint scratches
Most orders ship in 3-4 business days
Professional painter uses 2-3 coats paint plus 1-2 coats clear coat
4 piece door set, 2 pieces per side. For 2-door vehicles, the rear piece goes on the panel behind the door
** Different size and shape than 370Z factory moldings **
Available For:
Years: 2017, 2016, 2015, 2014, 2013, 2012, 2011, 2010, 2009
Body Styles: Convertible, Coupe
Submodels: 40th Anniversary Edition, Base, Nismo, Nismo Tech, Sport, Sport Tech, Touring, Touring Sport
Note: These moldings are made to order specifically painted for your application. As a result we cannot offer any returns or refunds on these custom made-to-order moldings. If there is an issue with your product (shipping damage, etc), we can exchange only.
Nissan 370Z Photos: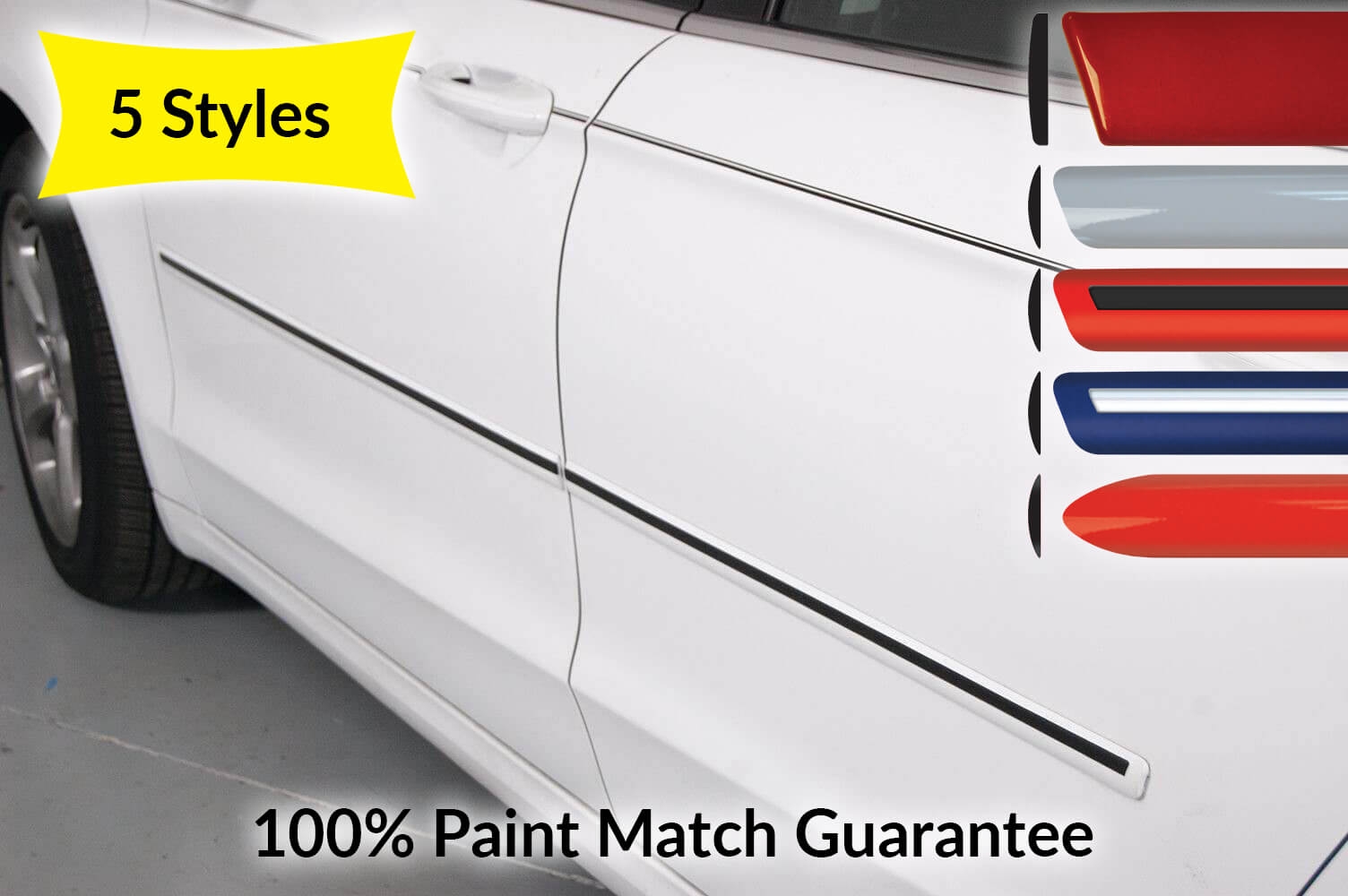 Custom Door Molding for - Nissan 370Z

Custom Door Molding for - Nissan 370Z

Custom Door Molding for - Nissan 370Z

Custom Door Molding for - Nissan 370Z

Custom Door Molding for - Nissan 370Z
Sorry, there are no videos available.
The following part numbers are available in this product line:
MD12AT-PP MD12AT-PP-4115 MD12AT-PP-4466 MD12AT-PP-4804 MD12AT-PP-5119 MD12AT-PP-5450 MD12AT-PP-5777 MD12AT-WB MD12AT-WB-4115 MD12AT-WB-4466 MD12AT-WB-4804 MD12AT-WB-5119 MD12AT-WB-5450 MD12AT-WB-5777 MD12AT-WC MD12AT-WC-4115 MD12AT-WC-4466 MD12AT-WC-4804 MD12AT-WC-5119 MD12AT-WC-5450 MD12AT-WC-5777 MD12BT-PP MD12BT-PP-4115 MD12BT-PP-4466 MD12BT-PP-4804 MD12BT-PP-5119 MD12BT-PP-5450 MD12BT-PP-5777 MD22AT-PP MD22AT-PP-4115 MD22AT-PP-4466 MD22AT-PP-4804 MD22AT-PP-5119 MD22AT-PP-5450 MD22AT-PP-5777
To purchase this product for your vehicle, please select the Year, Make and Model of your vehicle at the top of this page.