3D MAXpider Kagu Rubber Floor Mats
The most elegant looking all-weather floor mats
Designed for each vehicle, fits along the contours with a raised edge
Super easy to clean with a water hose
All-weather, lightweight material made of rubber and velcro-like backing
Get Easy-to-Install Parts. No Hassle.
Choose one of the following options:
Sorry. There are no products matching your selection. Try reseting filters or choose different options
The Lowest Price Perfect Fit Guarantee
Our #1 value is customer service.
We believe in doing right by our customers, no matter what it takes.
In keeping with that, we offer a "perfect fit guarantee" that ensures your satisfaction on 3 levels: low price, free shipping, and perfect fitment.
- Alan Marek, Founder of PartCatalog.com
The Lowest Price Anywhere--Guaranteed
At PartCatalog, we'll beat any competing vendor's price. And we're so confident in our rock-bottom prices that we'll refund the difference if you find a lower price elsewhere.
Free Shipping Both Ways
Our "free shipping both ways" policy means that returns and orders ship free of charge. When you place an order, you pay only the list price and any applicable taxes. We cover the shipping to save you money and ensure timely delivery.
100% Guaranteed to Fit
In the highly unlikely event of a fitment problem, we'll return your purchase at no cost to you. We pay return shipping on all orders, so it won't cost you a penny to send back a defective part.
Fits like a glove, floor liners have complete edge-to-edge footwell coverage
All-weather protection, built to guard against snow, mud, rain & spills
Stays in place, velcro-like backing causes it not to shift around
Easy to clean, spend more time with the important things in life
Works like a tray, spills & dirt will stay on the mat when you take them out
Match your interior with 3 color choices: black, gray or tan
Lightweight but highly durable, floor liners blend in with your interior
Elegant look, made possible by the carbon fiber-like print design
Warranty included, your purchase is protected for 3 years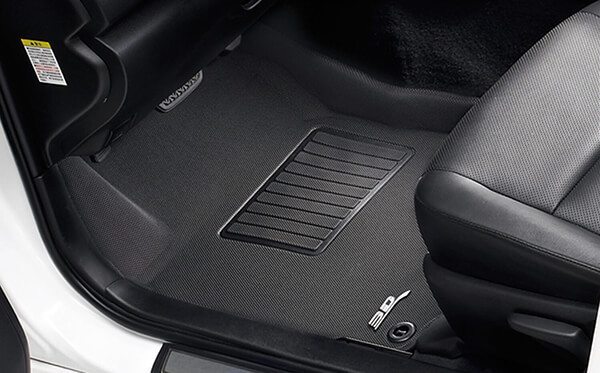 Fits like a glove
Your floor mats are made for your vehicle, not anyone else's. The MAXpider rubber floor mats fit the contours of your vehicle, thanks to its precise engineering. This means you'll have full foot-well protection.
All-weather protection
You're guarded against snow, mud, rain, spills or anything else life throws your way – including kids & dogs. Coming back from a muddy hike, or walking through a slushy/snowy mess in the winters? Not a problem – that's what these floor mats were made for.
Stays in place
Once they are installed, these guys aren't moving. Between a combination of precise fitment, a strong velcro-like backing, and retention devices (if your vehicle is equipped with anchors), you don't need to worry about these moving around on you.
Easy to clean
Just hose them off, or wipe them down with a rag. Seriously, that's it! The materials used in making this mat make cleaning a breeze. If you have a stubborn spill, or something sticky on the mat, just use your standard car wash detergent.
Works like a tray
Your spills will stay on the mat when you take these MAXpider rubber floor mats out of your car. Since it works like a tray, you can take them out with one hand – they won't "flop" over, keeping your spills in place.
Match your interior
Black, gray or tan – it's your choice. We recommend black, which is the most popular color – by far. Black mats also look great in all interiors, including white, tan, gray, etc. The gray and tan colors are "medium" and will complement your interior colors, but may not be an exact match.
Lightweight & highly durable
You'll be pleasantly surprised when you unbox these and see how lightweight they are. But don't let that fool you – these are made to last as long as you own your vehicle. With the right materials, and multiple layers, smart engineering has produced a lightweight but highly durable floor mat.
Elegant, low profile look
Elegant and low profile look. It's difficult to describe these any other way. Not only are these a great option for luxury vehicles, they also look very good in all vehicles, including trucks. This is due to the low profile, lightweight design – it just flows with the rest of your interior.
Warranty included
Since you're purchasing from an authorized retailer, your MAXpider rubber floor mat purchase will come with the manufacturer's 3 year warranty. You will also get our post-purchase support & help, in the rare event that you need it.
Related Articles:
Sorry, there are no videos available.
This product comes with the manufacturer's 3 year warranty. The warranty excludes normal wear & tear as well as abuse, misuse and damage and any issues resulting from improper installation.
The following part numbers are available in this product line:
L1AC00021501, L1AC00911501, L1AD02911501, L1AD03121502, L1AD05511509, L1BC00221509, L1BC02501501, L1BC03221509, L1BM01721501, L1BM05021501, L1CH04201509, L1CH04811502, L1CH06231501, L1CH06801501, L1CY00121509, L1CY00221509, L1CY00311501, L1DG01721509, L1FA00311501, L1FA00601509, L1FR01611509, L1FR02111502, L1FR02121509, L1FR02611501, L1FR03511502, L1FR06611502, L1FR07011502, L1FR08021501, L1FR10621501, L1GM00701502, L1GM01001509, L1HD04121509, L1HD07331502, L1HD07421501, L1HY00811509, L1HY01711501, L1HY02421501, L1HY03321501, L1HY05211501, L1HY09121509, L1JP01011502, L1JP01111501, L1JP01501502, L1KA01411509, L1KA01721501, L1KA02011502, L1KA02021509, L1KA02621509, L1KA04001501, L1KA04611509, L1LR01511502, L1LR01801502, L1MB00821509, L1MB05701509, L1MN01301509, L1MZ01321501, L1MZ01711509, L1MZ03801509, L1MZ05501509, L1NS01801502, L1NS06101502, L1NS06301501, L1NS08401509, L1NS09201502, L1NS10001502, L1NS11411509, L1NS11421509, L1SB00411502, L1SB00421501, L1TL01711509, L1TY08501509, L1TY15101502, L1TY25521509, L1VV00311509, L1VV00421502, L1VV00711509, L1VV01511502, L1VV03521509, L1VW01511501, L1VW01511509, L1VW08401501, M1DG0051309, M1DG0261309, M1FR0561302, M1GM0211309, M1HD0571301, M1HY0181301, M1IN0171309, M1JG0121309, M1JP0021309, M1LR0071309, M1LX0511309, M1MN0061301, M1NS0311301, M1SA0001309, M1SB0061301, M1TY0511309, M1TY0761309, M1TY2381309, M1VW0851309
To purchase this product for your vehicle, please select the Year, Make and Model of your vehicle at the top of this page.
Acura
ILX, MDX, RDX, RLX, TL, TLX
Audi
A3, A3 Quattro, A3 Sportback e-tron, A4, A4 allroad, A4 Quattro, A5 Quattro, A5 Sportback, A6, A6 Quattro, A7 Quattro, A8 Quattro, Q3, Q3 Quattro, Q5, Q7, RS5, S3, S4, S5, S5 Sportback, S6, TT, TT Quattro
BMW
320i, 320i xDrive, 323i, 325i, 325xi, 328d, 328d xDrive, 328i, 328i GT xDrive, 328i xDrive, 328xi, 330e, 330i, 330i GT xDrive, 330xi, 335d, 335i, 335i GT xDrive, 335i xDrive, 335is, 335xi, 340i, 340i GT xDrive, 340i xDrive, 428i, 428i Gran Coupe, 428i xDrive Gran Coupe, 430i, 430i Gran Coupe, 430i xDrive Gran Coupe, 435i, 435i Gran Coupe, 435i xDrive Gran Coupe, 440i, 440i Gran Coupe, 440i xDrive Gran Coupe, 525i, 525xi, 528i, 528i xDrive, 528xi, 530i, 530xi, 535d, 535d xDrive, 535i, 535i GT, 535i GT xDrive, 535i xDrive, 535xi, 545i, 550i, 550i GT, 550i GT xDrive, 550i xDrive, 740e xDrive, 740i, 740i xDrive, 740Ld xDrive, 740Li, 740Li xDrive, 750i, 750i xDrive, 750Li, 750Li xDrive, 760Li, ActiveHybrid 5, M3, X1, X3, X4, X5, X6
Buick
Cascada, Enclave, Encore, Envision, LaCrosse, Lucerne, Regal, Verano
Cadillac
ATS, CTS, SRX, XT5, XTS
Chevrolet
Aveo, Aveo5, Camaro, Cobalt, Colorado, Corvette, Cruze, Cruze Limited, Equinox, HHR, Impala, Impala Limited, Malibu, Malibu Limited, Silverado 1500, Silverado 2500 HD, Silverado 3500 HD, Sonic, SS, Suburban, Suburban 1500, Suburban 2500, Suburban 3500 HD, Tahoe, Traverse, Trax, Volt
Chrysler
200, 300, Pacifica, Sebring
Dodge
Challenger, Charger, Dart, Durango, Grand Caravan, Journey, Ram 1500, Ram 2500, Ram 3500
Fiat
124 Spider, 500, 500L, 500X
Ford
C-Max, Edge, Escape, Expedition, Explorer, F-150, F-250 Super Duty, F-350 Super Duty, Fiesta, Flex, Focus, Fusion, Mustang, Ranger, Taurus
Genesis
G80
GMC
Acadia, Acadia Limited, Canyon, Sierra 1500, Sierra 2500 HD, Sierra 3500 HD, Terrain, Yukon, Yukon XL, Yukon XL 1500, Yukon XL 2500
Honda
Accord, Civic, CR-V, CR-Z, Crosstour, Fit, HR-V, Insight, Odyssey, Pilot, Ridgeline
Hummer
H2, H3 Hyundai Accent, Azera, Elantra, Elantra Coupe, Elantra GT, Genesis Coupe, Ioniq, Santa Fe, Santa Fe Sport, Sonata, Tucson, Veloster, Veracruz
Infiniti
EX35, FX35, G35, G37, JX35, M35, M37, Q40, Q50, Q60, Q70, Q70L, QX30, QX50, QX56, QX60, QX70, QX80
Jaguar
XE
Jeep
Cherokee, Commander, Compass, Grand Cherokee, Renegade, Wrangler, Wrangler JK
Kia
Forte, Optima, Rio, Sorento, Soul, Sportage
Land Rover
LR2, LR4, Range Rover, Range Rover Evoque, Range Rover Sport
Lexus
CT200h, ES300h, ES350, GS F, GS Turbo, GS200t, GS300, GS350, GS450h, GX460, IS F, IS Turbo, IS200t, IS250, IS300, IS350, LS460, LS600h, LX570, NX200t, NX300, NX300h, RX330, RX350, RX450h
Lincoln
MKC, MKZ, Navigator
Mazda
3, 3 Sport, 5, 6, CX-3, CX-5, CX-7, CX-9, MX-5 Miata, Tribute
Mercedes-Benz
C230, C250, C300, C350, C350e, C43 AMG, C450 AMG, C63 AMG, C63 AMG S, CLA250, CLA45 AMG, CLK350, E300, E350, E400, E43 AMG, E550, E63 AMG, GL320, GL350, GL450, GL550, GL63 AMG, GLA250, GLA45 AMG, GLC300, GLC43 AMG, GLC63, GLC63 S, GLE300d, GLE350, GLE350d, GLE400, GLE43 AMG, GLE450 AMG, GLE550, GLE550e, GLE63 AMG, GLE63 AMG S, GLK250, GLK350, GLS450, GLS550, GLS63 AMG, ML250, ML320, ML350, ML400, ML450, ML550, ML63 AMG, R320, R350, R500, R63 AMG, S350, S400, S550, S550e, S560, S600, S63 AMG, S65 AMG, SL400, SL450, SL550, SL63 AMG, SL65 AMG, SLC300, SLC43 AMG, SLK250, SLK280, SLK300, SLK350, SLK55 AMG, SLS AMG
Mini Cooper
Cooper, Cooper Clubman, Cooper Countryman, Cooper Paceman
Mitsubishi
Mirage, Outlander, Outlander Sport
Nissan
370Z, Altima, Armada, Cube, Frontier, Juke, Leaf, Maxima, Murano, Pathfinder, Rogue, Rogue Select, Rogue Sport, Sentra, Titan, Titan XD, Versa Note, Xterra
Pontiac
Vibe
Porsche
911, Cayenne, Macan, Panamera
Ram
1500, 2500, 3500
Saab
9-3
Scion
FR-S, iA, iM, tC, xB, xD
Subaru
Crosstrek, Forester, Impreza, Legacy, Outback, WRX, WRX STI, XV Crosstrek
Tesla
3, S, X
Toyota
4Runner, Avalon, C-HR, Camry, Corolla, Corolla iM, Highlander, Land Cruiser, Matrix, Prius, Prius C, Prius Plug-In, Prius Prime, Prius V, RAV4, Sequoia, Sienna, Tacoma, Tundra, Venza, Yaris, Yaris iA
Volkswagen
Beetle, Golf, Jetta, Jetta City, Passat, Passat CC, Tiguan, Touareg
Volvo
C30, S40, S60, S80, S90, V60, V90, XC60, XC90
Reviews From Verified Customers
2013 nissan rogue
They are better than the pic.. They fit like a glove. Cant ask for any better.. Very Happy.. Thank You [Ill be back ]
2014 Silverado 1500 crew cab
They seem flimsy compared to weather tech and wade
surfit. Haven't had them long enough to give a good review.
2012 Honda Ridgeline
Less expensive than WeatherTech so better. Fits all areas like a glove. Looks good. Money well spent. I would recommend this product to anyone.
2014 Toyota RAV4
Hands down the best car mats I've ever used. Perfect for tough winters like the one's here in Wisconsin. The mats fit like a glove, stay locked in position, and are truly water tight. The quality of the mats is fantastic, and they look great, too.
2013 buick encore
absolutely the best mats on the market perfect fit and have a carbon fiber look rate them a 5 out of 5 all day long/ better than weathertech which droop on the sides thanks for upping the game
2011 Hyundai Genesis Coupe
Great product. Very light for what they are, good carpeted bottom allows the mats to easily stay in place. Rubber layer on top is waterproof and is easy to wipe off, but maintains grip when wet. Also, mats are a perfect fit for my vehicle -and competitively priced as compared to similar products!
2008 Toyota Avalon
These 3d floor mats far exceeded my expectations. The fit is absolutely perfect front and back and the tan color is a near perfect match to car interior. They seem to be very high quality and will wear well. They were expensive but we are very pleased overall. I would recommend to anyone.
2014 Hyundai Veloster Turbo
This product is way better than Weather Tech as it is not made of hard plastic which has warping problems and fits the floor precisiely unlike the weather tech which tend to sit higher than the sides and can be slippery when wet. I absolutely feel I spent less for a better quality product . I cannot find any cons with this product.