Do you love feeling organized? Does the slightest hint of mess put you off?
Or maybe you're the kind of person who leaves destruction in their trail.
Whichever it is, a mess is a big deal. It can drag down your mood or productivity during the day. Plus, it'll always find a way of slipping into every other area of your life.
So, how are things inside your vehicle?
Your pickup truck shouldn't have to look dingy, bland, and boring just because you've mainly purposed it for work.
There's a way you can keep all your tools safe and organized in your truck.
Even better, they all get tucked away neatly in a box under your seat.
So, whether you're a busy bee always carrying tools around or you feel the need to be weather-ready with coats and sweatshirts, Husky under seat storage has you covered.
PartCatalog shines a light on how this Husky storage compartment can give you ultimate convenience and the features that make it possible.
Here's what you stand to enjoy by installing this storage box in your vehicle:
Safety for You, Your Truck, and Your Valuables
Think of those objects lying around on your floor, mats, or back seat. It may not seem like a big deal.
But isn't there the slightest probability that those items can roll around or steal your attention while driving?
Husky under seat storage can save you a huge accident risk. It tucks all those items away so that you can focus on the wheel.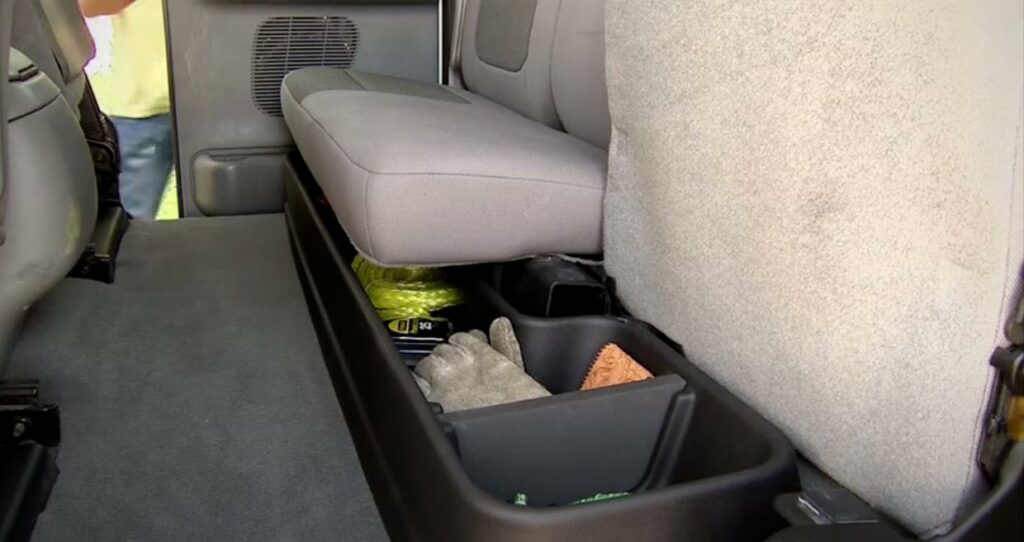 But that's not all.
Sharp tools and equipment can create holes in your carpet and mats or scratch your floor. This storage box takes care of that.
You may be lucky to have expensive work tools or off-road valuables. But what if someone is eyeing them?
Your storage box can secure them from thieves.
Material Quality, Strength, and Durability
A storage box isn't just about getting organized. It should be durable to keep you going for years and be worth your investment.
Husky under seat storage is fabricated using polyethylene—a heavy-duty co-extruded material. It's highly durable and can be 100% recycled.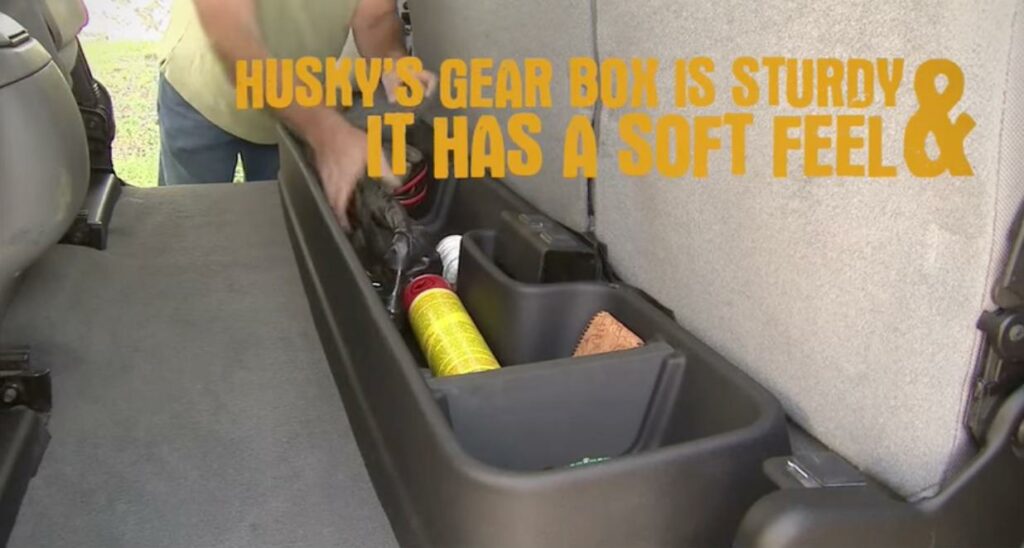 Designed and made in the USA, its production is nothing short of state-of-the-art technology and expert workmanship. It uses locally manufactured materials.
Its interior surfaces are non-skid. They offer traction to the items within to keep them safe from damage.
Non-slip rough outer surfaces further help reduce the noise and movement of the box, which extends its lifespan.
The high-density material gives it an outer shell that's impact and chemical resistant. Your items are spared from corrosives and damaging elements.
Even in extreme temperatures, your storage box is free from warping, cracking, fading, odor, and breaking.
This box provides ultimate safety, and it keeps your truck well-organized.
Spacious Storage Compartment
Husky under seat storage has multiple compartments. These are separated by detachable dividers so you can customize your compartments as you deem fit.
Be it jumper cables, safety gear, fishing rods, flashlights, batteries, clothes, or medical kits, you have the full freedom to organize your essentials as neatly and safely as you like.
If you're loading large cargo, you can get rid of the dividers and let the load sit comfortably in the box.
These dividers restrain your valuables so that they don't shift—even on bumpy roads.
Passenger Comfort and Aesthetics
You may be wondering already what some large box could do to your back seat's elevation.
Well, Husky under seat storage is designed to fit perfectly under the rear seat of your cab. The height and size are just right, and your seat won't be moved at all.
The storage is inconspicuous once you lower your seat down. Someone might think it's part of the back seat design. It also doesn't compromise the comfortable footing of the passengers, and the air outlet mechanism will still work perfectly well.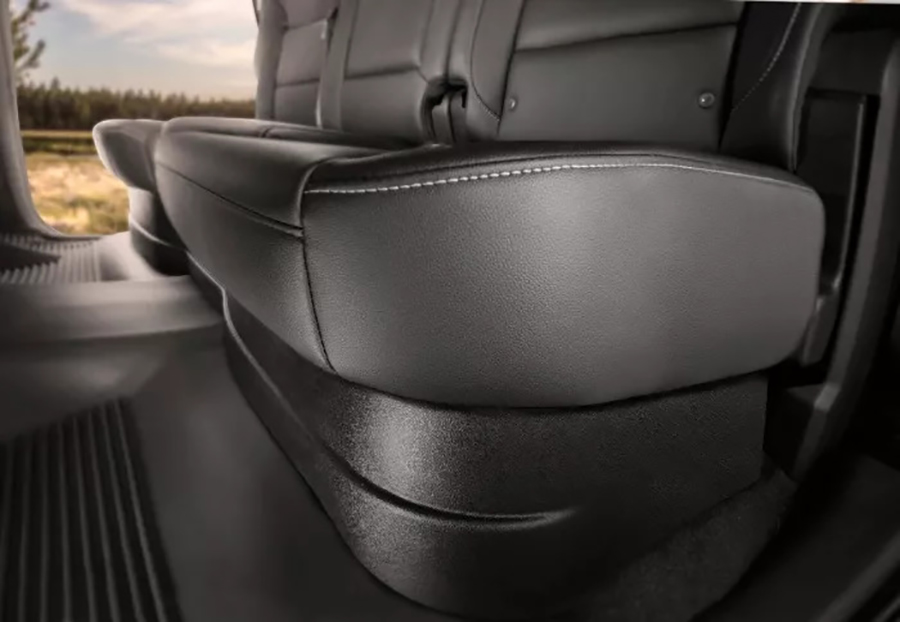 Don't fret about it not blending with your interior. Husky's under seat storage comes in black, has a soft-textured finish, and boasts a sleek factory look. It agrees with almost every interior and leaves your truck looking neat and tidy.
Easy to Install and Remove
Installation of Husky under seat storage is a one-man job. In about 15 minutes, you're all set. It doesn't require drilling or chemical applications to set it in place.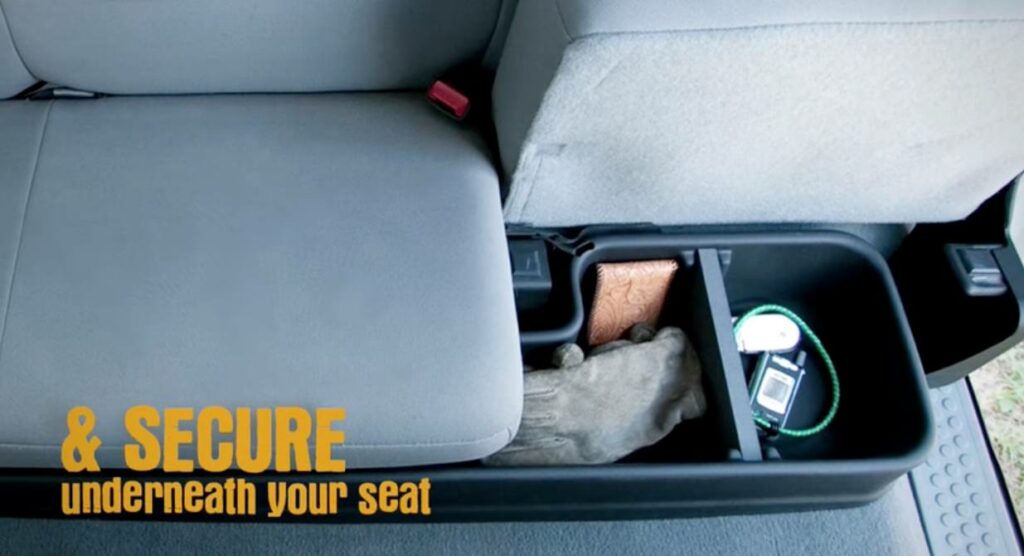 You simply lift the back seat, and your box mounts right under it.
There's a screw on your back seat side in line with the driver's side—the one that's used to hold the tool kit (tire iron hardware kit).
The Husky storage box has a screw hole at the bottom. Remove the tool kit and mount your box in place, making sure the screw goes through the storage box hole. Re-install the tool kit and attach the plastic nut back onto the screw. Your box should be firmly secured.
You may also have to remove the jack pouch before installation.
For removal, you can access the storage bin easily by lifting the back seat, unscrewing it, and pulling it out.
Versatility
You don't have to forgo your outdoor adventures and hobbies.
Whether you enjoy fishing, camping, or hunting, there's a safe space for your necessities.
If you're a handyman who's always hauling minor repair and maintenance tools around, this is the kind of stash you don't want missing in your truck.
Regardless of what activity you enjoy, having your tools and cargo in your storage makes them organized and easily accessible.
If your state or local laws allow, this is the safest way to keep your firearms and rifles out of reach of others.
Limited Lifetime Warranty
Backed by a lifetime warranty, this can only mean one thing—it'll serve you years as you're guaranteed full security.
It also means that workmanship, material, and design defects are slim to none.
You can get your guaranteed Husky under seat storage via a safe, hassle-free, and fast order and shipping from PartCatalog. Simply check if they have your vehicle model and year. Narrow down your options using filters to grab your anticipated storage box.
PartCatalog is a Texas-based company with ten years of experience in selling vehicle spare parts.
Here's what you can expect when getting the Husky GearBox Under Seat Storage:
| | |
| --- | --- |
| Feature | Description |
| Compartments | 1-3 |
| Material | Polyethylene |
| Location | Under second-row seats |
| Body type | Crew cab pickup truck |
| Lockable | No |
| Price | $155–$177 |
Frequently Asked Questions