Think about it. We all have moments on the road where we regret ever buying a car.
From an unruly driver splashing puddle water on your windows, to driving on a dusty road that leaves your car covered in grime.
Dreadful indeed.
The good news is, driving doesn't have to be a messy experience. There are car parts designed to keep dirt from your car's interior. Window deflectors are such examples.
A deflector keeps dirt, rain, snow, and dust from entering your car. In addition, it regulates your car's interior temperature by promoting fresh air circulation.
Let's say you've settled for an in-channel window deflector. How do you go about choosing one?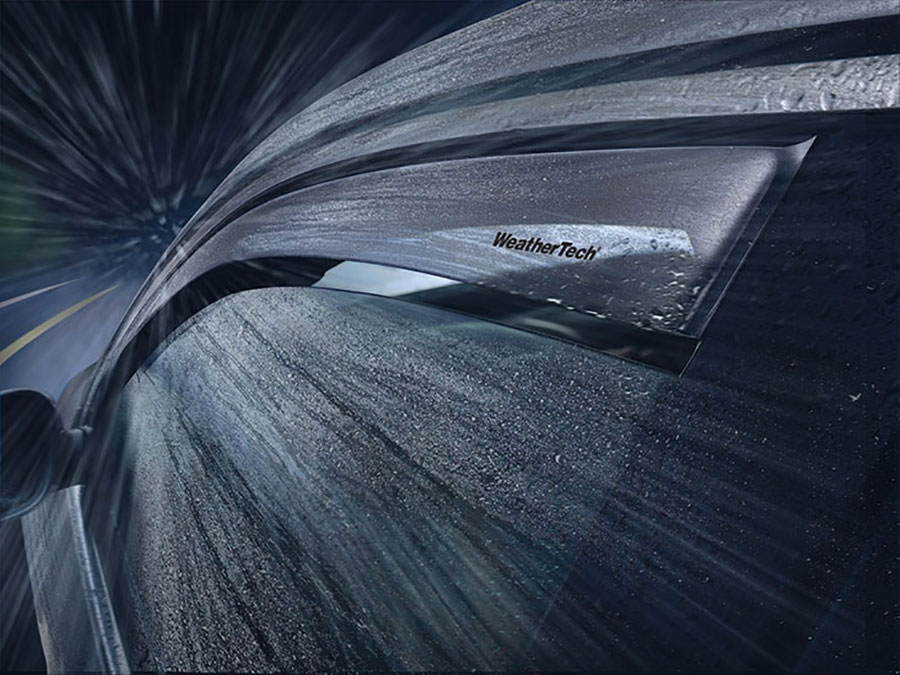 Feature 1 – OEM Compatibility and Specifications
OEM stands for original equipment manufacturer. In the automotive industry, car part production is no longer limited to the vehicle's manufacturers.
Many manufacturers outsource services to companies that specialize in car part production. This means that often times, the aftermarket version from a leading manufacturer will be the same as the OEM version. It will just have a different label, and often a cheaper price.
When looking for side window vent visors, opt for ones with OEM compatibility and specifications that matches your car's specifications. These will fit perfectly in the car's window channel.
These offer many benefits that include:
Warranty coverage. Including support from the manufacturer against materials and defects.
High-quality design. Manufacturers make them similar to the original car parts.
Durability. OEM-like in-channel vent visors are sturdy and will serve you for many years.
Ease of availability. OEM-like window deflectors are often made by the manufacturers that make the official OEM versions.
Feature 2 – Optically Transparent Glazing Material
When looking for in-channel vent visors, only buy from manufacturers who use approved levels of glazing material.
The Department of Transport (DOT) in the U.S.A. has highlighted specific guidelines in using glazing materials for vehicles.
The glazing materials used must undergo visual and optical tests to guarantee driver visibility safety. Required glazing levels for safe visibility are 70% or more, to increase your field of vision when driving.
Feature 3 – What Are Window Deflectors Made Of?
When choosing in-channel vent visors, look for those made from cast acrylic plastic.
Cast acrylic has many benefits that make it suitable for vent visors. These include:
High durability. Cast acrylic can be made into large widths for best coverage. Many window deflectors have a width of between 2 and 3 inches that makes them durable.
A high resistance to scratching, chipping, and melting.
A lightweight design. Cast acrylic side window deflectors are lightweight: they minimize pressure on the windows and frames.
Ease of bending and shaping that makes it flexible when installing window deflectors. You can adjust, twist, and bend them to fit the window channel.
A high resistance to solvents. For this reason, elements like moisture, dust, mud, and any debris can't seep into your in-channel vent visors. Cleaning becomes easy.
Feature 4 – Sleek Aerodynamic Styling
Aerodynamics is how air interacts with moving objects. When driving, your car comes into contact with the force of the air over and around it.
If driving with your windows closed, the air has little to no effect on you. Open windows, however, draw fast-moving air inside. As a result, the air creates:
Wind drag, causing you to drive slower. Slow driving increases fuel consumption as your car's engine works harder to burn more fuel.
Deep wind noises that can irritate you.
To counteract the wind drag and deep wind noises, car manufacturers design aerodynamic devices such as side window deflectors that prevent drag.
For this to work, the window deflectors have a machine-cut sleek or streamlined appearance that:
Fit your window's channel for maximum functionality.
Allow free flow of air, causing maximum fresh air enjoyment as you drive. They also minimize the interior heat of the car when parked.
Guard against harsh weather elements like rain, snow, dust, sun, and road debris.
Resist airflow by redirecting air over the sides and windows of your car and curving the airflow in an arc to minimize too much entry into the car.
Reduce interior wind noise in the car as you drive.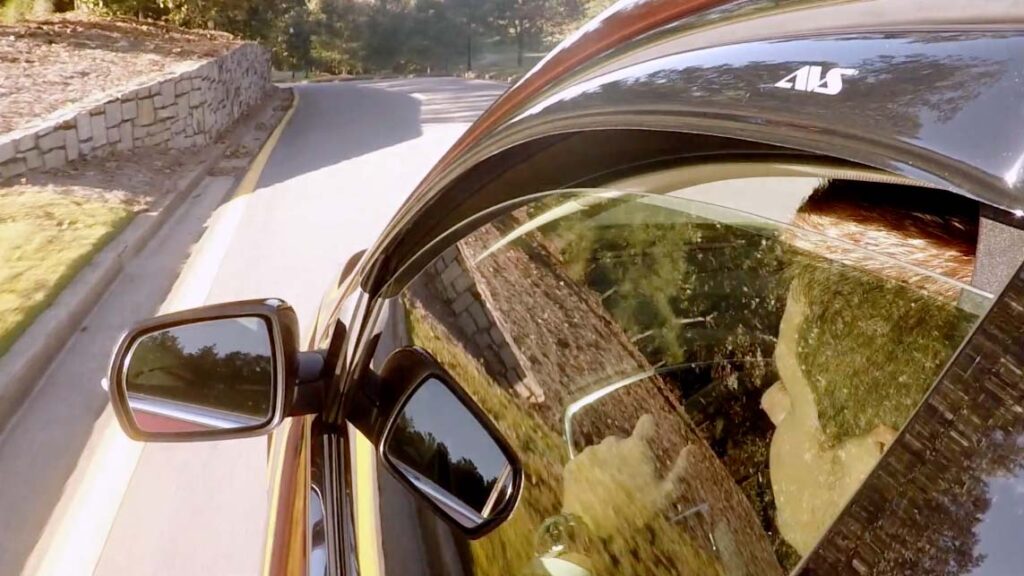 Feature 5 – Installed Inside the Window Channel
There are two types of side window deflectors:
In-Channel Vent Visors
In-channel window visors fit inside the window channel. Your window channels help to secure your window frame and glass in place.
In-channel vent visors require no special adhesive for attaching; they contain ultra-thin mounting flanges that slip and fit into the window channel like a jig-saw puzzle.
The friction caused by the window channel holds them in place.
When looking for in-channel visors, ensure that the flanges lack cracks.
Tape-on Vent Visors
Adhesive tape is used to attach tape-on vent visors to your car's exterior. When installing these vent visors, first clean your window's surface to remove any dirt that can reduce the adhesive strength of the tape.
In both types, installation varies, depending on the window. How you install the front side window deflector differs from how you install the rear deflectors.
Follow the specific installation instructions to prevent damaging the window deflectors.
Feature 6 – Limited Lifetime Warranty
A warranty guarantees that when you first buy the product:
It's free from defects in materials
It's free from defects in workmanship
A limited lifetime warranty, however, does not cover:
Breakages caused by improper installation
Damages caused by the use of corrosive elements
Misuse of product
Normal wear and tear
Pros and Cons of In-Channel Vent Visors
No product has 100% perfection. Knowing the pros and cons beforehand makes you better placed to make the final buying decision. Here are the pros and cons of an in-channel vent visor:
Pros
Cons

Streamlined look from the smooth surface of cast acrylic.
Also, with the mounting flanges hidden from view, the vent visors add to your car's aesthetics.

Installation schedule can be inconvenient, as you must leave your windows undisturbed for 12 – 48 hours for the vent visors to adjust to the window.

Easy to install. When installing, there is neither drilling of spaces for screws nor dismounting of other car parts that get in the way.

Using too much force, flexing, and warping the window deflectors during installation can cause breakage.

There's no unsightly adhesive tape that sticks out on your car's exterior.

In-channel visors are usually a little more expensive than tape-on visors

Helps prevent break-ins and robberies. The slightly angled position of a side window deflector reduces the opening at the top where a thief can slide their hands in.
Frequently Asked Questions
How Are Window Deflectors Attached?
Installation of a window deflector varies depending on the model. Follow the installation specifications of your model's manufacturer.
Here is a demonstration video from WeatherTech on how to install side window deflectors.
Do Window Deflectors Affect MPG?
No. In fact, window deflectors contribute to your fuel economy by reducing wind drag. This minimizes the amount of fuel used. However, this effect is extremely minimal and should not be used to justify your purchase!
Can You Reuse Rain Guards?
Reusing rain guards depends on whether they are still in top shape. Never reuse broken parts.
When reusing, use fresh adhesive tapes for tape-on rain guards. For in-channel ones, reattach as per the model's installation tips. If you do not use fresh adhesive tape, the visors will be at risk of falling off your vehicle when driving.
What's the Purpose of a Side Window Deflector?
A side window deflector prevents entry of dirt, debris, and weather elements into your car's interior while helping you enjoy fresh air circulation as you drive.
Are In-Channel Window Deflectors Car Wash Safe?
Yes, they are safe. You don't have to worry about the adhesive tape getting ripped off by a pressure wash or abrasive brushes, just like with tape-on types.
How Do You Remove Window Deflectors?
For tape on visors, pull them off by hand.
For in-channel visors, loosen the flanges' grip on the channel by pulling them sideways.
In both cases, be extremely careful and remove the visors slowly. Especially for tape-on visors, you do not want the adhesive tape to peel off your vehicle's paint.
What Happens if Deflectors Catch the Side Windows?
If deflectors catch the side windows when installing for the first time, the anti-trap function sets in, preventing the window from rolling up.
To fix this, roll up the window with someone else's help. Open the door and place your hands on both sides of the window glass as your helper rolls up the window.
Once the window glass is up, leave it undisturbed until the deflectors adjust to the window's mold.
In-Channel Visors: Most modern vehicles have a safety mechanism that will auto-roll the windows down if it detects an object in the window when rolling up. In simpler terms, the window may think a finger is trapped, and will automatically roll the window down. To fix this safety mechanism, check your vehicle's owner's manual. It should have instructions on how to adjust the safety position, this way your window doesn't think the window visor is a trapped finger.