Most floor mats look awful in a luxury car, like a BMW, Mercedes or Porsche.
They look like something you'd put in a truck, not something that goes in a luxury sedan or SUV.
The problem is, you still need to protect your vehicle's factory carpeting, and need a way to contain spills.
You may not allow McDonald's or ketchup packets in your luxury car, but chances are your flooring will meet some dirty shoes at some point.
The good news is that we have luxury floor mat options for you.
These are hand picked by us, and designed to be a perfect complement to your luxury car.
They look great, work extremely well, and couldn't be more perfect for your vehicle. They won't take away from your luxury car's styling – instead, they will add to it.
If you need any help picking some truly luxurious floor mats, send us a text at 281-761-6097. We'll help you pick something out.
-Alan
Luxury Carpet Car Mats
Carpet mats are your best shot if your main focus is on adding a luxury feel and extra comfort for your passengers. The luxury carpet floor mats are made of cutpile fibers and have an option of customization and personalization.
Top grade carpet mats are also strong and durable. They protect the factory floor against mold, mildew, and quick wear. With their plushness, these car mats will add to, not take away from, your car's existing luxuriousness.
One of the best things about carpet car mats is that they allow logo and embroidery customization. They also come in a wide range of colors, and are customizable to match exactly what you're looking for.
Luxury All-Weather Car Liners
When you think of all-weather floor mats, you probably think of the standard weather mats that look "commercial" or "rugged", or worse, like they belong in a work truck.
But, there are more options out there. Options that look like they belong in a luxury vehicle, like your Tesla, BMW, Lexus or Mercedes. Some rubberized car mats like MAXpider and WeatherTech DigitalFit have both the style and functionality, and look perfect in a luxury vehicle.
These all-weather car floor mats are made using thermoplastic or rubber material. They focus more on offering all-weather protection and durability. They are usually super tough and made to withstand snow, mud, road salt, and other elements.
Rubber mats come in neutral colors to match your interior. For some modern luxury cars, a luxury dark chocolate color (cocoa) is also available.
The Most Luxurious Carpet Mats
Lloyd Luxe Luxury Floor Mats are one of the plushest carpet car mats that also offer an impeccable level of protection. The floor mats have a high quality and durable weave construction that is soft to touch. The material is weaved from plush premium nylon yarn at a depth of 0.7 inches. With this depth, your feet will sink in comfortably.
The edges of the mat have a neat and continuous cloth stitching, going all around it, complementing your vehicle's floorboard and preventing unraveling.
The non-skid backing with a soft urethane core keeps the floor mats in place while adding extra cushioning. It also absorbs and reduces outside road-noise, hence offering a peaceful ride.
Treated to make them resistant to stains, and dirt, these floor mats are easy to clean and will maintain their good looks over the years.
You get to choose from 11 stylish colors. Also decide to have an authentic manufacturer's logo, a personalized leather badge, or no decoration at all.
Key features
Super plush look & feel
Soft 0.7-inch deep construction for extra comfort
Available in 11 colors to match your interior
Add a licensed logo or personalized leather badge
Computerized cutting ensures seamless fitting on the footwell
Continuous cloth edge that prevents unraveling
Multi-layer backing protects the factory floor and increases traction
Includes factory compatible anchors
Lifetime warranty
2nd Most Luxurious Carpet Mats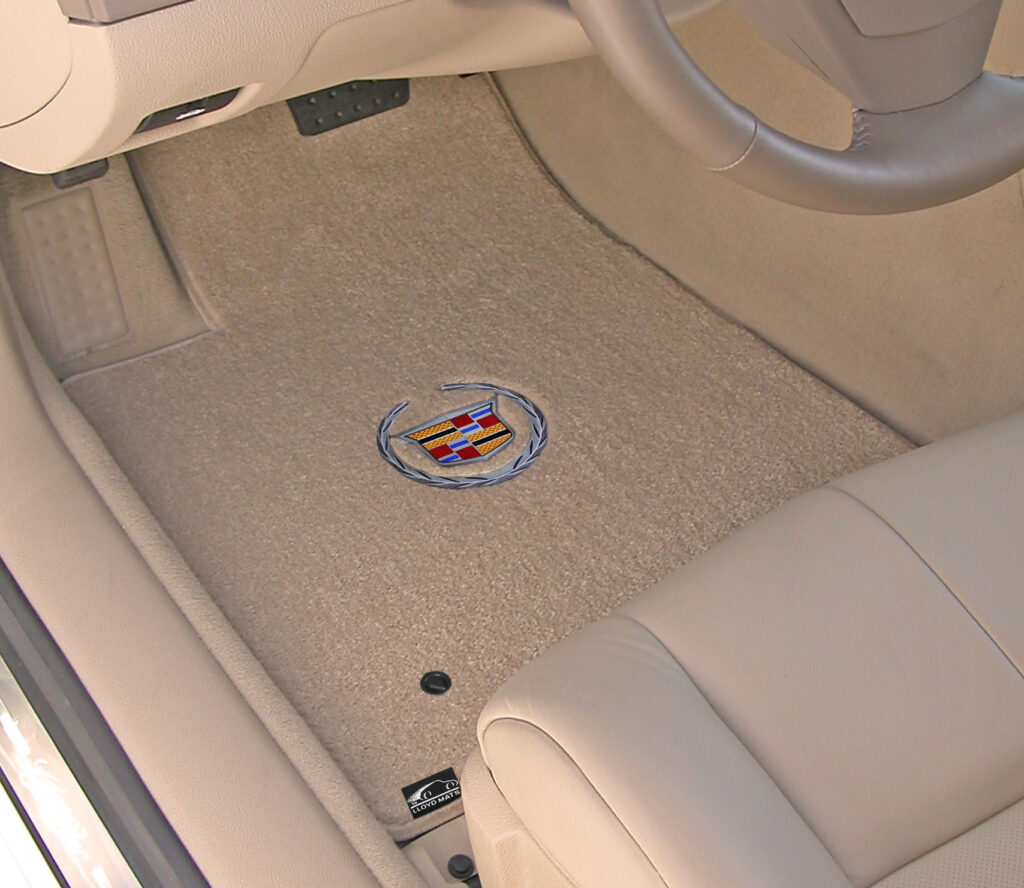 This is Lloyd's most popular car mat. It has a luxurious combination of plushness, comfort and quality.
While not as plush as Lloyd Luxe, this mat also creates a luxurious feel with its premium quality material. It is made using a plush ply nylon cut pile, weaved at a depth of 0.35 inches. It has twice the weight and depth of standard factory floor mats and that means more comfort and protection.
Lloyd Ultimat's edges also have a matching and continuous cloth stitching that complement your vehicle's floor as well as prevent unraveling.
Like all Lloyd mats, this also features a non-skid moisture-resistant backing and the factory-compatible anchors will keep it in place all the time.
You will be spoilt for choice with these floor mats since they come in 30 different colors and they also allow for personalization. You can choose whichever logo or text you want to be put on them.
Key features
Premium and fairly plush look
Two-ply heat-set weaved nylon for extra bulk and density
0.35-inch ply nylon construction
Available in 30 colors
Customizable with hundreds of logos to choose from or personalized embroidery
A matching and continuous cloth edge that prevent unraveling
Lloyd's proprietary factory compatible anchors keep the floor mats in place.
Five-year warranty
The Most Luxurious Weather Liners
Like most rubber mats, MAXpider custom car floor mats offer heavy-duty, waterproof protection. But on top of that, they also come in stylish and unique finishing. This is thanks to the microfiber top layer surface. It enables them to have the plush looks of carpet mats while still retaining the toughness of the rubberized mats.
So, instead of the typical rugged and industrial looks of most rubberized car mats, the MAXpider comes in a sleek and minimalist design.
The other two layers are a sound-absorbing foam for the middle layer which absorbs noise and vibration. And beneath is the non-skid backing that keeps the liner in place.
MAXpider also uses manufacturer measurements to custom-mold their car floor mats, ensuring they fit perfectly, corner to corner, and give a seamless appearance. The custom-made design of the floor liner is complemented by the raised edges which run along the contours of the footwell, complementing every part of your vehicle's interior. 3D microgrooves are also included to trap messes.
The car mats are made in black, gray, and tan and they are available for the front, rear, and cargo areas.
Key features
Minimalist and elegant look
Seamless custom-fit design
Multilayer product construction
Soft microfiber top layer surface
Sound absorbing middle layer foam
Non-skid backing keeps the floor mats in place
Raised edges make sure the messes are contained
3D microgrooves trap snow, water, and other messes
Available in black, gray, and tan
3-year product warranty
2nd Most Luxurious Weather Liners
WeatherTech DigitalFit Floor Liners are among the most popular car floor mats. This is because of their perfect blend of function and style. They have appealing aesthetics and the heavy-duty construction allows them to offer maximum protection.
One of the outstanding features of these floor mats is their laser-measured, custom-made design. WeatherTech uses lasers and computers to measure floorboards of every vehicle make and model. They use these measurements to ensure their mats are well configured to the vehicle and that they provide full coverage.
The car mats thus come out with perfect fit designs, following the contour lines of your floorboard seamlessly. This added to the top grade High-Density Tri-Extruded (HDTE) material, the liners give a luxurious, perfect OEM look.
The HDTE material is also very sleek and it is extremely dirt and stain resistant. It is also very easy to clean.
Unlike the carpet mats, WeatherTech DigitalFit does not have the option for customization.
You can get the mats for your front, rear, and cargo sides of the vehicle, and you have four colors to choose from: tan, black, gray, and cocoa.
Key features
Premium industrial look
Tough High-Density Tri-Extruded (HDTE) material which is stain and dirt resistant.
Perfect fit design
Available in black, gray, and tan
Raised edges that contain messes
Advanced surface channels trap mud, snow, and other elements
Limited lifetime warranty
---