Vent shades, the reason you enjoy fresh air while driving.
They reduce wind noise and keep road debris and rain from getting into your car through the open window, making for maximum fresh air enjoyment.
But that's not all they do.
These vehicle accessories also allow interior heat to escape, getting rid of condensed air that makes driving nearly impossible when it's cold out.
Getting them for your car is a smart move to enjoy fresh air to the fullest, and in peace, when driving with an open window.
However …
With so many vent shades (also known as visors, guards and deflectors) on the market, how do you single out a side window deflector from WeatherTech (one of the best companies in the market)?
Today, we'll take you through the most crucial elements to look for when finding the perfect WeatherTech side window deflectors for your car and why it's essential to do so.
Determine How You Want to Install the Window Deflectors
There are two ways to install side window deflectors:
Placing them on the car's exterior just above the channel (out-channel) or
Embedding them inside the window channel (in-channel).
Knowing what you want in terms of installation will ensure you choose the right side window deflector.
Let's dive more into this.
Out-Of-Channel Vent Visors
The most common out-of-channel window deflectors are tape-on, which use exterior tape or adhesive for installation.
These window deflectors are really easy to install compared to any other installation method. That's why most people prefer them.
However, they are not seen as classy as in-channel because they do not seamless install inside the window channel. WeatherTech only sells in-channel visors, they do not sell out-of-channel visors.
Here's how to install tape-on window visors:
Wipe down the area you'll install the window visors with the degreasing wipes (the wipes come as part of the package) to get rid of anything that may cause the tape not to stick properly
With vehicle chalk, mark the area outside the window where you want to place your window deflector (as per the instruction manual)
Slightly peel off the double-sided exterior tape backing (an inch at each end of the vent shades) to allow you to align the deflectors without them sticking
Align the side window deflectors to your window at the marked points and remove the remaining tape backing
Then press the deflectors firmly to the car to hold them in place
Leave the car for 24 hours to allow the adhesive to stick properly.
Although these deflectors are pretty easy to install, they may damage your car because of the exterior tape needed which leaves an unsightly residue on your car when you remove them.
In-Channel Side Window Deflectors
These are low-profile window deflectors that give your car a sleek look. The in-channel vent shades don't need any tools for installation. All you need to do is fit them inside the window channel, and you're done.
But compared to tape-on side window deflectors, they're slightly harder to install.
This video demonstrates how to install in-channel side window visors:
Another fantastic benefit of having an in-channel side window deflector, like those made by WeatherTech, is that it's pretty easy to remove and doesn't damage your car upon removal.
Check for Quality and Durability
Both quality and durability should be taken into consideration when deciding on which vent shades to buy. For a product that will weather rain, sun and debris, you want something that will last.
Why the Quality of Your Window Deflector Matters
The quality of material used is vital for in-channel side window deflectors. Why? Because when installing the vent visors, you'll need to bend them to make them fit just right into the vehicle's window channel.
If the window deflector's material is neither high-quality, nor flexible, it'll break when installing, which can be costly.
Here's a brief overview of what makes WeatherTech window deflectors unique:
WeatherTech Side Window Deflectors Product Information
Material used
High-quality OEM-grade acrylic material
Manufacture location
USA
Colors
Light or dark smoke
Warranty
Manufacturer's limited lifetime warranty
This means that when you get WeatherTech side window deflectors, you're assured of high-quality premium-grade material that doesn't break easily when installing.
But more than that, this side window deflector has a limited lifetime warranty. This means that the manufacturer guarantees the product has no defects in quality or material, which is exactly what you should be looking for in a window visor.
Consider the Durability of the Vent Visor
Make sure that the side window deflector you're choosing can withstand debris and extreme weather like hail and snowfall. This way, you won't need to replace it every so often due to breakage.
A WeatherTech side window deflector has a 3 mm acrylic material strong enough to go against poor weather without breaking.
In fact, research shows that the acrylic material is way stronger than glass, so you're assured of having your side window deflector for a long time.
Look into Style and Finish
A side window deflector should fit your car's entire window channel perfectly so you can enjoy all the benefits it offers while giving the vehicle a sleek look.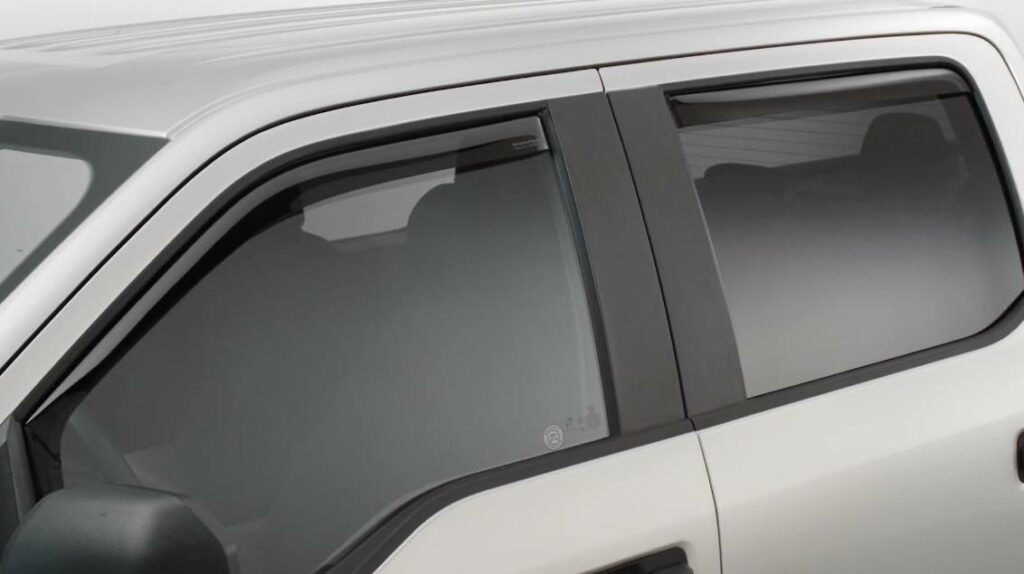 So, find window deflectors that are cut to precision for your car.
At PartCatalog, we allow you to key in information about your car's make and brand to ensure you get a WeatherTech side window deflector that's custom-fit for your vehicle.
Some vent visors are made to fit cars with a certain number of doors. But the vent shades of a 3-door car won't fit a 5-door vehicle even if they're made for the same brand of car.
Why? Because the 3-door car will have longer doors than its counterpart, so the vent visors for a 3-door car will need to be longer than those needed for a 5-door vehicle.
Choose a Side Window Deflector That Gives Your Vehicle Class
A side window deflector doesn't have to be functional alone. It can also contribute to the overall aesthetics of the car.
Our WeatherTech side window deflectors are sold as a dark smoke color.
The dark smoke finish for the side window deflector will give your car a sleek and classy appearance.
But that's not all the color of your side window deflector can do. The dark shades also protect occupants from the sun's glare, making car rides more enjoyable.
Choose a Side Window Deflector With a Sleek and Streamlined Design
We alluded to the vehicles' sleek look earlier. So, you may wonder, "Other than aesthetics, what more does a sleek and streamlined design offer?"
A streamlined design on your side window deflector minimizes wind drag, improving the wind aerodynamics when you're driving. This means that if you open your window to get rid of interior heat, you'll have reduced wind noise.
What's more, the streamlined design of your side window deflector will help to channel rainwater and dust away from your windows.
Here's a short video showing these window deflectors in action:
FAQs