Car mats help maintain a clean and protected vehicle interior. They catch your spills and absorb the grime wiped off your shoes so that the surfaces underneath stay clean and undamaged. High-quality mats also provide a non-slip surface for safe foot placement while driving.
Vehicles come with a set, but replacing the factory models with aftermarket mats is one of the simplest improvements you can make to upgrade your car's interior quality and style.
"Best mats ever. High-quality mats which fit my 2014 Nissan Frontier perfectly. These aren't your bargain basement mats, they're well worth the cost. I highly recommend Lloyd Floor Mats, you won't be disappointed."
— Ross G., ★★★★★ Reviewer
Drivers upgrade their car mats when their old seat becomes worn out or damaged. For classic car owners and car enthusiasts, new mats are also a way to personalize and stylize your ride.
At PartCatalog, we carry aftermarket mats from a number of leading brands, and we've got you covered no matter what you're driving.
The Lloyd brand is a favorite among drivers that really love their cars and want to add some personalized flair to their interior. That's because Lloyd specializes in mats that emphasize style in addition to functionality.
Let's take a closer look at how Lloyd goes the extra mile to turn this simple vehicle accessory into a key component of your car's ambiance and aesthetics.
What's So Great About Lloyd Mats?
Lloyd isn't a car company that also makes floor mats. They're a floor mat company. This niche item is their specialty, and they do it right.
The company history of this iconic brand says a lot about what to expect from their products:
1974: Lloyd Mats company is incorporated
1978: Lloyd Mats begins exclusive made-in-the-USA manufacturing
1999: Lloyd Mats becomes an employee-owned company, purchased by the employees from founder Lloyd Levine
By focusing solely on vehicle floor mats, Lloyd has built an incredible library of designs. They make over 12,000 different patterns and applications. The brand proudly boasts industry-leading selections of colors, fitments, product types, and personalization options.
What really sets Lloyd mats apart is the styling that goes into each design. When you really love your car, every piece of material matters. And there's a limited number of meaningful upgrades that you can make in the interior.
"Love my red mats! These mats transform my experience of being inside my car! They are bright and bring life back to the drab grey interior."
— Cheryl G., ★★★★★ Reviewer
Floor mats are one of the components inside a car that always catch the eye. Often they aren't much to look at, but that's not the case with Lloyd mats.
From the slick designs to the customized vehicle logos, to the personal made-to-order flair you can add on, a Lloyd mat provides a noticeable aesthetic boost.
Let's take a look at a few of the design features that distinguish Lloyd mats from the competition.
Non-Skid Protection
The underside of Lloyd mats are made with vinyl or rubber nibs. These provide traction against the car surface, while the textured top surface provides additional traction underfoot.
For driver's side mats and some passenger mats, Lloyd mats anchor securely into place. The anchoring devices are compatible with the vehicle's factory anchors—and if your car has none, then Lloyd's proprietary anchoring system creates a secure connection with the car's floor.
The end result is a mat that won't skid or slide around, especially on the driver's side, where a snug and stable fit is critical for safe driving.
Thirteen Color Options
Choose from over 50 stylish colors (depending on model) to select the mat that best matches your vehicle's interior.
Color options include:
Black
Ivory
Yellow
White
Pink
Gray
Light gray
Tan
Brown
Red
Burgundy
Dark blue
Clear
Extra Options: Premium Edging, Car Logos, or Personalization
Lloyd mats are custom-made for vehicle makes and models. Beyond that, there are a few extra add-ons to further customize your accessory.

Request premium edging or binding for a more personal and fancy touch. This creates a classic look and feel to the mat that's especially nice for classic cars or any vehicle in which you choose to stylize the interior aesthetic. Premium edging or binding also helps to preserve the mat's quality.
"I was really impressed with the custom fit and excellent quality of this cargo mat. I had been looking for a fully functional mat that would look great and perform great by protecting the plastic trim behind the rear seats, and this cargo mat exceeded my expectations.

I ordered the mat in red even though my Terrain Denali is black. It looks great with the red stitching in the dash and seats and the red GMC logo on the cargo organization box. Thanks for an excellent product at a reasonable price."
— Dee T., ★★★★★ Reviewer
If your car's brand is a point of pride, add a car logo to the mat. The logo will appear right in the center of the mat as a proud display, adding an extra touch of flair. Logo branding is available for most major manufacturers—indeed, Lloyd has 1,000 automotive emblems available.
Or, you can go the extra mile and personalize your mat. Have your name, initials, motto, or more embroidered onto the mat. Does your ride have a nickname? Embrace your automotive love affair and slap that name down on the mat.
How to Install a Lloyd Mat
It takes just a few minutes to install new floor mats. Remove the old floor mats if you're replacing an existing set. Then simply lay the new ones into place.
For your driver's side mat, and passenger mats in some models, the mat will fasten into place. Push the mat over the vehicle's anchor nubs and press it into place. If your vehicle has no anchors, then your mat kit will include an anchoring system with easy-to-follow instructions.
The only tool you might need is a screwdriver if the mat's anchors need to be screwed into place.
Lloyd Floor Mats: Frequently Asked Questions
Lloyd mats aren't one-size-fits-all, nor are they mass-produced. They're made to fit vehicle makes and models, and they're produced one set at a time to fill each individual order.
Product details vary depending on the vehicle they're made for, but here are the basic details for mats made by Lloyd: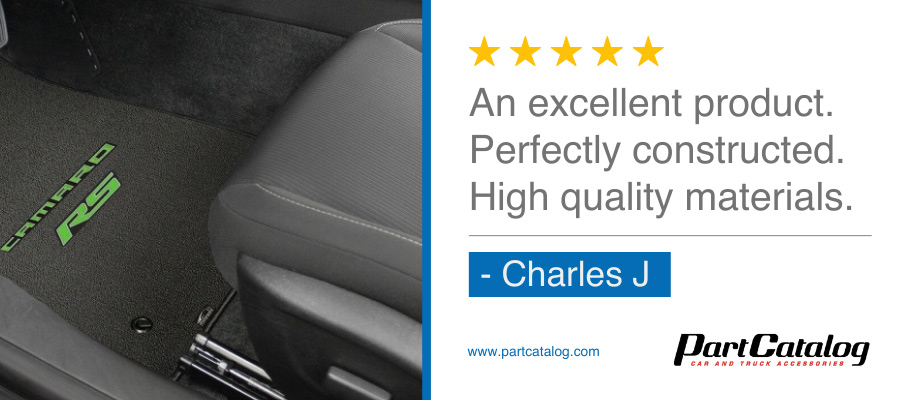 Lloyd Mats: Product Details
Materials
Varies depending on model
Manufacturing Location
Los Angeles, California, USA
Required Installation Tools
Installation details vary per model. The only tool that may be required is a small screwdriver
Find Lloyd mats from the PartCatalog Car Floor Mats & Cargo Liners Inventory.
You'll find product details on the product page for any mat set. To help get you started, here's a quick Lloyd mats FAQ.
Can I Place a Lloyd Mat on Top of a Factory Mat?
No. Lloyd mats are designed to be installed directly onto the vehicle floor. Using multiple layers of floor mats is unnecessary. Furthermore, stacked mats on the driver's side would not anchor to the floor properly and could shift into unsafe positions.
Do Lloyd Driver's Mats Fasten into Place?
Yes. Every driver's seat mat, and some passenger seat mats, have a fastening system.
The fastening system on the mat is usually compatible with that installed by the vehicle manufacturer. If there is no factory fastening system in the vehicle, then a proprietary system is provided by Lloyd Mats.
Do Lloyd Mats Come with a Warranty?
Yes. Lloyd mats purchased from PartCatalog include Lloyd's three-year warranty.
How Should I Clean My Floor Mats?
To clean your mats, remove them and shake out loose dirt. Lay the mats outside and use a brush to remove caked-on dirt and grime. Use a vacuum cleaner for stubborn dirt that won't brush loose.
Use a soapy detergent to finish cleaning rubber mats. Rinse off the mats after cleaning with a garden hose.
For carpet mats, use an all-purpose cleaner or a mild detergent. Use cold water and gently handle the carpet material during cleaning. Don't completely submerge the mat in water.
Hang-dry mats until they're completely dry before placing them back into your vehicle.