Your Chevy Nova is a classic, yet timeless masterpiece that deserves only the best interior accessories.
You need excellent quality, durable accessories that will match your car's class.
This is where Lloyd Ultimats come in—they tick all the right boxes at a reasonable price.
"Outstanding floor mats, high quality and really look sharp in my vehicle."
— Todd, Verified ★★★★★ Lloyd Floor Mat Reviewer
Today, we'll take a look at why Lloyd Ultimats are an absolute bargain for your Chevrolet Nova.
Finding the Best Floor Mats for a Chevrolet Nova
Getting the right floor mats for your Chevy Nova comes down to the following factors:
Aesthetics
How easy they are to use
Quality of material
Customization
Durability
Style
Price
Let's see how Lloyd Ultimats hold up against the search criteria.
Aesthetic Appeal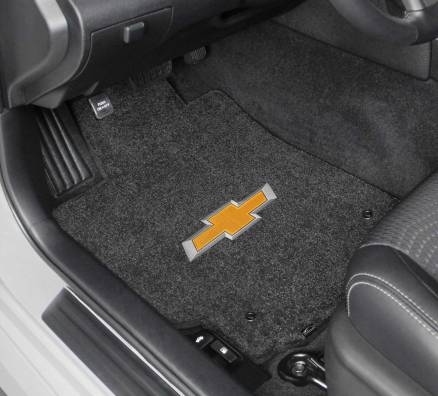 The Chevy Nova is a classic beauty with its compact, lightweight build and sleek, curvy exterior.
It's a no-brainer that the interior should look just as chic. The kind of look you can get from carpeted flooring.
Lloyd Ultimats fit this bill perfectly. They're simply beautiful!
Here's what Denise had to say:
The mats are so pretty, I don't want to put my feet on them! High-quality mats. Pictures shown on the website don't do it justice. Extremely pleased!
— Denise D, Verified ★★★★★ Lloyd Floor Mat Reviewer
Apart from their looks, the end-to-end fit means they'll cover the entire interior flooring. In addition, they're cut through a computer engineering process, meaning the mats are an exact match for your car.
The perfect fit and plush looks will make your collectible look as good as it did when it was fresh off the assembly line.
On top of that, the mats come in a variety of colors. You can choose from 50 different shades that match factory colors. With such a wide color range, you are bound to find the nearest color match to your original interior to create a seamless look.
In addition, Ultimats give you the option to use a different colored binding. The edging creates a striking color contrast to make your interior stand out.
Are They Functional?
Your car's mats should do more than simply look good. They should also protect your interior from damage. The flooring goes through normal wear and tear because of:
Friction — Shuffling feet, pointy shoes, and heavy soles can slowly do damage to your flooring.
Dirt accumulation — Dust from the roads and mud when it rains can accumulate on your flooring. When you clean it off, you'll have to scrub or scrape, which can ruin your interior floors.
Let's face it: your Nova's been around for a while—but it's not old, it's a classic. All the more reason why even the slightest issues can cause big problems.
You need a mat that keeps these issues at bay.
Lloyd's Ultimats end-to-end trim-to-fit cut protects your flooring. The design includes a continuous cloth edge that blends into your car's carpeting. The cloth edge also prevents unraveling, which means your floors always stay protected.
The mats also come with easy-to-fit anchors to hold them in place so they won't move out of position. The anchoring devices are compatible with your Nova's factory anchors.
If your particular Chevy Nova doesn't come with anchors, Lloyd Mats' proprietary anchor design secures the mats in place.
The latex elastomer layer underneath the mat is moisture resistant, so there's no chance of spills getting to your floors.
Hard-to-clean mats can be a nightmare. Using expensive cleaning agents and endless scrubbing will take the fun out of enjoying your Nova. Lloyd Ultimats are easy to clean—all you need is a carpet and upholstery cleaner.
For extra protection, you can use a carpet protector spray or shampoo to keep the dirt away for longer.
Bottom line: Lloyd Ultimats hold up to the functionality test. They are easy to use and they'll keep your Chevy Nova interior in the best shape.
Quality of Material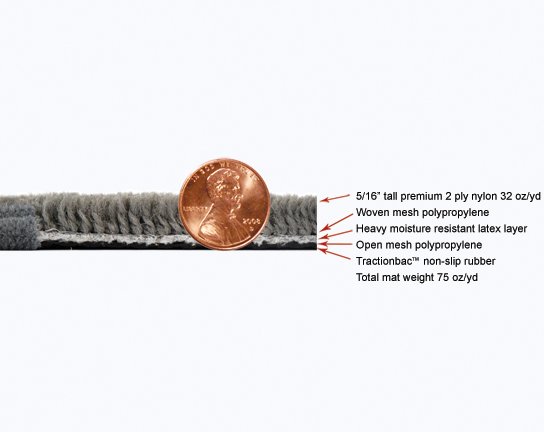 Your Nova has stood the test of time for a reason. It's no doubt the epitome of quality.
You'll want to cover the interior in a material of similar quality. Flimsy, poor-quality material just won't do.
The best interior flooring is made from thick, top-quality material that will last long.
The Ultimat matches that description to a tee.
Ultimats are made from continuous filament nylon yarn with 32 oz. of top-quality nylon yarn per square pound, so they are extra thick for added durability.
Two strands of the yarn are heated while twisted together inside the woven tufts to make it twice as thick with double the strength of single yarn mats.
In addition, each 2-ply nylon mat has multiple layers underneath:
Polypropylene woven back. Polypropylene gives the mat its stiffness to keep it in shape.
Water-resistant latex elastomer. The latex underlayer prevents moisture from seeping into the flooring.
Tractionbac rubber. Tractionbac has natural non-skid properties helping to hold your mat in place.
As a commitment to quality and durability, you get a 5-year warranty with your purchase.
"We bought the front mats not knowing what they would be. We immediately purchased the back mats.. We are impressed with the quality and the speed . I will recommend Lloyd Mats to any and every one. Thanks for a great product."
Rebecca Hackler, Verified ★★★★★ Lloyd Floor Mat Reviewer.
Can You Customize the Mats?
Custom printing on your floor mats gives the car a distinctive style.
You need floor mats that can easily be custom-tailored to give your Chevy that little extra touch of finesse.
With Lloyd Ultimats, you have the option to:
Personalize your mat. You can use your name, your car's pet name, a motto, your initials, or anything else that will make it truly your own.
Get a custom logo. The Chevy logo will appear at the focal point of the mat, adding an extra touch of class.
Buy Your Chevrolet Nova Floor Mats
Your Chevy Nova demands only the best. That's why Lloyd Ultimats Nova floor mats are your number one choice.
Lloyd Ultimats Nova Floor Mats Checklist
Quality

Multilayer
Non-skid
Waterproof
Extra thick and plush

Durability

No-unraveling edge
5-year warranty

User-friendly

Easy to clean
Easy to fit

Custom-fit

Custom print or logo
Trim-to-fit cut for each vehicle make and model
Get all you need in a floor mat at a great price from PartCatalog.
"Very good. Product is well manufactured. Fits perfectly. Price was less than other companies including Amazon. I had a wide variety to choose from. Questions I had were answered immediately before I placed the order. Yes, I would order again from PartCatalog."
James K, Verified ★★★★★ Lloyd Floor Mat Reviewer
Chevrolet Nova Floor Mats by Lloyd Mats: Frequently Asked Questions
Will My Lloyd Mat Be the Same Shape and Fit as the Factory Floor Mat?
No. The design of the Lloyd Ultimats covers as large a portion of the floor as possible. The cut is independent of the original floor mat. Lloyd mats tend to be larger than original factory mats.
The mats may be similar in some instances, but Lloyd Ultimats are not made from the pattern or cut of original equipment manufacturer factory mats.
All Lloyd Ultimats are cut for a specific make and model. Check out the PartCatalog Lloyd Ultimats Car Floor Mats section and select the 'find this for your car' button.
When you input your vehicle's make and the year of manufacture, you'll get the product details that show the exact measurements for your Chevy Nova's mats.

Can I Use the Lloyd Ultimat On Top of My Factory Mat?
No. Lloyd Ultimats should be used independently of any other mats. The anchoring devices which support the mats can only secure one mat in place.
Using Lloyd Ultimats over the factory mats may cause them to slip out of position, which will reduce their effectiveness.
Are Lloyd Ultimats Manufactured in the USA?
Yes. All Lloyd Mats are made in the USA at the Lloyd Mats factory in Los Angeles, California.
| | |
| --- | --- |
| Manufacturer | Lloyd Mats |
| Incorporated | 1974 |
| Began manufacture of custom fit floor and cargo mats | 1978 |
| Location | Northridge, California |
| Specialty | Automotive floor protection |