WeatherTech upholds the above—as evidenced by their many top-quality vehicle products.
It's most likely the reason you invested in your high-end WeatherTech Bed Liner.
You didn't mind paying that 'little bit extra' for quality, style, and great features.
Your bed liner has without a doubt helped to keep your truck's bed paint in good shape while shielding it from:
Dents
Scratches
Rust
Dirt
Weather damage
It must also feel good knowing that you're covered by limited lifetime warranty. An impressive assurance of lifetime repairs and replacements if your liner fails—but only due to material and craftsmanship defects.
Indeed, your warranty can be invalidated by factors like inappropriate use, inappropriate installation, abrasions, chemical fallout, and much more.
However, the end of your warranty shouldn't have to stop your bed liner from retaining its style, finish, fit, color, and clean look.
Thankfully, there are numerous ways you can ensure your WeatherTech Bed Liner performs to the highest standards past the warranty.
Clean and Condition Your Bed Liner
Debris and chemical spills like bleach can ruin your bed liner's surface. Especially if left to sit for extended periods. It can also make your floor liner look faded and greyed out.
That's why it's imperative that you follow cleaning and conditioning guidelines, and only use agents and tools recommended by the manufacturer (or an authorized dealer).
Cleaning Your Truck's Bed Liner
Step #1:
Eliminate loose dirt by hosing the mat off with a water sprayer (or by sweeping out the loose dirt using a push broom).
Expert Tip: A pressure sprayer helps you remove dirt from the corners of the liner, but a broom is convenient in driving water and dirt off the pickup truck bed.
Step #2:
Next, flush out those stubborn stains and marks hiding deep in corners, small spaces, cracks, and between ridges of your bed liner.
For this, you can use an All-Purpose Cleaner (APC), a dish soap, or a mild detergent.
We recommend using WeatherTech TechCare® FloorLiner and FloorMat Cleaner—a phosphate-free biodegradable formula. This cleaner is specially formulated and customized to rid stains, spills, and scuff marks without fazing the quality of WeatherTech Bed Liners.
After picking your preferred cleaner, spray it all over the bed liner and use a medium bristle deck brush to gently scrub away the aggressive dirt.
Step #3:
Once more, use a pressure washer (or a water spray), this time to rinse off the cleaner from your bed liner.
At this point, your liner should start regaining its shine.
Step #4:
Now, leave your liner to dry in the sun, or use a dry cloth to wipe it. It should dry adequately to prevent fungal or mildew growth on the truck bed.
Conditioning Your Bed Liner
Just cleaning your liner isn't enough. You want an exquisite shine on your bed liner. That's where a conditioner comes in.
Yet, there's more to conditioning than what meets the eye.
Conditioning offers an anti-slip finish that will minimize cargo sliding.
Most importantly, it also helps your liner to resist wear and tear from scuffs and scrapes.
After cleaning, spray a non-greasy protector onto your bed liner, spread it all over the liner with a damp sponge, and let it dry to an anti-slip finish.
We recommend using WeatherTech TechCare FloorLiner and FloorMat Protector as it's a safe and effective treatment specifically made to protect your WeatherTech Bed Liner.
Pro Tips:
Your truck bed should stay clear of silicone-based treatments and heavy degreasers as they may cause abrasion and make your liner slippery.
Minimize your liner's exposure to harsh chemicals to reduce fading, dulling, or chalking.
Fix the Fasteners
Thin and insufficient Velcro pads at the backside of your bed liner is perhaps the most bothersome feature of WeatherTech Bed Liners.
However, Velcro discs and adhesive strips at the tailgate are the most common fasteners systems for pickup truck liners.
These fasteners should adhere your liner tightly to the truck bed and make it form perfectly so that the liner stays in place as you drive around.
However long past warranty, the liner's fasteners may have lost their adhesion properties.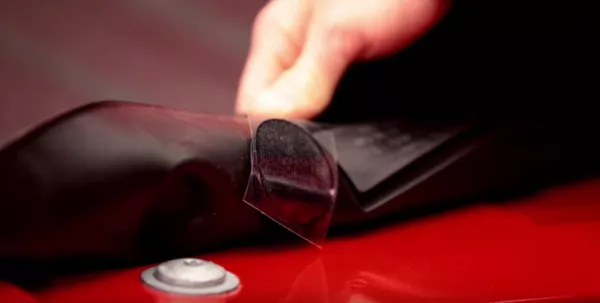 In this case, you should manually add extra Velcro sticky pads.
Remember to adhere to the fastener installation guidelines provided by the seller or manufacturer during the liner purchase.
Carefully Load or Unload Your Cargo
There are tons of incredible utility functions your pickup truck offers, thanks to its versatility.
Whether it's a weekend adventure, camping, or lumber works, your truck has a safe space for your essentials.
You should however be extra cautious when using your truck for heavy-duty hauling, e.g., rocks and rubble.
The adhesive strip of molding that anchors the tailgate liner may get damaged while dragging heavy goods over it.
Additionally, since the WeatherTech Bed Liner is pretty thin, be careful while loading and unloading tools that can easily poke holes or leave scratches and scuffs on your liner.
Relax the Curls
Cold and new environments can do a great deal of injustice to your WeatherTech Truck Bed Liner. For example, the raised lips on the edges may start curling inwards.
Furthermore, your liner may begin to develop buckles at the center.
These defects can also stem from rolling up the liner for long periods. Doing this prevents the liner from laying flat during re-installation.
If this happens, we recommend laying your bed liner upside down on a paved driveway in the sun for a couple of hours, overnight, or for a few days.
You can also place heavy weights like books or wooden blocks on top of the liner to help flatten it.
Use Your Bed Liner With Other Bed Mats
Your valued liner doesn't have to do all the work. WeatherTech Liners may work better when used in combination with other products.
At PartCatalog we offer:
WeatherTech UnderLiner® TechLiner is a 0.065-inch custom fit bed liner. It acts as a semi-soft protective barrier underneath a rigid high-sided liner.
It protects bed paint from damage by the rigid 'drop-in' liner. Using it with a rigid bed liner is the most advisable way to secure it in place.
We discourage installation of your WeatherTech Techliner over BedRug carpets or spray-in liners since these vary in thickness and could affect the reinstallation of your liner. They may also necessitate the use of an additional adhesion promoter.
A bed liner and tailgate liner combination are highly recommended.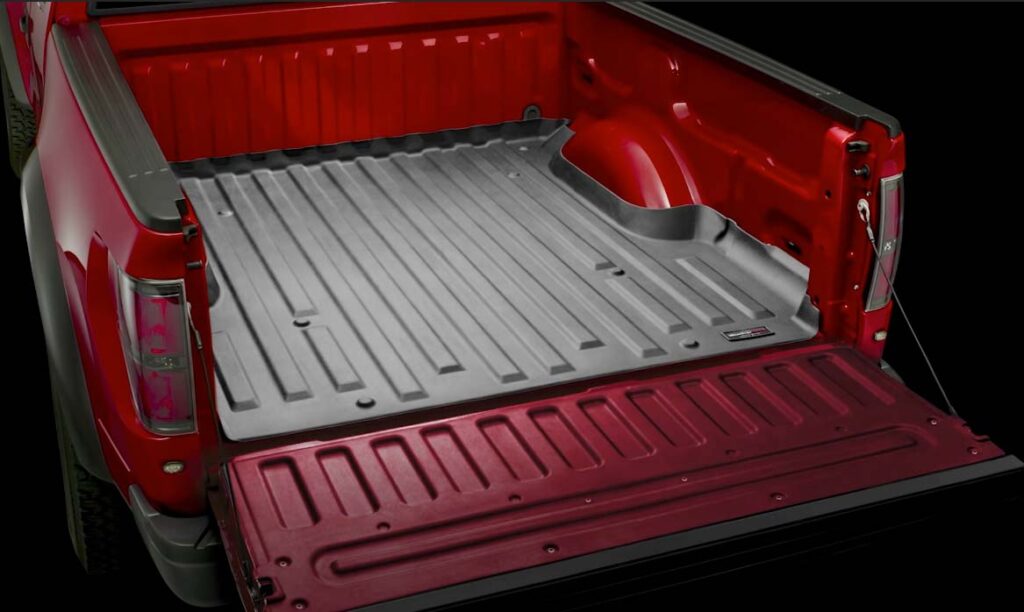 Do you need an additional bed liner? Here's a general breakdown of our WeatherTech Bed Liners at PartCatalog:
Feature
Description

Price

Bed Mat

Tailgate Mat

Underliner Mat

$189–$219

$68.95

$94–$114

Color
Black
Installation Type
Drop-in
Estimated installation time
15 minutes
Material
Thermoplastic Elastomer
Design
Non-skid surface with raised edges
Our website will guide you through our hassle-free order process.
FAQs
What Makes Weathertech Techliner Bed Mat Good?
WeatherTech Techliner is made in the USA—one of the biggest and most trusted manufacturers of floor mats and liners.
Expert workmanship and state-of-the-art technology go into its production. The Techliner has the following outstanding features:
Flexible and durable; chemical and UV resistant
Easy installation and removal
Perfect contouring and raised edges contain dirt and spills within the liner
Non-skid surface due to soft-touch material helps to prevent cargo from shifting during transit
Made from a heavy-duty, recyclable, and odorless thermoplastic elastomer material for quality protection against cracking, warping, extreme temperatures, and other damages
Makes loading cargo easy
How Do I Install Weathertech TechLiner on My Pickup Truck Bed?
Mounting your TechLiner truck bed mat is fairly easy. Installation takes only minutes. No drilling or use of chemicals is required.
Just roll the mat out so it lays flat in your pickup truck bed, then use alcohol wipes to clean adhesive locations, and finally latch the mat in place using hook-and-loop disk fasteners.