Most tonneau covers are black. While they look great, some people look for something with a more sleek appearance. Something that blends in with their truck, and is the same color as their truck.
If that sounds like you, then you must be looking for a painted tonneau cover, and we've got you covered! (pun intended)
Send us a text message on 281-761-6097 if you have any further questions.
-Alan
Why Go For A Painted Tonneau Cover?
The mere fact that you are reading this article shows that you're already interested in a tonneau cover. So, bravo for the wise thought!
Other than the several benefits that you get when you decide to add a cover to your truck bed, a painted cover offers a little more in the way of style.
It is one sure way of moving from basic utility to absolute luxury. You will haul your cargo in style with a painted cover that makes heads turn your way.
The covers we have mentioned here are from UnderCover, so you might be interested in our article on why you should buy a cover from UnderCover.
The Good and The Bad
Let's have a brief overview of the advantages and disadvantages of opting for a painted truck bed cover.
The Good
Adds to your vehicle's visual appeal
Customizable to suit your taste
A wide variety of paint options available
The Bad
Extra painting costs involved
Calls for extra care to avoid scratches
Pre-Painted Tonneau Covers
LUX Tonneau Cover is your go-to truck bed cover if you desire a painted truck lid that comes ready for use.
It ships to your door completely painted to match your truck's color.
Though a bit pricier, it's a more convenient option and more cost effective for some.
You save the hassle of taking a huge tonneau cover to a local body shop to have painted. Instead, it arrives to your door painted and ready to install.
Tip: It's worth noting that if you order a pre-painted cover, it's brilliance and color hue will match that of your truck when it was still new.
The paint code choices available will match the original vehicle manufacturer colors. When ordering, you just need to select the year/make/model and bed size of your truck, as well as the paint color.
UnderCover LUX Painted Tonneau Cover
One-piece painted truck bed cover
Tough aircraft grade aluminum construction
Patented X-Effect Infrastructure
Aerodynamic style lines
Easy to install and operate
LUX is precision-engineered in the USA and backed by the manufacturer's limited lifetime warranty. It will seamlessly blend in with your factory's design and paintwork, creating an OE appearance that your peers will envy.
It also comes with a lock cylinder that can be custom-coded to match the ignition key of your vehicle.
What If I Want To Paint It Myself?
If you've been asking yourself this question while reading this article, then you'll be happy to hear our answer.
Yes, there are paintable tonneau covers that do not come pre-painted. That means you have the liberty to play around with paint and flex your muscles.
It doesn't matter whether you are a painting guru or you simply want to save some dollars. DIY painting of a tonneau cover is one of the simplest tasks you can challenge yourself with.
You can custom paint your Elite Smooth Tonneau Cover or SE Smooth Tonneau Cover. If the color of your truck has faded over time, you can still have a bodyshop to match it. Let's have a brief look at these two covers.
UnderCover Elite Smooth Paintable Tonneau Cover
Constructed from ABS composite
X-Effect design
Double seal system
BOLT lock technology
LED lighting system
Elite Smooth Paintable tonneau cover is precision-engineered in the USA and comes unpainted to allow you choose your preferred paint. It is backed by a limited lifetime warranty on the structure and a one-year warranty on the finish.
UnderCover SE Smooth Tonneau Cover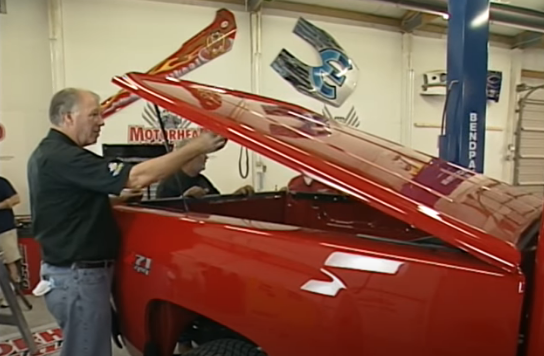 Constructed from ABS composite
Single-point locking system
UV resistant
Patented X-Effect Infrastructure
LED lighting system
This smooth tonneau cover boasts of a low-profile design, no-drill installation and the manufacturer's backing with a three-year warranty. With a gray paintable surface, it can be custom-painted to suit your taste.
The Paint Process
If you are after the pre-painted cover, you are probably wondering what it takes to have your cover shiny and beautifully painted.
LUX is color-matched to your truck's factory paint job to ensure it's an exact replica of your truck's color. It is painted in UnderCover's state-of-the-art paint facility.
UnderCover only uses Dupont paint as it is water-resistant, environment friendly and of the highest quality.
First, the cover is taken into a booth where all dirt and grime is cleaned off before the paint is put on the cover. The entire paint process occurs inside a tunnel, and the cover only comes out when completely done.
UnderCover ensures you don't have to wait for too long to have your cover painted. The entire process now takes 2 to 3 days as opposed to the previous weeks-long wait.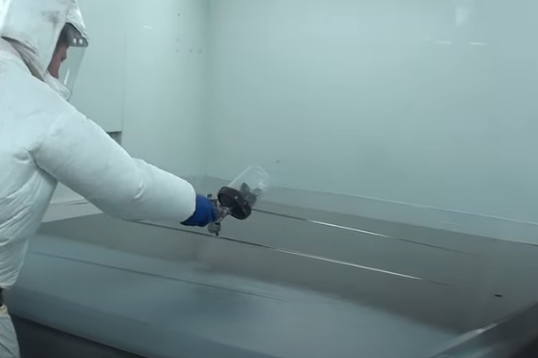 DIY Tonneau Cover Painting
Did you order a tonneau cover that is not pre-painted and you don't know where to start?
If it has been painted previously, first you need to blow off all the flaking paint and clear coat on your cover.
Your next step is to sand it. You can have it sanded in bits, like 180, 220, 320, 400 then 600.
After sanding, remove the wax and grease, and thoroughly clean the surface.
Load your paint gun and spray the paint and clear coat.
You'll need to apply three coats of paint. After applying the paint, add three coats of clear. The second coat is heavier.
Tip: Wait for 10 to 15 minutes between the coats and set your gun to full trigger and full fan for the best effect.
If you simply want to fix up small dings on the paint of your tonneau cover, a touch up paint kit should be all that you need.
The process of painting a tonneau cover can be a little ticky and strenuous, which is why we recommend that you let experts do their job. The cost benefit analysis would prove that it's cheaper, faster, safer and more convenient in the end.
Frequently Asked Questions