The tri-fold tonneau cover is our best selling tonneau cover, by far.
But there are times when a roll up tonneau is a better option.
This guide should help you pick the best tonneau cover for your needs.
As always, if you have any questions, text our team at 281-761-6097 and we'll help you pick one out.
-Alan
Roll Up vs Trifold Tonneau Cover Comparison Chart
Most popular, by far
Quick & easy to open panels
Open from either side of truck
Budget and premium options available
Takes longer to open and close
Snaps or velcro can be cumbersome for some
Great option if you have a smaller budget
More availability for older trucks
Premium Roll-Up Tonneau Cover
Benefits of a rolling cover, without the hassle
Quick opening and closing
Don't need to deal with velcro or snaps
More expensive than the others
Folding Tonneau Covers
There are two types of folding tonneau covers:
Most popular folding cover
Top is a tough vinyl fabric material
Tension adjustors help keep vinyl tight
Works in extreme cold or hot temperatures
Can support weight on top
Greater security as the panels are more difficult to cut through
Gives a premium look & feel
Pros
Easier to open – a folding truck bed cover can be opened from either side of the truck bed, and can be done in just seconds. A rolling bed cover takes extra time to manually roll the vinyl over itself, either with velcro or snaps.
More durable than rolling truck bed covers – folding tonneau covers generally have more framing and more stability than a rolling truck bed cover, helping to make them a little more durable. This is especially true with hard folding tonneau covers.
Provides more security – a rolling truck bed cover can easily be peeled over (velcro or snaps) to get contents on the inside. A folding tonneau cover can usually be locked through the use of the tailgate lock.
Supports cargo on top – hard folding covers can support extra weight and cargo on top of the tonneau cover.
Cons
Blocks your rear view when fully opened – the tonneau folds up against the window (and latches), but this will block your rear view when driving with the tonneau cover fully opened.
More expensive than rolling tonneaus – folding covers require more framing and materials, and are a little bulkier than a rolling tonneau.
Not available for some really old trucks – if you have a really old truck (made before 1990), a quality folding tonneau cover is difficult to come by. For these trucks, often times your only option is a rolling truck bed cover.
"I am very satisfied with this product. seems to be made well and looks good on my pickup. This is actually my second cover, I have gotten many years out of my last Tonno Pro cover. My last cover was starting to show its wear. It was around 14 years old and started to need some attention a hinge or two was in need of replacing and some of the material in the joints and a little faded. I would highly recommend. It fits my needs well."
– Scott R., review of TonnoPro HardFold Tonneau Cover
What is a folding tonneau cover made of?
The hard tri-fold is more heavy duty, with a sturdier and more rigid frame than the soft tri-fold.
As you would expect, a soft tri-fold is more lightweight. The top is usually made with a tough vinyl fabric material.
The inner framing a folding tonneau cover is usually has either aluminum rail panels, or rigid fiberglass framing.
They each have their own benefits: aluminum is more sturdy, but fiberglass is cheaper and weighs less.
The framing and top panel all work together to make a strong cover with high durability.
Are folding tonneau covers secure?
Tri-fold tonneau covers offer really good security. They can usually be locked, and cutting through them is much more difficult. For most folding covers, you have to open the tailgate first before you can be able to open the cover.
While this may sound inconvenient, it is a plus on security. Most tailgates have a lock, so thieves will need to have the key to access the cargo. Both features combined give tri-folds an edge in security.
A hard tonneau cover is much more difficult to cut through than the vinyl material.
Having a cover is itself a strong deterrent against theft, as potential thieves will not be able to see the cargo without cutting the tonneau. Most thieves are just looking for a quick grab-and-go.
How does a tri fold tonneau cover open?
As the name suggests, a folding tonneau can fold at multiple different positions. You can haul cargo of any size: furniture, a bike, kayak, etc. Simply fold the cover to the end and load in your cargo.
As a truck owner, one thing to keep in mind is that a tri-fold doesn't always allow you complete access to your cargo. The last panel on a tri-fold flips up and will need to rest against your cabin. There may be a few inches at the end of your truck bed that will be permanently covered, unless you remove the tonneau.
This isn't a problem with BAK tonneau covers, which are a premium option. BAK tonneaus open fully and have a mechanism to secure itself against the cabin. This gives you full access to the truck bed.
Tip: Keep your tonneau cover closed as often as you can. Not only does it give you extra security, experts estimate that driving with the tonneau closed at highway speeds can save 5-8% in gas milage. This means that your tonneau may end up paying for itself, if you do a lot of highway driving!
Are folding tonneau covers low profile?
When installed, tri-fold tonneau covers sit a few inches above the truck bed. Most people don't care, but if you want a flush look, you will need to keep in mind the profile height. Rolling covers are all low profile. Tri-folds will sit a little higher above the bed rails.
If you're a truck owner that wants a rugged look, the hard fold tonneaus can create a tough and bold appearance.
Should I always keep my folding tonneau cover installed?
Even if you don't plan on using your truck bed often, it is advisable to keep your tonneau installed. You can save gas mileage when driving with a tonneau in the closed position. Plus, you never know when you may need to hide some cargo while you hop in to a restaurant for a quick bite.
Our Top Pick
Like roll-up bed covers, there are several companies that manufacture top notch tri-folds. TonnoPro, Access, WeatherTech and Lund are the most popular. Out of the many tri-fold choices you have, a good example would be:
Highest quality soft tri-fold for the price
Easy opening and closing with included clamps
Installs in minutes, incredibly easy
Tarp is made with premium, highly durable vinyl material
Highest quality hard tri-fold for the price
Lightweight but holds up to 350 pounds of evenly distributed weight
Comes pre-assembled for lightning fast installation
Comes with a limited lifetime warranty
Standard Roll-Up Tonneau Covers
This section refers to the manual roll up tonneau covers, which secure using velcro or snaps.
For the premium version which uses a track system, please see the next section for retractable tonneau covers.
Pros
Offers full truck bed access – this fully rolls up and sits compactly against the cabin.
Very lightweight – it's easier to lift and move around, if you need to handle it off the truck bed.
Easier to store – this is thanks to its compact size and lightweight.
Has a low profile design – it lays flush with the truck bed rails. This offers a sleek and aerodynamic appearance.
Cheaper than a tri-fold – it's easier to manufacture and lighter to ship.
More availability for old, vintage trucks – particularly trucks made before 1990.
Cons
Takes more time to open and close – the manual rolling tonneaus use velcro or snaps along the side of the cover. This takes time to hand seal and unseal any time you want to access your cargo.
Not as sturdy as a tri-fold – it's generally just a layer of vinyl that covers the top with a couple of cross-beams.
Less secure compared to a tri-fold – it's easier for a thief to use a knife to cut through the vinyl material and access your valuables.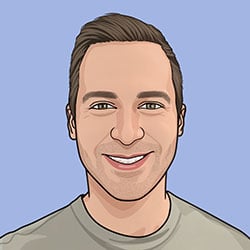 From Alan, founder of PartCatalog:
If you're looking for a soft roll-up and have an older or vintage truck, have a look at our TruXedo options. We have options for trucks going as far back as 1966. These covers are a great way to bring life back into your vintage truck.
What's the process for opening and closing roll ups?
For a soft roll up cover that uses velcro or snaps to secure to the truck bed:
Walk along each side of the truck's bed, and manually unsnap or unseal the velcro
Hand roll the cover. You may need to alternate sides to roll the vinyl well.
When it's fully unrolled, use the latch to secure the vinyl (important before you drive!)
The process is very simple, but it does take some time.
Is there an easier alternative for roll ups?
Yes, see our retractable tonneaus below. These are premium rolling tonneaus that roll on tracks or inside a canister. These are premium tonneau covers, that offer all the benefits of a rolling tonneau cover without most of the downsides.
If you want, you can even purchase an electric retractable or rolling tonneau cover. Your tonneau cover will open and close at the touch of a button attached to your key fob.
Is it easy to install a rolling tonneau cover?
Yes, the installation of this category of covers is incredibly easy. It will take roughly half an hour. It uses clamps with no drilling necessary. It installs away from the rails, creating a low profile appearance.
Our Top Pick
The best quality bed covers come from brands like Truxedo, TonnoPro, WeatherTech, UnderCover, and Access.
Here are our top 2 picks:
High quality with an economical price
Advanced tension control for temperature fluctuations
Has weather resistant proofing to help keep moisture out
Comes with a limited lifetime warranty
Premium Roll-Up Tonneau Covers
A premium rolling truck bed cover is a little bit different than the standard velcro/snap versions. While the operation is still manual, the premium covers utilize a track system which guides a slatted cover into a roll.
Opening and closing a premium rolling tonneau cover is a breeze, and can be operated with just one hand.
Pros
Doesn't block your rear window – when driving with the tonneau fully opened, you can still see out your rear truck window.
Low profile design – premium roll-up tonneau covers sit very low, barely above the bed rails, giving the tonneau cover a sleek, low profile look.
Incredibly easy & fast operation – premium rolling tonneau covers use a track system, rather than velcro or snaps, to open and close.
No need to deal with velcro or snaps – all you need to do is roll the tonneau cover, which can be done easily with just one hand.
Cons
More expensive – the premium rolling tonneau covers are, understandably, more expensive than the manual velcro/snap versions.
Not as much available for older trucks – the premium tonneau covers are made for new and modern trucks, so there is little to no availability for older or vintage trucks.
"The shipping was very fast and the cover is excellent, easy to put on and works great."
– Lisa F.
Can I use accessories that use the stake pocket holes?
It depends on the tonneau, but this is possible with most rolling truck bed covers. As long as the roll does not block the stake pockets, you will be able to use these accessories. The stake hole pockets must be completely unobstructed.
The BAK Revolver X2 and X4 allows full use of accessories that use the stake pocket holes.
Can you drive with a roll up tonneau cover fully rolled opened?
Yes, each rolling tonneau cover has its own mechanism for locking itself into place when driving. For the standard rolling covers, this is usually done with a strap. For the premium rolling tonneau covers, there is usually a premium latch that will secure it into place.
This type of cover will not obstruct the truck's rear cab window.
Our Top Pick
Made with aluminum
Ultra-flush, low profile design
Incredibly easy to open & close
Doesn't block the rear window
Available in glossy vinyl (Revolver X2) or matte black (Revolver X4)
Things to Consider
The first step to finding the right cover for yourself is knowing what your needs are.
Do you think you will frequently open and close your tonneau cover?

If so, a folding or premium rolling tonneau will be your best option.

Do you prefer easy operation?

If so, a folding or premium rolling tonneau will be your best option.

Are you shopping solely by price?

If so, a standard rolling tonneau will be your best option.

Do you prefer a rugged or sleek look?

The rolling tonneaus give more of a sleek look, while the folding tonneaus give a more rugged look.

Do you need rear window visibility, when driving with the tonneau open?

If so, a rolling tonneau will be your best option?

Is durability a priority to you over price?

If so, a folding or premium rolling tonneau will be your best option.

Do you have an older or vintage truck?

If so, a standard rolling cover may be your only option.

Do you want your cargo to be more secure?

All tonneaus provide a higher level of security, but a hard folding or premium rolling is more difficult to break into.
Frequently Asked Questions