Vehicle owners spend a lot of time and money caring for and maintaining the interior of their car or truck.
While there are many effective cleaning solutions such as deep-cleaners, air fresheners, and car air deodorizers, interior protection is one of the best methods for car maintenance.
People who work outdoors tend to rely more on trucks as work vehicles, and keeping the interior of the truck clean poses an additional challenge.
The constant grind of shoes, crumbs, spills, and mud can take a toll on your truck's stock flooring, creating a messy interior and lowering your vehicle's resale value. This is why good-quality floor mats and floor liners are a worthy investment over time.
If you're looking to keep your truck smelling fresh and clean, PartCatalog recommends using everyday interior protection with floor mats and liners by WeatherTech.
Proper mat cleaning and maintenance is crucial to keep them in the best condition. We recommend a 3-step approach that includes:
A visual inspection of the mats to ensure their condition doesn't result in a trip, slip, or fall accident
Frequent cleaning, especially in cold weather
Routine deep cleaning with a vacuum or scrub
Below, we'll take a look at the two types of mats available and a more detailed step-by-step on how to clean them.
Carpet Floor Mats
These types of mats are sewn with a water-resistant, superior fabric texture that comes with different thicknesses.
Pros
More comfortable and stylish as opposed to practical
Hides loose dirt a little better than rubber or all-weather mats
Feels better under your feet
Cons
They tend to get dirty easily, and cleaning them can be tasking
More disposed to staining
Tend to have a shorter lifespan as they wear and tear more frequently
Rubber / All-Weather Floor Mats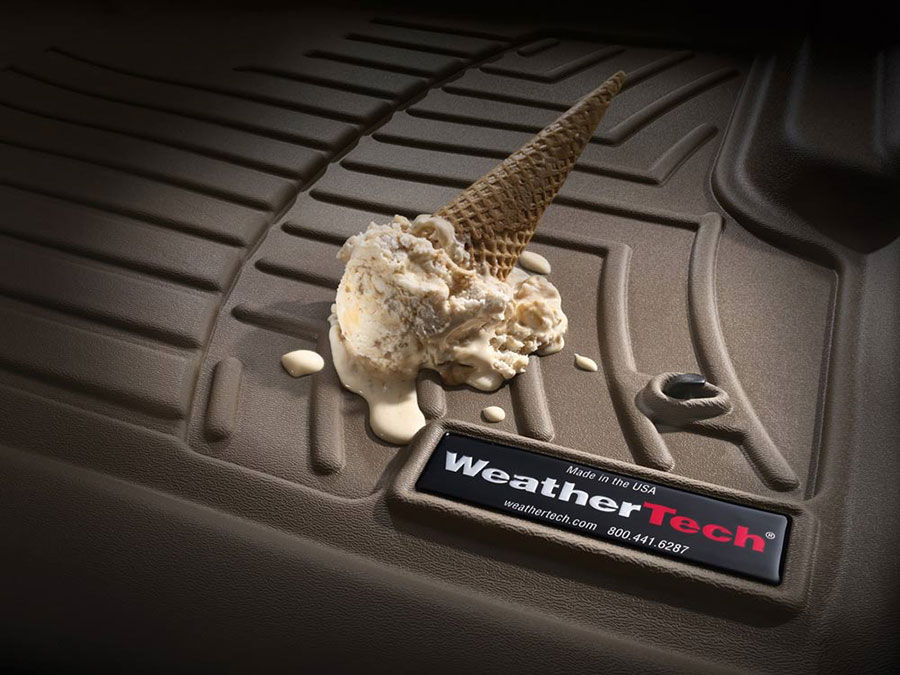 Rubber or all-weather floor mats such as the DigitalFit Floor Liners are designed to trap fluids and dirt.
They're made from thick, hard rubber or plastics that contains no harmful PVCs. You should consider these anti-skid floor mats if you're looking to buy a stain-resistant auto-accessory for your vehicle floor.
Pros
Can maintain a barrier with the stock carpet that isn't slippery and protects it from wear and tear
More durable and can withstand harsh conditions
Easy to clean as they rarely stain
Resists water, dirt, and roadway dust
Cons
Gathers dirt easily and may fade over time
A little more expensive than carpet mats
How to Clean Your Truck Floor Mat?
No matter how well you care for your truck, dirt will always build up while spills may occur when you least expect them.
Because rubber and carpet floor mats tend to retain residue, having a set of wet wipes or napkins can help clean up the mess as it occurs.
But to give your vehicle that new car feeling, it'll take more effort than cleaning the litter from the floor. A thorough cleaning should give your WeatherTech all-weather floor mats the mini-makeover they deserve.
Cleaning Products
As with any project, it's important to gather the necessary cleaning items before you get started. Besides your dish soap, everyday detergent, and shampoo, WeatherTech offers heavy-duty floor mat cleaning and protecting products.
They include:
The cleaning tools will vary depending on the floor mats for your vehicle.
Rubber floor mats require:
Stiff bristle brush
Rubber floor mat cleaner
Microfiber towel or drying rack
Hose or bucket of water
Vacuum
Open space to hang or lay out your mats
Carpet floor mats require:
Carpet floor mat cleaner
Baking soda
Hose or bucket of water
Brush
Vacuum
Open space to hang or lay out your mats
Cleaning Rubber Floor Mats
Rubber floor mats are ideal in vehicles that are driven in weather conditions where it snows and rains frequently. Because they dry quickly, the mats are engineered to offer adequate protection for your vehicle's stock carpet.
You can clean them in the following easy steps:
Remove the Mats
Because you'll be wetting and using cleaning products on the front and rear mats, you want to keep the interior of the vehicle dry.
Hit to Remove Debris
Hit them against a hard surface and use a scraper to remove any solid materials that stick to the surface.
Drench With Water
Drench the mat with a standard water hose or an electric pressure cleaner to dislodge loose crumbs and dirt.
Wash With Soap
Use a rag or spray to add soap to the mat, and then use a stiff bristle brush to scrub it gradually. Brush in multiple directions to dislodge all the stubborn grime from all angles, including the sculpted channels.
Rinse off the Soap
By starting from one corner, drench it generously with water to rinse off the soap. Repeat the process until the water is clean of all soapy content.
Dry the Mats
Wipe dry with a microfiber towel or place them on a drying rack. Ensure the mats for your vehicle have dried completely before placing them back inside.
Cleaning Carpet Floor Mats
Unlike rubber floor mats which repel mud and water, carpet floor mats tend to absorb it. If left unchecked, it can stain and emit a nasty odor. Carpet floor mats also require extra effort to clean, especially if they're already wet.
Clean the carpet mats for your vehicle in the following easy steps:
Remove from Vehicle
As with rubber mats, you don't want to wet the inside of your vehicle with water and cleaning products. It'll also be difficult to operate a vacuum cleaner around the seats.
Hit to Remove Debris
Hit the mats against a hard surface and use a scraper to remove any unyielding materials that stick to the surface.
Vacuum Both Sides
Suck up all the dirt and grime by vacuuming the mat on both sides.
Add Baking Soda
Remove stains and unpleasant smells by rubbing baking soda into the upholstery. You can also scrub the mat with a stiff brush while using a mixture of baking soda and water.
Use a Spray Cleaner
Use a carpet spray cleaner, such as TechCare® Carpet Cleaner with SpotTech, on the mat and let it sit for half an hour. Once it absorbs the spray, use a hand brush to clean the material.
Vacuum Again
Vacuuming again will suction any residual water and dirt particles. A regular vacuum with a hose attachment will do the trick.
Dry Mats
To avoid any damp smells, ensure the mats are thoroughly dried before placing them back inside the truck.
FAQs
What Is the Difference Between Floor Mats and Floor Liners?
| | |
| --- | --- |
| Floor Mats | Floor Liners |
| Are flat and tend to cover a section of the vehicle's floor | Features a raised lip to wholly contain spills |
| Are made of polymers, rubber, or carpeting | Are made of polymers only |
| Can be universal fitting or custom fit | Are custom-fitted for specific vehicles |
| Conventional two-dimensional flexible rubber-type material | Three-dimensional tray-type covering that goes up the front, back, and sides of the floor |
| Made out of a softer, flexible material | Made of tougher, more solid material |
Do WeatherTech All-Weather Floor Mats Contain Latex?
No. All WeatherTech floor mats are made from advanced Thermoplastic Elastomer (TPE), which doesn't contain harmful PVCs, cadmium, lead, is virtually odorless, and is 100% recyclable.
Do I Need to Install Techgrip II?
Although the weight of the mat will keep it stationary on the vehicle flooring, we recommend using TechGrip II for added security. The needed Techgrip's will be included with your DigitalFit order.
How Thick Are the All-Weather Floor Mats?
The all-weather floor mats rubber material is 3mm in thickness and ½" in height.
Where Can I Buy Trim-To-Fit Mats?
Buy WeatherTech mats at any authorized reseller such as PartCatalog.