If you have installed a toolbox in your truck bed, you may think you won't be able to install a tonneau cover. However, you don't have to sacrifice protection to use your toolbox.
In this guide, I'll discuss tonneau covers that are compatible with a toolbox. These covers cover the open part of your truck bed, providing a secure and durable covering, without obstructing the usability of your toolbox.
The bed covers are also custom-fit to your specific model, make, and year.
If you have any questions, feel free to text our team at 281-761-6097 and we will help you choose the right toolbox bed cover for you!
-Alan
Our comparison of tonneau covers that work with toolboxes
If you have installed a toolbox in your truck bed, complete the upgrade with any of these toolbox tonneau covers. The following table highlights the features of each cover. It shows the bed covers made with vinyl material and those designed with aluminum underpinnings.
Compatible with BAKFlip tonneau covers
Designed to pair with a BAKFlip truck bed cover for a perfect fit
Adjustable to fit at the rear, middle, and front of your truck bed for multiple storage options
Clamps onto your BAK tonneau cover directly with the included clamping hardware
Has sliding compartments and tray to make organizing your tools easy
Fits with standard size 20-21″ over-the-rails toolboxes
The adjustable sealing system provide security and rain drainage protection
Clamps on effortlessly leaving room at the end for a toolbox on long or short beds
Cab clamps attach to your bed flanges directly without modifications or damage
Fits with standard size 20-21″ over-the-rails toolboxes
Has strong auto-grade TPE construction that can support up to 1000 lbs of evenly distributed load
Has matte-black powder-coated hinges and frame that resists loud squeaks and corrosion
Arrives assembled, saving you the hassle and time of fastening tiny screws
The fast clamp-on installation allows you to fix your cover in seconds
Fits with standard size 20-21″ over-the-rails toolboxes
Has roll-up canvas cover that stows away at the truck bed for unrestricted bed access
Has tension adjusters that prevent flapping and allow fine adjustment
Made in the USA and backed with a 5-year warranty
Weather seals fit against the rails and toolbox
BAK BAKBox 2 Truck Toolbox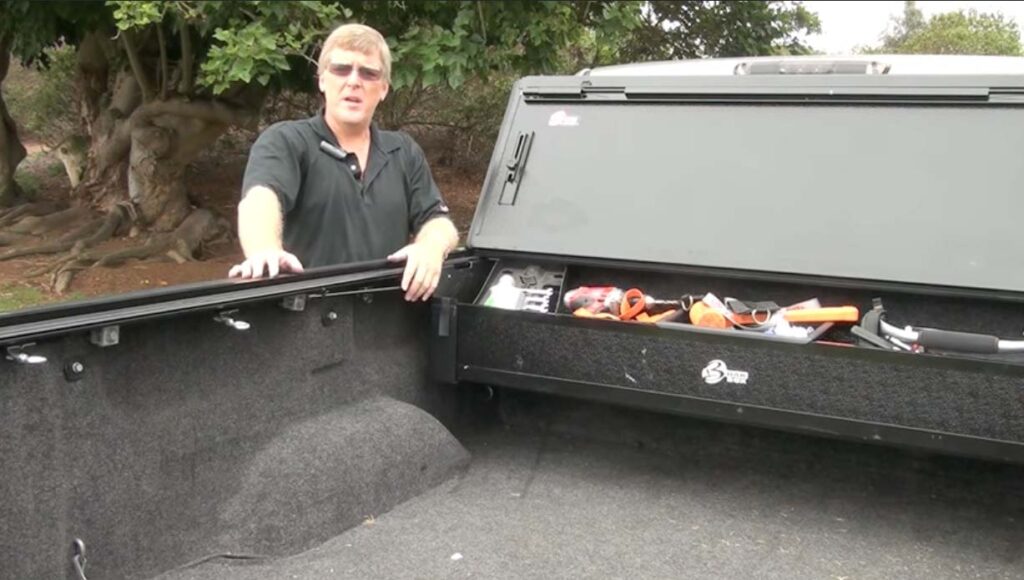 The BAKBox truck toolbox hides underneath your BAKFlip tonneau cover. It folds/collapses toward the bulkhead when you need a little extra space for your cargo.
The BAKBox 2 truck bed toolbox is designed to work with BAK tonneau covers seamlessly, making it a great choice for organizing loose gear and tools. The toolbox also allows you to keep the small stuff close while securing your truck cargo area.
Installation is a breeze since no drilling is required. Plus, its clamp-on design is specifically designed for use with your current BAKFlip bed cover.
Its solid construction means this toolbox will last as long as your truck and tonneau cover while its fold-away design allows you to use the entire truck bed to transport large items.
The BAKBox 2 toolbox also has a folding rear panel and a sliding tray for storing smaller items. You won't need to dig around when trying to find your small tools, screws, etc.
Additionally, this versatile storage box is durable with ½-inch fiberglass-reinforced thick sides. This truck bed toolbox comes with a 1-year warranty.
Extang Trifecta 2.0 Toolbox Tonneau Cover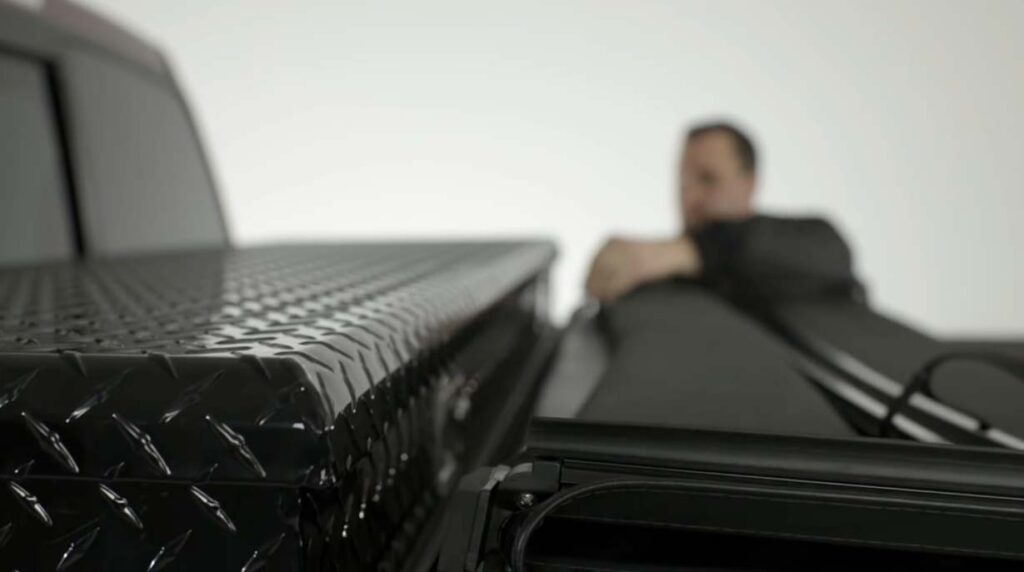 The Extang Trifecta 2.0 toolbox bed cover is an essential accessory for truck owners. The toolbox is compatible with most 18-20 inches toolboxes and keeps valuables protected while allowing full truck bed access.
The EZ-Lock system keeps criminals at bay, meaning you'll find your tools where you left them: safe, tidy, and dry. It also installs easily around your current toolbox and has a lifetime warranty.
The jaw grip front clamps attach to your bed flanges directly without altering or damaging your bed caps.
Additionally, the entire assembly of the Extang Trifecta toolbox comes off in minutes, allowing you to use your full bed.
With a UV-treated vinyl tarp that resists fading, a frame designed from aircraft-grade aluminum, and hinges designed from glass-filled nylon, this toolbox tonneau cover is well-made to endure years of abuse.
This toolbox features the L-channel adjustable sealing system that fills the spaces to create a solid fit that keeps out the elements. The system also prevents potential thieves from accessing your truck bed as it provides additional barrier-to-entry.
Extang Solid Fold 2.0 Toolbox Tonneau Cover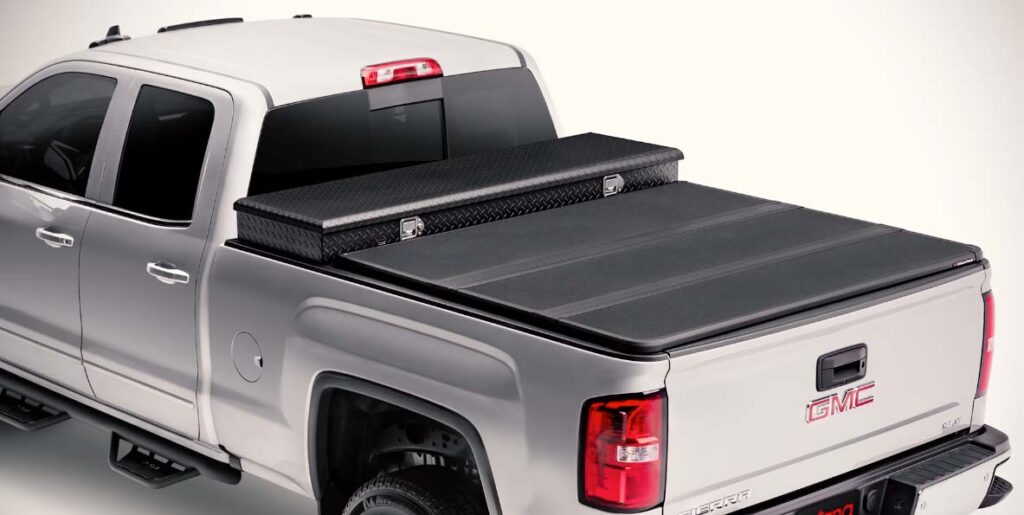 This is the best folding cover if you want to continue to use your over-the-rails toolbox.
The Extang Solid Fold 2.0 bed cover is designed to seal off the belongings in your cab with your standard 18-20″ toolbox. Each toolbox tonneau cover is custom fit to your exact truck model and bed length.
The tonneau cover is your standard truck bed length, less about 20″ to fit your toolbox.
The cover is made from a scratch-resistant auto-grade thermoplastic fabric for maximum durability. The panels are also treated for UV protection and have a 1,000 lbs weight rating when evenly distributed.
If you are concerned about the safety of your stuff or your items being damaged by the elements, the Extang covers cannot be opened as long as you lock your tailgate. The covers also have four-layer weather seals to protect your cargo from bad weather
Installation is also faster as the cover comes fully assembled and features a fast clamp-on system to ensure it remains in place. Additionally, you can loosen the front jaw grip clamps to remove the cover in seconds to enjoy full bed access.
The Extang Solid Fold cover also meets the OEM requirements and has been tested for fading, load capacity, and water management. The cover has a 3-year warranty.
Access Toolbox Edition Roll-Up Tonneau Cover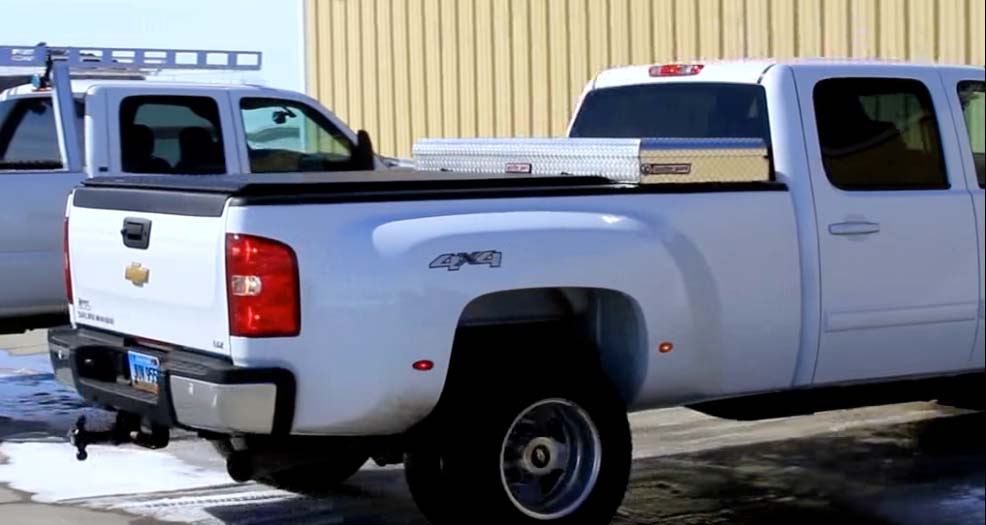 The Access toolbox bed cover has a luxurious grain vinyl finish that gives your truck a classy look while allowing you to take care of an oversized cargo area.
The cover fits snugly against most 19-21″ toolboxes and protects your gear without interfering with your current toolbox. This toolbox cover also has an all-aluminum frame that offers rigid support to the vinyl top resulting in a durable and strong cover.
Additionally, the Velcro-style seal eliminates the need for complicated hinges and offers you an easy way to close your bed cover. The single-handed slide lock makes getting your cargo in and out of the truck bed easy and quick.
This roll-up toolbox cover also resists the elements with a solid XT-Dial tension system that allows you to adjust the cover effortlessly and quickly for any situation.
The Access tonneau cover is also great at keeping the weather out as it comes with an Element Seal weather blocker and a custom-length weather gasket. The cover is backed by a 5-year warranty.
Pros and Cons of Toolbox Tonneau Covers
We have highlighted the pros and cons of toolbox tonneau covers to help you understand what these covers offer:
Pros
Works with most standard 20″ toolboxes
Tonneau cover length is shrunk to accommodate your toolbox
If you already have a toolbox, you don't need to buy a separate compatible "under the rails" tonneau
Cons
There aren't many tonneaus that are compatible with an over-the-rails-tonneau
The best tonneau often depends on what's available and in stock for your truck
Frequently Asked Questions