You're finally done with the debate. In your mind, you've been juggling with the idea of whether to get a bug deflector or not.
The yes won.
Now you're met with another decision of which brand of bug deflector to buy.
You've come across WeatherTech and EGR as you shop around, and you're likely wondering which hood protector to get.
A bug deflector successfully gives your vehicle's hood and windshield extra protection from bugs, rocks, and debris that can cause damage to your SUV, Ford, and truck.
But which one of the two brands of bug deflectors should you pick?
We're here to help you get a clearer understanding of the similarities and differences between the WeatherTech and EGR hood shields.
Overall they're both magnificent bug deflectors with outstanding features that make them the top stone and bug deflectors in the market.
Here's a summary of the features we'll compare.
| | | |
| --- | --- | --- |
| Features | WeatherTech Hood Shields | EGR Hood Shields |
| Fit | Low-profile | Low-profile, high-profile |
| Design | Aerodynamic | Aerodynamic |
| Finish | Dark smoke | Dark smoke, matte black, chrome |
| Design | Custom-fit | Custom-fit |
| Installation | 3M tape, fasteners, screws, clips | Clips, push rivets, tape, screws |
| Material | Acrylic | Acrylic |
| | Check Price | Check Price |
Let's look at each feature in detail.
Efficient Low-Profile Bug Deflector
An excellent bug deflector doesn't cause obstruction or interfere with your vehicle's original hood design.
Both WeatherTech and EGR offer low-profile hood protectors that ensure the front of your car maintains its original style.
A low-profile bug shield is hardly noticeable as it nicely fits at the leading edge of your sleek hood. It leaves no room for dirt or particles to stick compared to the original vertical bug deflectors.
The low-profile design effectively keeps away all types of debris. It's able to create an upstream of air that sweeps bugs, stone chips, and dirt off your vehicle's hood.
WeatherTech provides low-profile bug deflectors, while EGR offers low-profile and high-profile hood shields. The functionality is similar; only the size and shape differ.
There's no debate about it. WeatherTech wins due to the number of vehicle applications available, but EGR also wins if you're looking for variety – they offer two options for your truck.
Sleek Aerodynamic Design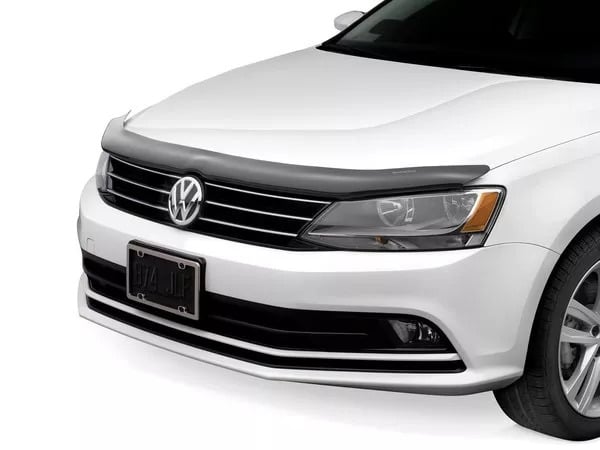 A scientifically designed hood shield incorporates a wind tunneling feature that ensures a change in the airflow direction.
The airflow bypasses your windshield and goes over your vehicle or truck's roof.
The aerodynamic design achieved by both brands works to:
Reduce drag while driving
Achieve optimal speed
Save fuel consumption
The National Research Council of Canada studied commercial trucks and fuel economy. They found that bug deflectors reduced fuel consumption by 1.5–3%.
These findings considered the design of the hood shield, the speed of the vehicle (best results above 55 kph), and the make of the truck.
WeatherTech offers more aerodynamically designed fitting for more vehicles and trucks than EGR.
Sleek Bug Shields Finish
There are three types of finishes for bug deflectors:
Dark Smoke
Matte Black
Chrome
EGR offers all three types compared to WeatherTech who offer only one (Smoke) finish.
The dark smoke finish offered by both brands gives a vehicle's hood a modern and stylish look. This is the most popular option, by far.
The chrome finish by EGR is the better option if your truck or SUV has other chrome-finished accessories to give your vehicle extra flash and flair, and you wish to extend that look further.
The WeatherTech dark smoke bug deflector is superior because it:
Blends well with any vehicle or truck.
Easy to clean and wax for a top-notch appearance.
Gives a truck a contemporary and trendy look.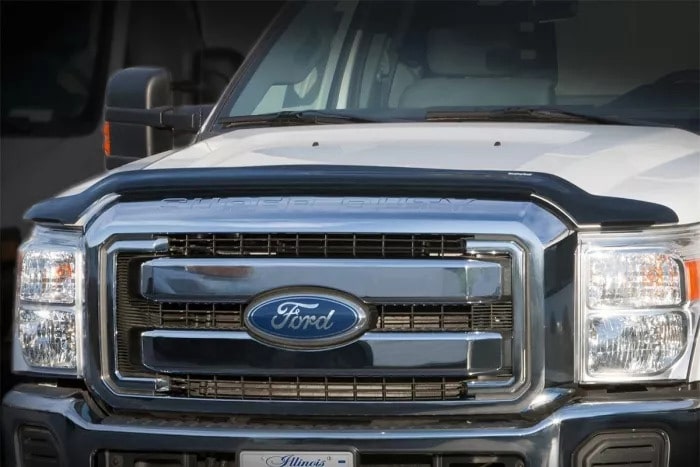 The smooth texture on both bug deflectors enables debris and dirt to easily slide off, keeping your vehicle's leading-edge clean.
EGR's three options provision swings the debate balance to its side.
Precise Custom-Fit Hood Protector
A durable and efficient bug deflector needs to seamlessly fit your vehicle's hood to avoid altering the original design.
WeatherTech and EGR use 3D imaging and laser technology to ensure that each hood protector is application-specific.
A precise fit is assured for any vehicle as this feature enables the bug shield to flow with the contours of your vehicle's leading edge.
The high-quality nature of both brands prevents wind noise experienced when poor quality bug deflectors are used. The ill-fitting shields leave loose areas that strong winds hit and cause flapping noises.
WeatherTech is a tried and tested brand and lasts longer without losing its custom shape, as reviewed by these two satisfied customers.
In terms of customer satisfaction and durability, WeatherTech takes the day.
Super Easy Installation
WeatherTech and EGR boast of super easy installation, with each offering optional methods depending on the shape of your hood's leading edge.
WeatherTech was the first in the early nineties to add installation options after Ford radically redesigned their trucks adding contours that needed precise fitting and installation.
WeatherTech stands apart from EGR who recently joined the market, and has a long way to go to match their overall installation experience.
No drilling, cutting, or fabricating is required by either brand.
Each bug deflector comes with easy-to-install parts such as:
Clips
Screws
Fasteners
3M tape
Push rivets
A vehicle with multiple curved leading edges will need two mounting options, while smooth-edged SUV, Ford, or Toyota vehicles can get away with using one installation method.
Some installation options explained in the instruction manual include:
Clipping then reinforcing with tape
Using 3M double tape already attached to the shield
Attach using fasteners and screws
Here's a simple tutorial on installing the Weathertech hood protector on your vehicle's hood using 3M tape.
There's no debate about it; both offer similar and effective installation procedures.
Extremely High-quality Material
Both brands use acrylic as the material of choice for their hood protector. Acrylic has a proven track record for its use in vehicles accessories because it's:
Ultra-strong
Indestructible
Scratch-resistant
High-impact
The durable acrylic plastic from both brands also gives your hoods leading edge the sparkly aesthetic appeal due to its similar light transmittance property as glass.
Weathertech deflectors have a superior impact-modified specification added to them that makes them stand out from EGR.
They also have more years of experience in making and improving their shield, which gives Weathertech an upper hand when it comes to their acrylic quality.
Which Bug Deflector Takes the Day?
You can't go wrong with either brand when it comes to protecting your hood and windshield, saving on fuel consumption, and aesthetic appeal.
WeatherTech and EGR are the most sought-after hood protectors because of their reliability and durable qualities. They're also widely available, with automotive companies like PartCatalog stocking most of their products.
EGR hood protector finish stands out with their three stylish options. They also give you a choice of a high or low-profile shield.
WeatherTech bug deflectors have been around for years. They've gone through multiple improvement processes that make their deflectors stand out in durability, aerodynamic qualities, and custom-mold design.
Both brands match each other with their easy-to-install options that get the job done in 20–30mins.
The debate of which brand to buy depends on which need you desire to meet the most. These two deflectors have more similarities than differences.
The weighing scale tips towards WeatherTech bug deflectors because of their highest quality shield, experience, and customer satisfaction.
Frequently Asked Questions