That first raindrop splashes across your windshield. Time to roll up the windows.
A few moments later, you realize: yikes, this car smells terrible.
Perhaps it's time to consider installing some side window deflectors. This simple and low-priced accessory keeps out rain and snow so that you can ride with the windows down in any weather.
Breathe in that fresh air… ahh, that's better.
The go-to brand for side window deflectors is WeatherTech. WeatherTech achieves excellence in all sorts of auto accessories that make car ownership a more pleasant and organized experience.
Deflectors by WeatherTech are designed to fit your vehicle's window perfectly. Like all WeatherTech products, you'll find a level of craftsmanship and product quality that's unexpected in a minor vehicle accessory.
The material used is a fine 3mm acrylic that fits snugly into place and is super durable.
"I have used WeatherTech deflectors for years starting with a '95 Explorer, then an '01 Jaguar, then an '06 Azera and now our '08 Rogue and '08 tC. These are really quality products! Never have we had a problem with breakage, coming off, or installation. Really a class act."
WeatherTech Product Review by a Nissan Rogue and Scion tC Driver
Side window deflectors are easy to buy and install. This quick and affordable purchase can bring a major improvement to your comfort level behind the wheel.
In this short guide, we'll cover the basics of window deflector benefits, installation, and maintenance.
Window Deflector Installation and Maintenance
WeatherTech makes window deflectors that are custom-fit for various vehicle makes and models. Select the deflector set that matches your vehicle's windows, and installation will be easy-breezy. No exterior taping is required.
Your window deflector kit will include clear and easy-to-follow instructions. Here's a rundown on the installation steps that you'll need to follow:
Start with a front window. Clean and dry the window channel. Use the included channel tool wrapped in a paper towel. Slide the tool slowly along the groove, removing dirt and grime.



The front end of the deflector flange should be placed to rest on the top of the outer window sill weatherstrip. Then slide the flange into the forward channel.
Once the front end is in position, bow the deflector towards you. It's flexible and will bend as much as it needs to. The rear end of the flange slips into the rear vertical window channel. Leave a gap of ½" at the top.



Work from front to back, tucking the flange into the window channel. Apply some outward (towards you) pressure as you go to help the deflector find its seating.
Deflectors for your rear seat windows are the same as the front but may include a strip of pre-applied adhesive. If so, start by removing the adhesive's backing strip.

Fit the rear deflector into the window by first orientating it at a slight angle so that it fits.



Next, straighten the rear deflector and slide it up into the window channel.
Apply some slight outward pressure with your fingertips. This helps to set the rear deflector's adhesive strip.
Before you close the window for the first time after deflector installation, make sure that the deflector is fully set in the window channel. Ensure that the window can close unobstructed.

To be sure, run the channel tool along the top of the channel.



Slowly bring up the window. Use your hand to apply a bit of outward tension as the window raises to ensure its passage.

When the window reaches the deflector's threshold, release the tension. Then, finish raising the window.

Repeat the process for all windows. That's all there is to it!



As for maintenance, not much is needed. The deflectors can remain in place over time. Just give them a quick cleaning, if desired, whenever you wash off your car or truck.
Window Deflector Benefits: Rain Protection and Wind Noise Reduction
Window deflectors contribute to the exterior styling of a vehicle. They provide a slick and streamlined appearance to the side window area. In fact, we wouldn't blame you if you bought a set purely for aesthetic purposes.
However, deflectors are functional, not just stylish. Their primary purpose is to channel rain away from open windows. That way, you can let in fresh air while riding in the rain—without getting wet.
How does this work? Well, it's all about aerodynamics.
When you open the window of your car or truck, that alters the aerodynamics of your moving vehicle. Air is drawn inside.
Adding a window deflector redirects the moving air. It now moves around the sides of the vehicle rather than streaming in.
The deflector extends down over the upper few inches of the window. So, for just a bit of fresh, cool air and total precipitation protection, just crack the window open an inch or two. You'll be cozy and dry without feeling stuffy.
When it hails, rains, or snows, droplets no longer fly into the vehicle. However, you still get the ventilation benefits of an open window. Allow interior heat to escape the vehicle for comfortable driving during all types of weather.
A secondary benefit of WeatherTech side window deflectors is noise reduction. The aerodynamic shift provided by deflectors brings a substantial decrease in the whooshing sounds of wind rushing along your window edges.
WeatherTech Side Window Deflectors: Frequently Asked Questions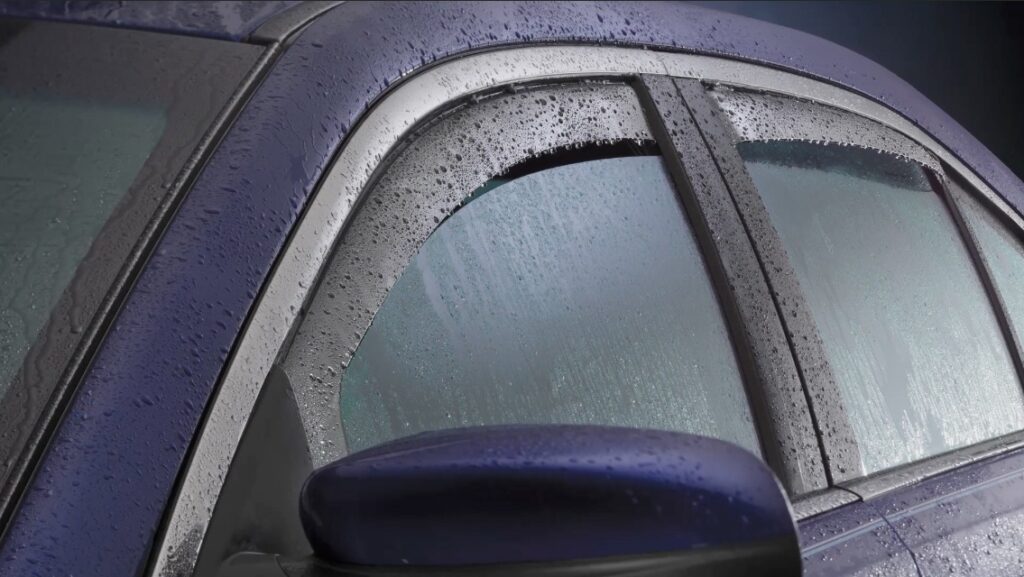 Window deflectors offer tremendous bang for your buck. They're one of the cheaper automotive purchases that you'll make, with benefits that you're sure to appreciate during your very next rainy-day drive.
Here are product details for WeatherTech window deflectors:
WeatherTech Window Deflectors: Product Details
Materials
Strong and flexible 3mm acrylic with ultra-thin flanges
Product Source
Designed and engineered in Illinois, USA; handcrafted in Germany
Required Installation Tools
All materials included, aside from paper towel for pre-install window cleaning
PartCatalog carries a broad selection of WeatherTech accessories, including side window deflectors.
Visit our side window deflectors inventory and select your make and model. View product pages for full product details and pricing. For the quick and dirty facts on WeatherTech deflectors, here are answers to a few frequently asked questions: