Fender flares are an accessory available to most trucks and SUVs on the market. It is an extension of your vehicle, fitting directly over your wheel well and contoured to match the same body lines as your specific truck or SUV. Fender flares are available in a wide range of styles, colors, and textures to match the look you're after. This is an important & aesthetically pleasing accessory, one that is legally required in certain instances if you have large tires.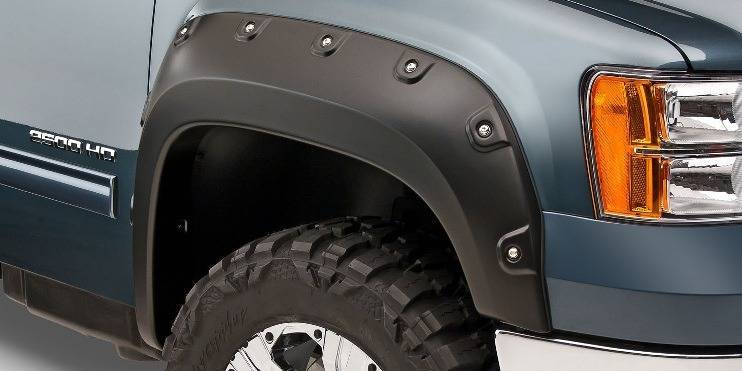 Benefits of Fender Flares
The benefits of fender flares are wide ranging, but most customers purchase for one of four reasons:
To add styling to a stock truck
To abide by the law if the customer has large tires
To hide rust or body damage around the wheel well
To replace damaged fender flares that came with the truck
So what are the laws regarding fender flares? It depends on your state, but the general requirement is that your fender flares have to, at the least, extend out enough to cover the tread on your tires. Some states may require the flares to cover the full tire. We highly recommend contacting your local DPS to inquire about the laws governing large tires and fender flares if it is applicable to you.
The reason for a law governing fenders and tires is that tires regularly kick up road debris and loose rocks while you're driving on roads and highways. You wouldn't want your large tires to kick up a rock and crack a windshield behind you. The law serves has a safety precaution for everyone on the road. Fender flares will also help to prevent rocks from kicking up and hitting your own truck or SUV, thereby minimizing scrapes and scratches from the road.
Styles of Fender Flares
Once you've determined that you need (or just want!) a set of fender flares, the next step is finding the style that fits with your truck and your personality. There are many styles out there, and they go by different names depending on the manufacturer. However, they can usually be organized into one of 4 buckets. Most sets can easily be painted, and in some cases can arrive to your doorstep pre-painted any color, as well as available in both smooth or textured finishes.
We've made it easy to narrow down your choice of flares – simply click on one of the styles above, select your truck or SUV, and we'll show you what's available. Or click here to view our full collection. It's really very easy to get started!
How to Get Started
Hopefully you now know which style of fender flare you want. The rest is easy, and we'll help you along the way. Simply navigate to our Fender Flares section, select your truck, and take a look at the options available for you. We will only show you the fender flares that fit your truck, and will notify you of any special fitment notes, so that you can be sure the set you receive is the set you need.
For a more in depth guide, learn more about how to find a set of fender flares that fit your truck.
If you know which style you want, click on one of the following links to have the choices narrowed down for you: OE Style, Street Style, Pocket / Bolt Style or Extended Style. Or click here to browse our full selection.
If you know that you want painted fender flares, take a look at our pre-painted flare selection. These are available in most styles and applications, and will arrive at your doorstep pre-painted. During the ordering process, you'll have the chance to let us know what color you want your fender flares painted. We'll then send the flares to our professional painter and have them shipped directly to you.