Have you been hunting the internet for the best tonneau cover?
Well, you don't need to look any further.
When considering options that are easy to install and can balance both accessibility and security, the BAKFlip MX4 fits the bill perfectly.
This comprehensive guide will tell you everything you need to know about the BAKFlip MX4.
It's time to say goodbye to the worries over theft, harsh weather conditions and cargo damage!
I hope you'll find it useful in helping you make an informed decision. Feel free to text us at 281-761-6097 if you have any questions.
-Alan
BAKFlip MX4 Tonneau Cover
When's the last time you were hauling valuable cargo, and needed to stop somewhere for a quick bite to eat? You probably parked your truck by the window so that you could watch it and make sure no one steals your tools.
With a tonneau cover, you can leave your truck in peace while keeping your cargo safe.
Most manufacturers tend to lean more on one side when it comes to the design. One that is easily accessible can not pass for theft-proof, while one that has extra protective layers is not convenient.The MX4 is one of those that is close to striking a balance between convenience and security.
BAKFlip, from BAK Industries, is a line of tonneau covers with hard folding characteristics. They offer weather protection and security for small cargo.
If you need to haul large cargo, BAKFlip covers allow for near total access to your truck bed. Other than the popular tri-fold tonneau covers, BAKFlip also has a unique range of Quad-fold covers.
Most of the BAKFlip hard folding tonneau covers look similar, but there are a lot of differences in the details.
Top 5 Features of BAKFlip MX4 Tonneau Cover
Stylish tri-fold design
Aircraft-grade aluminum panels and rail system
Heavy-duty black matte finish
Concealed latch system
Incredibly easy to install
The Good and Bad of BAKFlip MX4
Pros
Quick bed access – You can get access to ⅓, ⅔ or the entire truck bed even with the tailgate up.
Weather protection – It has an efficient drainage system and a treated black matte powder finish.
Very easy and quick installation – It's easy to clamp on without drilling or using any complicated tools.
Strong construction – It is hard and durable as it is built with aircraft-grade aluminum panels.
Limited 5 year warranty – The BAKFlip MX4 is free from defects in materials and workmanship. BAK Industries guarantees this with a limited 5 year warranty. In case of any questions regarding the warranty, feel free to contact us.
Made in the USA – It is precision-engineered using advanced technology and expert workmanship.
Cons
Bulky – This can pose a challenge during the initial installation as you may need to ask for help in lifting the cover over your truck bed.
Possible leaks – Water may leak in along the rail edges if not properly installed.
Limited theft protection – With the latch system, would-be thieves can skip the tailgate and still access your truck bed.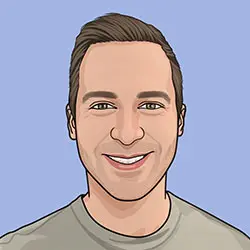 The BAKFlip MX4 is one of my favorite tonneau covers. I've always been a fan of BAK as a company, and they really outdid themselves with the MX4. The matte black finish is the icing on the cake.
-Alan, founder of PartCatalog
Why You Need This Truck Bed Cover
The BAKFlip MX4 is noted for being one of the best tonneau covers you can buy. Are you wondering how it does that?
It Is Designed for Convenience
Tri-fold design features three segments
Easy to install and remove when you don't need it
Access to ⅓, ⅔ or the total bed space
You can close the cover whether your tailgate is open or closed
For the MX4, it's simplicity all the way.
This strong bed truck cover is custom-designed to ensure a perfect fit for most vehicles.
The tri-fold design features three segments made of tough and durable aluminum paneling with a flush mount design. They fold inward in a quick and simple manner, making the bed easily accessible.
The panels are rustproof and this great cover also features a premium density foam core. It can withstand a weight of 400 lbs that is evenly distributed.
It's worth noting that you can have access to ⅓, ⅔ or the total bed space. Depending on the size of your cargo, you can open the cover as much or as little as you want.
Who wants to open the entire truck bed just to pick a hummer from one corner?
The MX4 is an updated version of current BAK tonneau covers. Some of the new essential elements include matte elevator bolts, mounting rail end caps, finished cab corner caps and prop rod clips.
Tip: You don't have to leave the cover open if you want to close the tailgate. The Dual Action Tailgate Seal of the MX4 enables you to close the cover whether your tailgate is open or closed.
Offers Better Protection Levels
½ inch thick aluminum paneling
Resistant to tear
Concealed patented latch system
The integrated buckle system secures it in its position
Can be propped up when hauling large cargo
Features rail end caps
Though there is no built-in lock system, the BAKFlip MX4 is designed with security considerations.
It boasts of higher protection levels and extra rigidity compared to soft covers, thanks to the ½ inch thick aluminum paneling. The aluminum frame also has a marine-grade vinyl over it that is resistant to tear.
The BAKFlip MX4 comes with a locking mechanism of high quality, which allows access to the latch even with the tailgate up. There is a patented latch system hidden under the cover.
The downside of this feature is that it creates a security loophole, since anyone can bypass the tailgate and still gain access to your truck bed.
The integrated buckle system secures the hard folding cover in its position. When fully folded, there is a safety strap and prop rods that are included.
As you gradually uncover your truck bed, the folded cover remains in place, thanks to the prop rod. When hauling large items, you can fully fold your cover, prop it and drive safely.
The propped up tonneau cover is convenient for hauling large cargo, but it's not good for your windshield. The BAKFlip MX4 provides three cab bumpers for this purpose.
Once the cover is folded, the cab bumpers are stuck to it to prevent it from slamming against the windshield.
For most applications, you can enjoy full bed access without hindering visibility over the third brake light. This also enhances security while driving as you can use the back window.
No More Worries Over Weather and Road Elements
Does not fade
Resistant to scratches and dents
Efficient drainage system
Keeps your truck bed dry
With the MX4, you don't need to worry about harsh weather conditions and their impacts on your truck's visual appeal. The heavy duty aluminum panels are designed to close, with weather and damage protection in mind.
Your folding truck bed cover has a matte finish that is treated to ensure the color doesn't fade over time because of UV rays. The powder coat also gives it dent and scratch resistance.
The rails are integrated with drainage channels, which direct water away from your truck bed.
This protects your truck bed from moisture and ensures your cargo remains safe too.
The rails are shaped like gutters. They collect rainwater and direct it to the drain channels.
Rainwater flows out of the truck through the drainage channels. The rails and the channels make a very efficient drainage system
The weathertight rubber seal makes it waterproof and the matte black EPDM rubber seals join the rails and the bed rails.
The triple fin seals are for interconnecting the panels seamlessly. Lastly, the bulkhead seal fills any gap existing between the side rails and the bed liner, sealing the cover.
If properly installed, the BAKFlip MX4 beats its competitors at keeping the bed dry.
Though it's hard to find a great cover that is 100% waterproof, you can use special installation techniques to give it maximum water resistance.
If you need professional help, contact local BAK Authorized Dealers. With this MX4 truck bed cover, you don't need to worry about driving in windy, rainy or sunny weather.
Installation Is a Breeze
No-drill installation
Installs in only 15-30 minutes
Comes with installation instructions and tools
No one wants to spend the whole day sweating over a truck bed cover when there are more important tasks that call for your attention. The BAKFlip MX4 tonneau cover saves you from breaking the bank when paying for expert services.
The installation is straightforward and you'll be done in 15 to 30 minutes. The MX4 cover comes with simple instructions and installation tools like the no-drill clamps.
The cover sits on the bed rails and leaves space on the edge for the stake pockets present on many trucks.
To ensure the cover remains in place, the two supporting rails are fastened to the sides of the truck bed using clamps. You can place your clamps anywhere that serves you best, since they need no holes or guides to function.
This clamp-on installation process requires no drilling or any further modifications.
The only drawback when installing the great bed cover is its heavy weight. If you are in a position to get some help, it would be easier and quicker to lift the cover's bulk at once.
Lifting it all on your own can be a tedious task, but once it's up, you're as good as done.
Very Practical To Use
Total bed access
Enhanced rubber bumpers to prevent scratches
Takes up little space
Pull cable release can be operated from both driver and passenger seats
Once you overcome the hurdle of the weight and you have your MX4 set up, you'll realize that it's very accessible, convenient, secure and practical to use.
You don't have to put down the tailgate before unfolding your cover. If you are looking for a truck bed cover that allows you to quickly take out items from your truck bed, this is the best cover for your needs.
There is absolutely no extra complicated rolling and lifting involved.
When fully open, the panels are lifted vertically by means of simple support. This allows you to access the entire truck bed easily.
The other good news is that you can enjoy total bed access with the MX4 tonneau cover.
Once open, secure the cover in place with the provided struts to gain access to almost 100% of your truck bed. You don't need to worry about the truck's cabs as the MX4 comes with enhanced rubber bumpers to prevent scratches.
In addition, you don't need to worry about space as the cover takes up very little of that compared to other typical covers. It can hold up to 400 lbs of evenly distributed weight without deformation or dents.
Under the cover, there is a simple pull cable release. You can use it to fold the cover from the driver's side or the passenger's side.
Sleek and Stylish for Aesthetic Appeal
Matte black finish
Aerodynamic shape
Fits into the rails and tailgate
The sleek design of BAKFlip MX4 is one of the key reasons why our customers love it.
It looks great with the complete matte finish that makes it resistant to UV rays, scuffs and scratches.
Besides the neat matte black review, there is no exposed aluminum to worry about as the rails also have a finished look. They are rustproof and aircraft-grade, forming a solid base for the cover.
The MX4 fits well into the rails and tailgate. It's aerodynamic shape helps save on fuel.
Tip: If you are carrying cargo that is taller than the cover without the prop rods, it's safer and better to skip the cover altogether.
Are There Other Options?
Two of the most popular alternative tonneau covers to the MX4 are the UnderCover Flex Tonneau Cover and the Truxedo Deuce Tonneau Cover.
UnderCover Flex Tonneau Cover
This tonneau cover from UnderCover combines convenience, quality and functionality. It offers the ultimate protection against unauthorized access and harsh weather elements.
Features
Hard folding tonneau cover
Heavy-duty aluminum panel
Easy access to the truck bed
Three secure riding options
Water-tight seal
Clamp-on installation
Ultra-low profile design
Features drain tubes
Increased fuel efficiency
Three year warranty
Made in the USA
TruXedo Deuce Tonneau Cover
The TruXedo Deuce Tonneau Cover is both a roll-up and hinged bed cover. You can either choose to fold the front panel or roll it towards the truck cab. It comes with features that keep your cargo safe and your truck bed free from weather and road elements.
Features
Soft roll-up and hinged tonneau cover
Made of strong fabric
Strong aluminum frame
Automatic tension control
Improves gas mileage
Easy to install
Lifetime warranty
Made in the USA
How Does BAKFlip MX4 Compare To Other Popular Covers?
Now that you know all about the BAKFlip MX4 tonneau cover, check out the table below to see how it compares with UnderCover Flex Tonneau Cover and Truxedo Deuce Tonneau Cover.
Prices are based on a 2018 Chevrolet Silverado 5′ 9″ Truck Bed at the time when this is written and it is subject to change without notice. Other trucks will be similarly priced.
| | | | |
| --- | --- | --- | --- |
| Feature | BAKFlip MX4 Tonneau Cover | UnderCover Flex Tonneau Cover | TruXedo Deuce Tonneau Cover |
| Price | $988.88 | $893.00 | $539 |
| Design | Folding | Folding | Roll-Up/ Flip-Up Front Panel |
| Type | Hard | Hard | Soft |
| Finish | Matte Black | Black Semi-Gloss Textured | Black |
| Warranty | 5 year limited warranty | 3 year warranty | Limited lifetime warranty |
| | Check Price | Check Price | Check Price |
Frequently Asked Questions About The BAKFlip MX4