Are you wondering why the BAKFlip G2 is so popular? Well, the tonneau cover is easy to use, elegant, secure, and requires minimal effort to install.
It's also an excellent choice when you want maximum cargo protection and easy bed access.
I've published this guide to equip you with all the information you are looking for before investing in this bed cover.
Sound good?
Cool!
If you have any concerns or questions, feel free to contact our team at 281-761-6097.
-Alan
What is the BAKFlip G2 tonneau cover?
The BAKFlip is BAK's most popular hard folding tonneau cover
The cover is made for people that want to keep both rain and criminals from accessing your truck bed.
It offers you full access to your bed and keeps your cargo secure when closed. 
People buy it because of its solid construction – it's designed from durable, powder-coated aluminum.
The lightweight aluminum design makes folding the panels easy. Its also capable of holding up to 300 lbs of evenly distributed weight.
The tonneau cover also offers great flexibility. For example, when you want to transport large items, just flip open the cover for instant bed access without removing the cover.
The BAKFlip cover provides a secure traveling position whether it is fully open or closed. When fully open, it uses an integrated buckle system that secures the cover panels.
What's more, all the important components are connected to the cover's tough aluminum undersurface for long-term durability and strength.
What are some of the features of the BAKFlip G2 tonneau covers?
The G2 BAKFlip cover is a smart investment because it has all of BAK's best-in-class features.
Apart from the concealed system that enables you to secure your items by locking the tailgate, installation requires few tools.
From a security standpoint, you can secure your cargo from prying eyes and hands simply by locking your tailgate.
Installation is also a breeze. One thing that a lot of new BAK cover owners comment on is how flush the bed cover installs on the bed. It has a premium feel to it, and the flushness helps keep water out.
Here are other features that make this cover popular:
Can lock your tailgate for maximum security
The BAKFlip tonneau cover comes with a latch that is hidden under the cover to protect your contents.
If you want to prevent criminals from accessing your truck bed's belongings, just lock your tailgate.
If your truck isn't equipped with the locking tailgate, buy a Pop & Lock tailgate lock and add it to your truck for enhanced security. 
Works with the BAKBox Toolbox
The BAKFlip cover is compatible with the BAKBox toolbox. The toolbox is a versatile, convenient storage solution that works with BAKFlip covers.
You can place it on the rail to organize items beneath your locked tonneau cover. Additionally, the BAKBox toolbox has a sliding tray for holding small items and folds away quickly for easy bed access.
The BAKBox toolbox is purchased separately. It can be purchased here.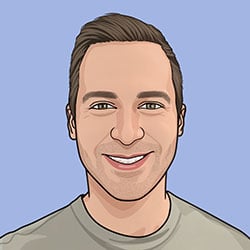 From Alan, founder of PartCatalog:
The BAKBox is an awesome addition to the BAKFlip tonneau covers. It keeps your smaller tools, camp gear, etc. neatly tucked away under the cover.
Plus it's completely hidden when the tonneau cover is closed, which makes it less susceptible to thieves.
Drive with the panels in any position
The integrated D-Rings enable you to drive with your tonneau cover secured in the flipped flat position, fully closed position, and fully opened position.
The flipped flat position allows you to maintain a safe view through your truck's back window without using bungee cords or straps.
No-drill, fast installation
The G2 tonneau cover requires no drilling. The cover clamps effortlessly on your truck rail with an easy-to-use clamp system. If you have a 9/16 wrench, you can install this cover in less than one hour.
You will need to tighten three clamps on both sides to secure the cover. There are four clamps on both sides for long bed trucks.
Locks in full open position
The BAKFlip tonneau cover can lock against your cab's back in the full open position. The cover has rubber bumpers that prevent its rough surface from coming into contact with your truck.
The bumpers also allow you to drive at highway speeds with your tonneau cover open and protect your bed from damage.
Below are the specifications:
| | |
| --- | --- |
| Features | BAKFlip G2 |
| Panel core | EPS foam-filled (2 lbs) |
| Weight capacity | 300 pounds evenly distributed |
| Thickness | ½ inch |
| Underside | Aluminum |
| Side seals | EPDM |
| Latch housings | Aluminum |
| Rail style | Flush fit |
| Rack included | No |
| UV protected | Yes |
| Warranty | 3 years |
5 reasons why your truck needs the BAKFlip G2 Bed Cover
The BAKFlip G2 hard bed covers can help you save money from theft, damaged/lost cargo, and low gas mileage.
It can also protect your truck bed and prevent serious damage, like hail damage, which can cost you a lot of money in repair costs.
Here are 5 ways upgrading your bed with tonneau covers can make your life easier.
Holds items in place
How many times have you found the items in your truck shifted or even fly off when you are speeding on the highway? The truck bed covers can help you prevent this annoying problem.
The covers keep valuables in place while protecting against the wind that causes items to shift. With BAKFlip G2 tonneau covers, you can load up and still find your valuables organized when your journey ends.
Moreover, since these hard folding tonneau covers provide multiple riding positions, you can load up your vehicle however you want without removing the cover.
If you are looking for a hard folding tonneau cover that is easy to store, simple to remove, and lightweight, the G2 BAKFlip cover is an excellent choice. 
The BAKBox toolbox is the best way to keep things organized. It is fully compatible with all BAKFlip covers, and helps to keep your smaller items neat and organized.
Saves on gas
Most truck owners overlook this benefit. However, an empty truck bed can cause air drag due to aerodynamics. This makes your vehicle consume more fuel as it uses more power to move.
In turn, you end up spending more on gas and filling up more frequently. A quality G2 truck bed cover can help you minimize the drag. Its design creates a streamlined truck with no open bed that traps and creates air drag.
The BAKFlip tonneau cover can also make your car more aerodynamic and improve your gas mileage. Over time, your truck bed cover will start paying itself back.
Installing the G2 hard folding cover will also keep the back of your truck in good condition for several years. Should you choose to sell your vehicle, you won't have to discount the price due to a bed that has been damaged or exposed to the elements.
Provides security
Potential criminals pose a threat to your valuables. That's why keeping your precious items away from prying eyes is essential as it can help you protect your valuables.
BAKFlip truck bed covers keep your belongings out of sight, making it difficult for thieves to know the contents in your bed.
Whether it's luggage for your summer trip, equipment for your video shoot, or tools from your job site, the covers ward off attention keeping your goods safe. The covers also help prevent unauthorized persons from accessing your valuables.
Additionally, the G2 BAKFlip hard covers come with secure locking mechanisms that protect the items you are transporting. The locking mechanisms are made from robust materials that make breaking into your truck bed difficult.
Protects your goods from the elements
Apart from protecting items from theft, G2 BAKFlip hard folding tonneau covers also shield your personal belongings from bad weather such as snowy or rainy days.
Since the weather can be unpredictable, it's crucial to invest in a G2 truck bed cover to enjoy year-round protection. The covers also protect your bed from other elements like dust, mud, wind, and even hail damage.
You certainly don't want to deal with unnecessary car washes and a filthy bed, right? You can avoid the hassle by installing a G2 BAKFlip cover on your truck.
Moreover, debris and dirt can damage your truck bed floor and make it difficult to transport anything using your bed. This is a big reason why truck owners install BAKFlip tonneau covers on their vehicles.
Looks really good on your truck
One major reason why many truck owners buy hard folding tonneau covers is that they look really good on your truck. The covers really class up your truck by covering up the visible dirty bed.
When the cover is closed, your truck will look GOOD. It gives a sleek and classy look to it. The covered truck bed looks more appealing than an open bed.
If your truck bed is dinged up, rusty or old, a quality tonneau cover can help you hide the damage, making your bed look much cooler. The cover can also hide a messy bed especially if you transport things likke mulch.
Do you want your truck to look better than the other ones on the road? Buy yourself a G2 truck bed cover and get it installed.
What to look for when buying a tonneau cover
Shopping for a new truck bed cover can be overwhelming. Below are the most essential things you need to pay attention to.
Closing & Opening Style
Tonneau covers are categorized depending on their closing and opening style. 
First, make sure that a folding tonneau cover is what you want. Folding covers are the most popular – by far – but there may be another style that interests you instead.
Regardless of how your cover closes or opens, you will need to find a way to secure it. Below are the most popular closing and opening styles:
Installation Ease
Before investing in a tonneau cover, check to see if installing it requires a professional's help. This is essential because some tonneau covers are difficult to install. 
For example, the hinged hard covers are large and heavy. So, you may need to ask a friend to help you lift them onto your truck bed. On the other hand, rolling or retractable covers are compact and lightweight and you can install them easily. 
It's also important to check the installation process of the covers you want to buy. Depending on your covers, the installation procedure may be straightforward, or you may have to drill into your truck bed's sides.
Fortunately, installing the G2 BAKFlip cover is easy. You can see an example walk-through at the bottom of this page.
Compatibility with your truck bed
BAKFlip covers are designed to custom fit each truck. This means a specific tonneau cover will fit one vehicle. They are not cross compatible. Generally, compatibility problems are caused by the following issues:
Choosing the wrong truck
Choosing the wrong bed size
To avoid installation problems, check if the truck bed cover you are interested in is compatible with your truck. You do not want to invest in a tonneau cover that doesn't fit properly on your truck bed or one that requires modifying parts of your bed.
It's also required to check your truck bed's size and how it is designed to help you choose the right cover. Before buying a new cover, measure the bed to get the correct BAKFlip tonneau cover. 
You should also check if the cover has any damaged or loose parts before purchasing. Faults can make your cover pull away in some areas of your truck bed. 
Tip: Measure twice, order once! Before ordering, it's best to measure your truck bed. Double check that you're ordering for the correct bed length. Most of the popular trucks, like Silverado's, Sierra's, and Ram's are sold in multiple bed lenght options.
Cover Material
Manufacturers use a variety of materials to design tonneau covers. That's why it's essential to choose the right type depending on your driving conditions and safety needs.
Let's take a look at some common BAKFlip cover materials.
Fiberglass and Plastic: These tonneau cover materials are waterproof and sturdy, making them a great option if you want lightweight, durable covers and extra protection for your bed.
Vinyl: Vinyl materials are elegant, easy to install and maintain. However, they may not offer your truck bed adequate security as they aren't sturdy.
Aluminum: These cover materials are tough and can withstand damage. However, they tend to dent easily from impact.
Canvas: Canvas materials are perfect for occasional use as they aren't tough enough to endure damage.
Cover Type
It's also important to check the cover type when shopping for your tonneau cover. BAKFlip covers are available as hard covers. Although these covers are costly, they provide more protection and can keep your valuables safe in bad weather conditions.
How to install the BAKFlip G2 hard folding tonneau cover
If you have recently bought a new pickup and don't know how to install the BAKFlip G2 tonneau covers, we've got you covered. The covers require little effort to install. There's no drilling involved.
These instructions and parts included are a representation of an installation. Exact installation and hardware will depend on the truck you drive. Your order with us will include everything you need and specific instructions for your truck.
Required Tools
Parts Included in Your Package
1 hard folding cover assembly
3 d-shaped bed bumpers
1 pair BAKFlip rails
2 white drain tubes
1 bulkhead seal
Hardware Bag Includes
2 elevator bolts with a large flat head
2 large flat washers
4 machine screws
4 rubber washers
2 lock washers
2-star knobs
4 threaded posts
2 buckle ends
6 clamps
Installation Instructions
Once you have the above tools, follow these steps to guide you through the installation process:
Step 1: Install the bulkhead/cab seal if your truck doesn't have a drop in bedliner. Next, close the tailgate and place the BAKFlip rail onto your truck bed.
Step 2: Ensure the rail is completely level and clamped squarely. Keep in mind that you may need to trim in the corners some drop in liners to fit the rail.
Step 3: Insert the clamp into the rail and align the clamp teeth to the rail slots to achieve a secure grip. When tightening the clamp, apply to the rail downward pressure so that it seals properly.
Step 4: Put the second clamp in the middle of the rail. To insert the clamp correctly, refer to steps 2 and 3.
Step 5: Place the rear clamp 6 inches from the tailgate and then tighten all the clamps. Once you are done, torque an additional ½ turn and repeat steps 2 to 4 on the other side.
Step 6: Mount the BAKFlip G2 cover on the rail towards the cab's front with the small panel forward. Ensure the cover is in the folded position.
Step 7: Use a screwdriver plus the provided threaded posts and machine screws to install the two buckle ends into the pre-drilled holes before installing the cover.
Step 8: Ensure the small panel folds down over the silver brackets and faces toward the cab. The seal should rest on top of the rail while the front panel should sit inside the bulkhead rail. Next, fold the panel and align it squarely on the rails.
Step 9: Install the three cab bumpers along the top edge of the BAKFlip G2 cover.
Use the supplied rubber washer to insert the big flat bolt through the underneath silver slotted bracket and front panel. Repeat on the opposite side.
Step 10: The order of washers underneath the BAKFlip cover is as follows:
Rubber washer first
Large flat stainless washer
Lock washer
5 star finger knob
Step 11: Assemble the washers and tighten the knob loosely. Unfold the BAKFlip G2 cover towards the tailgate and ensure it fits squarely between the rails. If you did the adjustment correctly, the cover should fit inside the tailgate.
Step 12: Fold the cover toward the cab and tighten the knobs until the lock washer flattens out and locks the knob to the bracket securely.
Step 13: Route the front drain tubes from the end of the rail out through the available bed plugs. You can drill a ⅞ inches hole through the plastic or remove the plugs.
Step 14: Ensure the cover panel latches align properly with the side rails. If your BAKFlip G2 cover appears wrinkled, leave your vehicle in the sun to make the seals lay flat. Once they lay flat, lock the tailgate to lock your BAKflip cover.
Frequently Asked Questions