Putco Stainless Steel Door Sills
Find this for your car.
Current Step

Current Step

Current Step
Show Products
Stainless Steel Door Sills
Polished finish
Easy to install
Custom-fit design
Stainless steel construction
Limited lifetime warranty
Made in the USA
Get Easy-to-Install Parts. No Hassle.
Choose one of the following options:
Sorry. There are no products matching your selection. Try reseting filters or choose different options
The Lowest Price Perfect Fit Guarantee
Our #1 value is customer service.
We believe in doing right by our customers, no matter what it takes.
In keeping with that, we offer a "perfect fit guarantee" that ensures your satisfaction on 3 levels: low price, free shipping, and perfect fitment.
- Alan Marek, Founder of PartCatalog.com
The Lowest Price Anywhere--Guaranteed
At PartCatalog, we'll beat any competing vendor's price. And we're so confident in our rock-bottom prices that we'll refund the difference if you find a lower price elsewhere.
Free Shipping Both Ways
Our "free shipping both ways" policy means that returns and orders ship free of charge. When you place an order, you pay only the list price and any applicable taxes. We cover the shipping to save you money and ensure timely delivery.
100% Guaranteed to Fit
In the highly unlikely event of a fitment problem, we'll return your purchase at no cost to you. We pay return shipping on all orders, so it won't cost you a penny to send back a defective part.
Protective door sill prevents ugly scratches, dents and chips on your door sill
A sleek mirror polish for a classy and attractive aesthetic
Easy tape-on installation with double-sided 3M tape
Designed for your vehicle specific application
Made with tough rust-free stainless steel for strength and durability
Putco's guarantee of quality, service and performance
Made in the US with local labor, material and technology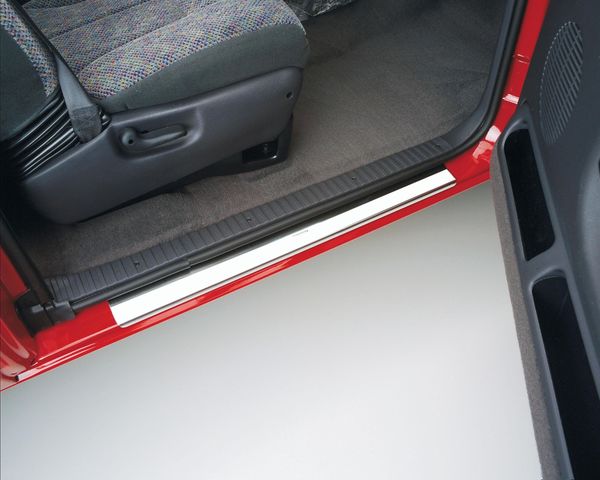 Stainless Steel Door Sills
Your vehicle's doorways are high traffic areas that can easily get damaged. The Putco Door Sills protects them dents, dings and scratches that can make them ugly really quick and cost you a pretty penny for replacements.
Polished finish
The sills have a polished finish that matches your chrome trim. It helps to add a shiny and classy appeal to your vehicle.
Easy to install
You can install them quite easily by taping them on. they come with 3M double-sided automotive tape that attaches them quite securely.
Custom-fit design
The Putco Door Sills are designed for a perfect on your vehicle's specific application. Find this for your car by clicking the blue button above and selecting your vehicle's exact model and year.
Stainless steel construction
They are made with stainless steel of the best quality in the industry. It doesn't rust and will protect your car body for years without damage or weakening.
Limited lifetime warranty
You get a limited lifetime warranty with every purchase of these protectors. It is a guarantee of quality, performance and years of uncompromised service.
Made in the USA
The Putco Door Sills are made in the USA with local materials, technology and by American experts. The company employs thousands of locals every year while supporting local businesses and helping grow the American economy.
Related Articles:
Sorry, there are no videos available.
Putco guarantees its Stainless Steel, and Aluminum products against defects in workmanship and material for as long as you own your vehicle. All painted products and chrome trim have a one year warranty.
The following part numbers are available in this product line:
403103, 95128, 95143, 95143BP, 95143BPFD, 95143FD, 95144, 95144BP, 95144BPFD, 95144FD, 95145, 95150
To purchase this product for your vehicle, please select the Year, Make and Model of your vehicle at the top of this page.
Ford (1999-2016)
F-250 Super Duty, F-350 Super Duty, F-450 Super Duty, F-550 Super Duty
Toyota (2007-2014)
FJ Cruiser