Smittybilt XRC M.O.D Bumper Stinger
Multi optional design bumper stinger
Manufactured from 3/16 cold rolled steel
Two Stage Textured Matte Black Finish Powder Coat Finish
Built in winch plate
Solid Mount D-Rings
Marine Grade Stainless Steel Hardware
Easy to install
5 year limited warranty and Smittybilt Advantage lifetime warranty
Made in the USA
Get Easy-to-Install Parts. No Hassle.
Choose one of the following options:
Sorry. There are no products matching your selection. Try reseting filters or choose different options
The Lowest Price Perfect Fit Guarantee
Our #1 value is customer service.
We believe in doing right by our customers, no matter what it takes.
In keeping with that, we offer a "perfect fit guarantee" that ensures your satisfaction on 3 levels: low price, free shipping, and perfect fitment.
- Alan Marek, Founder of PartCatalog.com
The Lowest Price Anywhere--Guaranteed
At PartCatalog, we'll beat any competing vendor's price. And we're so confident in our rock-bottom prices that we'll refund the difference if you find a lower price elsewhere.
Free Shipping Both Ways
Our "free shipping both ways" policy means that returns and orders ship free of charge. When you place an order, you pay only the list price and any applicable taxes. We cover the shipping to save you money and ensure timely delivery.
100% Guaranteed to Fit
In the highly unlikely event of a fitment problem, we'll return your purchase at no cost to you. We pay return shipping on all orders, so it won't cost you a penny to send back a defective part.
Offers front-end protection and adds a level of toughness to your jeep
Has exceptional strength to offer maximum protection
Looks good and resist corrosion and rust
Built-in winch plate allows for vehicle recovery using a winch
Has towable anchor for pulling your rig behind a truck or motor
Precise fit with the marine grade stainless steel hardware
Easy to install with no drilling required
Guaranteed against defects in material and workmanship
Made in the USA by industry's best experts using top grade material
Multi optional design bumper stinger
Smittybilt Bumper Stinger is a necessary accessory for every motor and off-road enthusiast. The purpose of the stinger is to hit the ground first whenever you are coming down off an obstacle forward and land the vehicle on its two feet, preventing it from flipping or damaging its front end. But note, this stinger is medium-duty and not built for very hardcore protection. The bumper is also a stylish addition and will add a significant level of toughness to your vehicle
Exceptional strength for longer durability
The bumper is well built from 3/16 cold rolled steel which is of exceptional strength and toughness and it will survive years of use and constant abuse.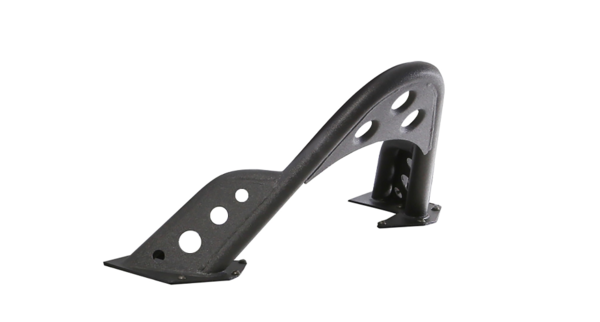 Resist rust and corrosion
The bumper has a two-stage textured matte black powder coat finish that besides looking good and providing a rugged look, will also offer extra protection against rusting and corrosion for longer durablity.
Ability for vehicle recovery using a winch
Smittybilt Bumper Stinger features a built-in winch plate. This will allow the use of a winch in recovering your vehicle whenever it gets stuck.
Towable anchor when pulling your rig behind a truck or motor
The featured solid mount D-rings will provide a towable anchor when pulling your rig behind a truck or motor. They will ensure that both the winch line and the snatch strap remain connected to the hook.
Easy and precise fit
The bumper comes with marine grade stainless steel hardware, which is specially engineered for the purpose and will give you an easy time during installation.
Easy to install
The bumper is super easy to install. Simply unbolt the factory bumpers, remove and install this Smittybilt Bumper Stinger using the hardware that comes with it. The bumper has a little bit more mass and you may require an extra set of hands around. No drilling or specialty tools will be necessary, but an impact gun could make the process easier and quicker.
5 year limited warranty and Smittybilt Advantage lifetime warranty
The bumper has a 5-year limited warranty on the textured matte black powder coat finish and an additional limited lifetime warranty on the structure. The warranties are an assurance of a defects-free performance, and in case of any defective part due to manufacturing error, the company will repair or replace it.
Made in the USA
Smittybilt is a manufacturing company that prides itself on its products' superior quality and exceptional craftsmanship. The company uses advanced technology, taking its products through a series of tests, to ensure only the best is released into the market. Its products are also approved to be in compliance with the stringent industry rules, making this a safe and worthy investment for you.
Sorry, there are no videos available.
This product comes with the manufacturer's warranty.
The following part numbers are available in this product line:
76827
To purchase this product for your vehicle, please select the Year, Make and Model of your vehicle at the top of this page.
Jeep (2007-2018)
Wrangler, Wrangler JK