Spyder Light Bar Style LED Tail Lights
Light bar style LED tail lights
LED light bars
Weather-proof housing
Custom-fit design
Sold in pairs
Easy to install
Manufacturer's warranty
Get Easy-to-Install Parts. No Hassle.
Choose one of the following options:
Sorry. There are no products matching your selection. Try reseting filters or choose different options
The Lowest Price Perfect Fit Guarantee
Our #1 value is customer service.
We believe in doing right by our customers, no matter what it takes.
In keeping with that, we offer a "perfect fit guarantee" that ensures your satisfaction on 3 levels: low price, free shipping, and perfect fitment.
- Alan Marek, Founder of PartCatalog.com
The Lowest Price Anywhere--Guaranteed
At PartCatalog, we'll beat any competing vendor's price. And we're so confident in our rock-bottom prices that we'll refund the difference if you find a lower price elsewhere.
Free Shipping Both Ways
Our "free shipping both ways" policy means that returns and orders ship free of charge. When you place an order, you pay only the list price and any applicable taxes. We cover the shipping to save you money and ensure timely delivery.
100% Guaranteed to Fit
In the highly unlikely event of a fitment problem, we'll return your purchase at no cost to you. We pay return shipping on all orders, so it won't cost you a penny to send back a defective part.
High quality custom style LED ligh bar style tail lights
Super bright LED light bars add brightness and style
Housed in a weather-tight case for protection from the elements
Designed for a perfect fit
Sold in pairs for each side
Easy plug and play installation with minimal wiring
Spyder's guarantee of quality and performance
Light bar style LED tail lights
The Spyder light bar LED taillights give your ride a custom style while lighting up the road for you and other drivers. They make your drives at night safer by improving your visibility while also giving you a sleek look day and night. The tail lights are build to last and will serve you for years while maintaining their value.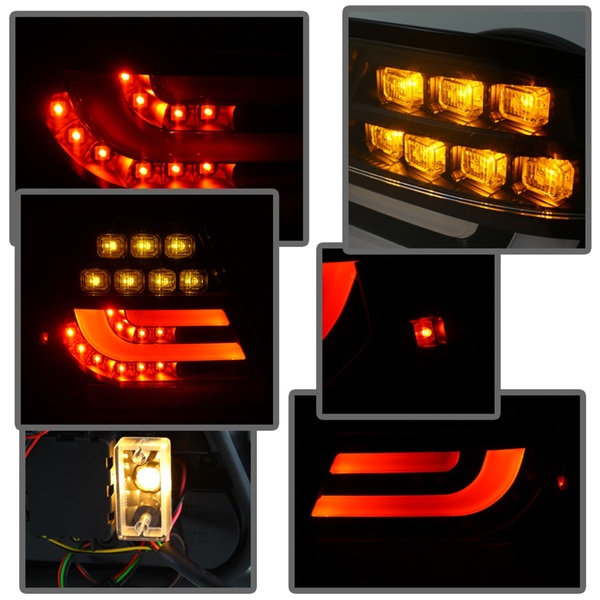 LED light bars
The tail lights feature LED light bars that not only give bright a new meaning but also help save on fuel considerably.
Weather-proof housing
They are contained in a sealed housing that keeps the weather elements such as snow and water out. This helps to prevent damage so that they can last for longer.
Custom-fit design
The Spyder light bar LED tail lights are made for a perfect fit only on specific vehicle applications. To get this for your car, click the blue button above and enter the vehicle details including the model and year.
Sold in pairs
The taillights are sold in pairs - two tail lights in every set, one for each side of the vehicle.
Easy to install
They are fairly easy to install. You only need to plug them into the vehicle's power system with minimal but simple wiring, then bolt them on with the hardware provided. If you're uncomfortable installing, any professional body shop or installer will be able to install these.
Manufacturer's warranty
Your Spyder Light bar LED taillights have a manufacturer's warranty that is activated upon your purchase. It is a guarantee of quality and performance without defects or compromises. Reach out to us if you need any help with yours.
Sorry, there are no videos available.
This product comes with the manufacturer's warranty.
The following part numbers are available in this product line:
5015938 5015952 5015969 5037695 5037718 5037725
To purchase this product for your vehicle, please select the Year, Make and Model of your vehicle at the top of this page.
BMW (1999-2006)
318i, 318is, 320i, 323Ci, 323i, 323is, 325Ci, 325i, 325xi, 328Ci, 328i, 328is, 330Ci, 330i, 330xi