TonnoPro TonnoFold Tonneau Cover for Chevrolet/GMC 6' 6" | TNP136401
Or 3 interest-free payments of $96.66 with Affirm.
Find this for your car.
Current Step

Current Step

Current Step
Show Products
TonnoPro TonnoFold Tri-Fold Truck Bed Cover
Catalog Number: 42-110
Fits: Chevrolet C10, Chevrolet K10, GMC C1500, GMC R1500 (check fitment chart for compatibility)
Authorized Retailer (includes warranty)
Get Easy-to-Install Parts. No Hassle.
TonnoPro Tri-Fold for Chevrolet/GMC (42-110) Tonneau Cover
Fitment Chart:
| Years | Make | Model | Bed Type | Bed Length |
| --- | --- | --- | --- | --- |
| 1987 | GMC | R1500 | Fleetside | 6' 6" Foot Bed |
| 1979-1983 | GMC | C1500 | Fleetside | 6' 6" Foot Bed |
| 1975-1983 | Chevrolet | C10 | Fleetside | 6' 6" Foot Bed |
| 1975-1983 | Chevrolet | K10 | Fleetside | 6' 6" Foot Bed |
Looking for more information on TonnoPro? Learn more here
Tri-fold design enables easy folding and unfolding without using any tools.
Dual-coated vinyl tarp makes the tonneau cover tear resistant and good-looking.
No need to set it up as it comes pre-assembled.
Aluminium frame is strong yet lightweight for one person to handle.
Tonneau cover lies flat thanks to the E-Z clamping system.
Tonneau cover can be clipped safely in place in open position.
Tonneau and cargo are shielded from vicious elements.
Four stitches per inch and special thread coating for extra weatherstripping.
Low profile design looks great and reduces gas consumption.
Easy to fold and unfold on your Chevrolet C10
TonnoPro 42-110 Tri-Fold Tonneau Cover is easy to fold and unfold without using any tools. The three sections of the tonneau cover are hinged together making it easy to fold it into a more compact unit. You can remove it in seconds when carrying oversized cargo or just fold it forward to lock it in place.
Tear resistant and looks good
As testified by many happy customers, this tonneau cover holds its own under the harshest weather conditions thanks to the dual-coated 24 oz. vinyl tarp. It will serve you for many years to come.
Comes pre-assembled for Chevrolet C10
You don't need to set this tonneau cover up yourself, it comes completely assembled for easy installation. Highly recommended by many happy customers.
Easy for one person to handle
TonnoPro 42-110 Tri-Fold Tonneau Cover is strong yet lightweight for one person to handle easily, thanks to its epoxy-coated aluminum frame. With no drilling required, installation is easy and takes only a few minutes.
Tonneau cover lies flat
The E-Z clamping system makes the tonneau cover lie flat by providing tension while ensuring security for your cargo. The tonneau cover is easily folded and removed for full bed access or storage.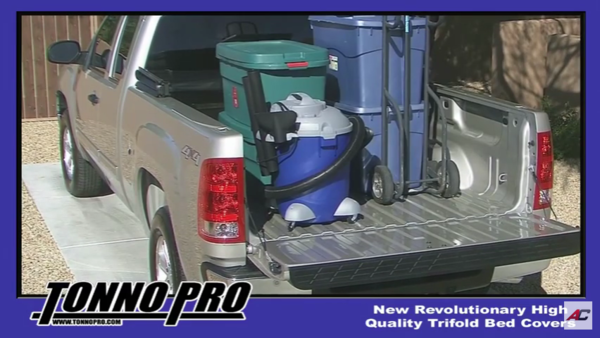 Can be folded open
If you carry oversized cargo, this tonneau cover is ideal for your truck. You simply fold it open and clip it in place to make space for your cargo.
Stays dry in all weather
Under a scorching sun, hail storm, heavy snow or rain, your cargo will remain safe and dry, well protected by your TonnoPro Tri-Fold Tonneau Cover.
Extra protection against moisture
TonnoPro uses four stitches per inch instead of the three required by the industry to strengthen the seams of the tonneau cover, as well as a state of the art thread with special coating that swells to fill the hole made by the needle during sewing; offering extra protection against moisture.
Reduces your Chevrolet C10 gas consumption
Its low aerodynamic profile design not only makes your truck look great but most importantly contributes to reducing your gas consumption by up to 13%.
Limited lifetime warranty
Tonno Pro offers a limited lifetime warranty against defective materials or workmanship on all aluminum rails, aluminum components, clamps, hinges, bows, and hardware. The vinyl is covered by a 10-year warranty.
Sorry, there are no videos available.
The following part numbers are available in this product line:
42-100
,
42-101
,
42-102
,
42-103
,
42-104
,
42-105
,
42-106
,
42-107
,
42-108
,
42-109
,
42-110
,
42-111
,
42-112
,
42-113
,
42-114
,
42-115
,
42-200
,
42-201
,
42-204
,
42-205
,
42-206
,
42-207
,
42-208
,
42-300
,
42-301
,
42-302
,
42-303
,
42-304
,
42-305
,
42-306
,
42-307
,
42-308
,
42-309
,
42-310
,
42-311
,
42-312
,
42-313
,
42-314
,
42-315
,
42-400
,
42-401
,
42-402
,
42-403
,
42-500
,
42-501
,
42-502
,
42-503
,
42-504
,
42-505
,
42-506
,
42-507
,
42-508
,
42-509
,
42-510
,
42-600