TonnoPro HardFold Tonneau Cover for Ram 1500/Ram 2500 6' 6" | TNP136447
Built to Order, up to 4 weeks
TonnoPro HardFold Tri-Fold Truck Bed Cover
Catalog Number: HF-255
Fits: Dodge Ram 1500, Dodge Ram 2500 (check fitment chart for compatibility)
Authorized Retailer (includes warranty)
Get Easy-to-Install Parts. No Hassle.
TonnoPro HardFold for Ram 1500/Ram 2500 (HF-255) Tri-Fold Tonneau Cover
Product Features:
Looking for more information on TonnoPro? Learn more here
Custom fit for your vehicle
Installs in minutes
Improves gas mileage when driven in the closed position
Protects your cargo
Fitment Chart:
| Years | Make | Model | Submodel | Bed Type | Bed Length |
| --- | --- | --- | --- | --- | --- |
| 1995-2001 | Dodge | Ram 2500 | | Fleetside | 6' 6" Foot Bed |
| 1994-2001 | Dodge | Ram 1500 | | Fleetside | 6' 6" Foot Bed |
| 1997-1998 | Dodge | Ram 1500 | Laramie | Fleetside | 6' 6" Foot Bed |
| 1997-1998 | Dodge | Ram 1500 | Sport | Fleetside | 6' 6" Foot Bed |
| 1997-1998 | Dodge | Ram 1500 | SS/T 5.9L | Fleetside | 6' 6" Foot Bed |
| 1997-1998 | Dodge | Ram 1500 | ST | Fleetside | 6' 6" Foot Bed |
| 1997-1998 | Dodge | Ram 1500 | WS | Fleetside | 6' 6" Foot Bed |
| 1997 | Dodge | Ram 1500 | LT | Fleetside | 6' 6" Foot Bed |
Dodge Ram 1500 Hard-Fold Truck Bed Cover
TonnoPro HF-255 HardFold Tonneau Cover transforms your truck bed into a secure, weather-resistant trunk. Its lightweight, black epoxy-coated aluminum panels and frame are designed to endure the test of time. The alloy aluminum frame can bend and stretch without breaking.
Weather resistant and looks great
That classy look comes from taut double-sided, tear-resistant marine-grade vinyl tarp, which is also extremely weather-resistant. The heavy 24-ounce double coated vinyl protects the aluminum material against corrosion, ensuring its durability.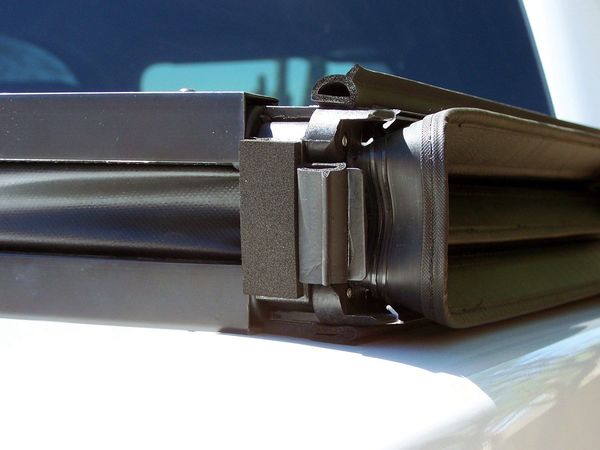 Keep moisture out of your Dodge Ram 1500 bed
TonnoPro went out of their way to keep your cargo bed dry with this tonneau cover. Weathertight rubber seals that can withstand extreme temperatures keep moisture out of your bed. Besides, a large bulkhead seal stitched into the tonneau cover helps keeps water, snow, mud, and other weather elements away from your cargo bed.
Special stitching to prevent moisture
Four stitches per inch are used instead of the three required by the industry to strengthen the seams of the TonnoPro HF-255 HardFold Tonneau Cover. Furthermore, a state of the art thread with special coating that swells to fill the hole made by the needle during sewing is used. It sucks away any moisture that threatens to seep through.
Comes fully assembled for your Dodge Ram 1500
You don't need to set this tonneau cover up yourself. It comes completely assembled for easy installation.
Installations takes a few minutes
Very easy to install, the process will take you only a few minutes. The tonneau cover is very light and can be handled by one person. No drilling is required.
Tonneau cover lies flat and is secure
The E-Z clamping system makes the TonnoPro HardFold Tonneau Cover lie flat by providing tension. Your truck looks great and your cargo is secure. The tonneau cover is easily folded and removed for full bed access or storage.
Lowers your Dodge Ram 1500 gas consumption
Your tonneau cover lying flush to the closed cargo bed improves the aerodynamic shape of your vehicle. This contributes to the reduction of gas consumption by up to 13%.
Four free gifts with your order
Your HardFold HF-255 tonneau cover is delivered with four gifts valued at $69: ProClean vinyl cleaner to protect the vinyl tarp, a LED torch with velcro fastener to attach in your cargo bed, a pair of non slip work gloves with grips and special tailgate weatherstripping seals for extra protection against rain, snow, and dust.
Guaranteed for LIFE
TonnoPro offers a limited lifetime warranty against defective materials or workmanship on all aluminum rails, aluminum components, clamps, hinges, bows, and hardware. The vinyl tarp is covered by a 10-year warranty.
Sorry, there are no videos available.
The following part numbers are available in this product line:
HF-150
,
HF-151
,
HF-152
,
HF-154
,
HF-155
,
HF-156
,
HF-157
,
HF-158
,
HF-159
,
HF-160
,
HF-161
,
HF-162
,
HF-163
,
HF-164
,
HF-165
,
HF-250
,
HF-251
,
HF-254
,
HF-255
,
HF-256
,
HF-257
,
HF-258
,
HF-350
,
HF-351
,
HF-352
,
HF-353
,
HF-354
,
HF-355
,
HF-356
,
HF-357
,
HF-358
,
HF-359
,
HF-360
,
HF-361
,
HF-362
,
HF-363
,
HF-364
,
HF-365
,
HF-450
,
HF-451
,
HF-452
,
HF-453
,
HF-550
,
HF-551
,
HF-552
,
HF-553
,
HF-554
,
HF-555
,
HF-556
,
HF-557
,
HF-558
,
HF-559
,
HF-560
,
HF-600