TruXedo TruXport Tonneau Cover for F-250 Super Duty/F-350 Super Duty 8' 1" | TRX71319
Or 3 interest-free payments of $126.66 with Affirm.
Find this for your car.
Current Step

Current Step

Current Step
Show Products
Catalog Number: 269601
Roll-up style truck bed cover
Sits 1.5" above truck bed rails
Fits: Ford F-250 Super Duty, Ford F-350 Super Duty (check fitment chart for compatibility)
TruXedo TruXport for F-250 Super Duty/F-350 Super Duty (269601) Tonneau Cover
Product Specifications:
Bed Side Rail Mount: Top Mount
Color Group: Black
Color/ Finish: Black
Compatible With Bed Caps: Yes
Compatible With Bed Rails: No
Compatible With Headache Rack: No
Compatible With Ladder Rack: No
Compatible With Tool Box: No
Drilling Required: No
Hinged: No
Includes Ladder Rack: No
Installation Type: Seal And Peel
Locking Type: Tailgate Handle Lock
Low Profile: No
Material: Vinyl
Type: Soft Roll-Up
With Lights: No Lights
Fitment Chart:
| Years | Make | Model | Bed Type | Bed Length | Notes |
| --- | --- | --- | --- | --- | --- |
| 2008-2016 | Ford | F-250 Super Duty | Fleetside | 8' 1" Foot Bed | |
| 2008-2016 | Ford | F-350 Super Duty | Fleetside | 8' 1" Foot Bed | Dually Bed |
Learn more about TruXedo products
Ford F-250 Super Duty soft rolling cover
Truxedo 269601 Roll-Up Tonneau Cover gives you a chance at both quality and affordability. Sold at a very decent price, this tonneau boasts high-quality material which is strong enough to protect your cargo and truck bed from road hazards like snow, stone chips, and debris. It also prevents access to the truck bed by unwanted hands.
UV-resistant leather grain vinyl
Even after several years of use, this cover will still look as new and fresh as the day you buy it. This is because it features an exceptionally high-quality leather-grain vinyl, which is both tear and UV resistant
Pre-set tension control
The Truxedo 269601 Roll-up Tonneau Cover is made with a pre-set tension control which automatically adjusts in different temperatures, eliminating the need for manual adjustment during weather and temperature changes.
Low profile Ford F-250 Super Duty design
The cover is made with a low profile design so that it lays flush with the truck bed rails. It only rises 1.5" above the bed rails, creating a smooth and classy look.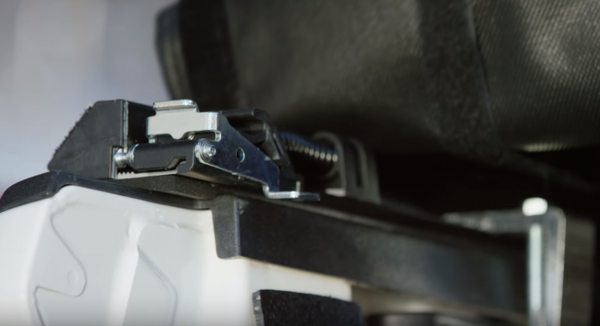 Dual latch system
With the dual latch system located on either side of the truck, opening this tonneau only requires a few seconds. It is also quite effortless and can be done by just one person.
Tailgate seals
The cover has a tight front and tailgate seals which help to maximally keep water and dust out, leaving your truck bed clean and dry every single moment.
Full Ford F-250 Super Duty truck bed access
The TruXedo 269601 Roll-Up Tonneau Cover offers quick full truck bed access. Simply unlatch the cover on both sides, roll it up and strap it against the cab using the storage straps provided.
Hassle free installation
Installing the tonneau cover is only a matter of minutes. It does not require any drilling or special tools. It also comes with an installation guide to make the process stress free.
5 year limited warranty
To save you from the cost of repairs and replacements of defective materials, this tonneau comes with a 5 year warranty, which also covers defects in workmanship.
Made in the USA
The TruXedo 269601 Roll-Up Tonneau Cover is made in the USA with functionality and affordability in mind. It features one of the best quality material and cutting edge technology to ensure you get service equivalent to the value of your money.
Sorry, there are no videos available.
The following part numbers are available in this product line:
207701
,
207801
,
208801
,
208901
,
209001
,
209101
,
215001
,
238101
,
238601
,
239101
,
239601
,
240601
,
241101
,
241601
,
242101
,
243601
,
244101
,
244601
,
245701
,
245801
,
245901
,
246101
,
246601
,
246701
,
246801
,
246901
,
247601
,
248101
,
248601
,
248901
,
249801
,
250101
,
250601
,
250801
,
250901
,
253301
,
255801
,
256001
,
256801
,
257001
,
258101
,
258601
,
259101
,
259601
,
260801
,
260901
,
262101
,
262301
,
263701
,
263801
,
267101
,
268101
,
269101
,
269601
,
270601
,
271101
,
271601
,
271801
,
272001
,
272201
,
273101
,
273601
,
273801
,
273901
,
275801
,
275901
,
276801
,
276901
,
277601
,
278101
,
278201
,
278601
,
279101
,
279601
,
280601
,
281101
,
281601
,
283601
,
284101
,
288601
,
288701
,
288801
,
288901
,
290101
,
291101
,
291601
,
292101
,
292301
,
293101
,
297101
,
297201
,
297301
,
297401
,
297601
,
297701
,
298101
,
298201
,
298301
,
298601
,
298701