Mud flaps are a must-have item for your truck.
We're speaking literally—in many US states, regulatory requirements mandate mud flaps on trucks with large tires.
Whether or not the government says so, mud flaps are more than just a good idea. They're essential for protecting your vehicle from all of the rocks, water, and other nasty road grime that gets kicked up off the asphalt while you're driving.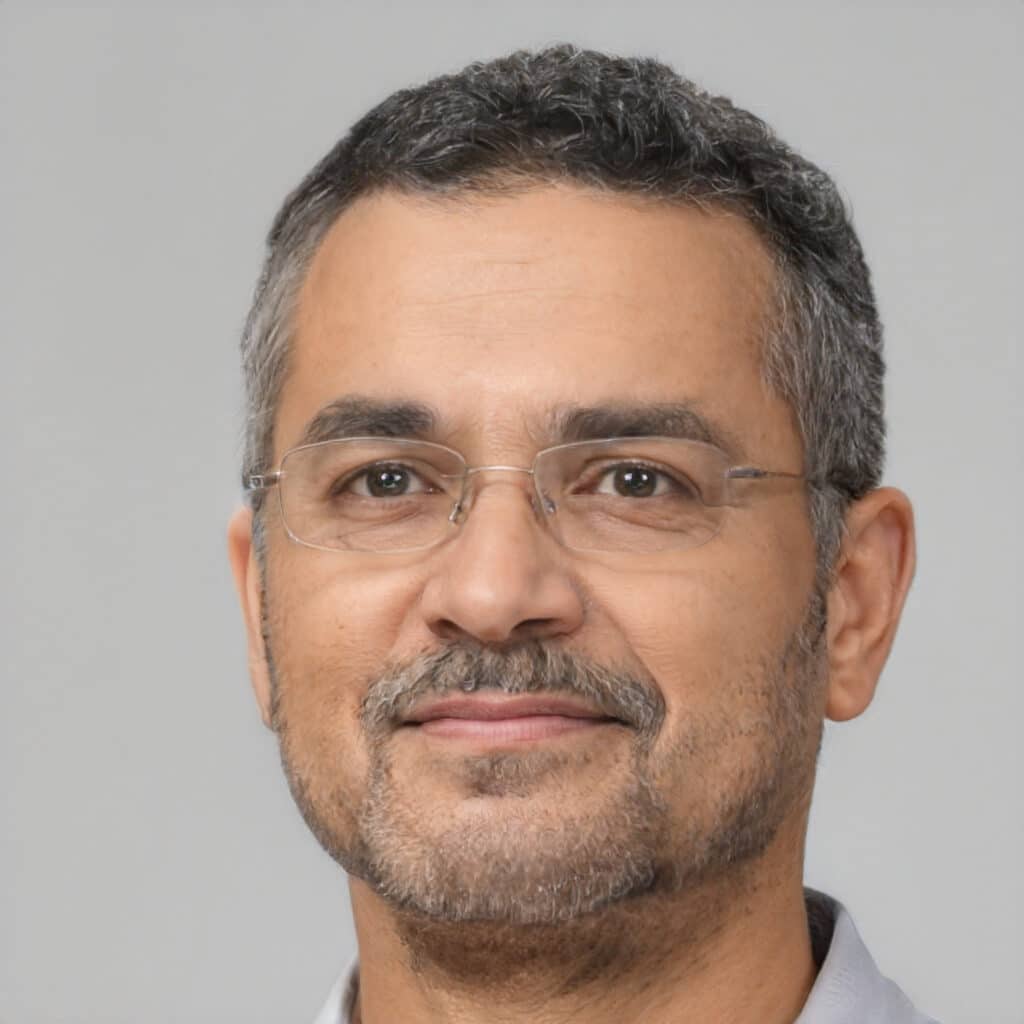 I am impressed! Not only did all 4 no-drill mud flaps go on in about 20 minutes, the fit was perfect! They even fit with my stock 20-inch wheels and tires – with no problems. None of the wheels had to be removed, which I really liked. The instructions were very clear, well written, and easy to follow with plenty of pictures. Even the not so mechanically inclined should have no problems installing these mud flaps. The best part is no more snow and road shush building up on the running boards and getting tracked into the vehicle! I was skeptical at the beginning but now highly recommend these mud flaps. Well done, WeatherTech!
Mike P., Chevrolet Tahoe Driver 
If you've read some other PartCatalog buying guides, you know that we appreciate the WeatherTech difference when it comes to vehicle accessories.
WeatherTech engineers and manufactures products in the USA. They take often-overlooked items like floor mats and mud flaps and simply create the best possible models on the market.
Advanced engineering and the highest-quality materials set the WeatherTech brand apart. Rather than one-size-fits-all generic products, WeatherTech creates custom fits for vehicle makes and models.
If you've never given much thought to mud flaps, let's review the basic facts. This quick buying guide will cover what mud flaps are, how they work, and how to buy a set for your truck.
What Are Mud Flaps?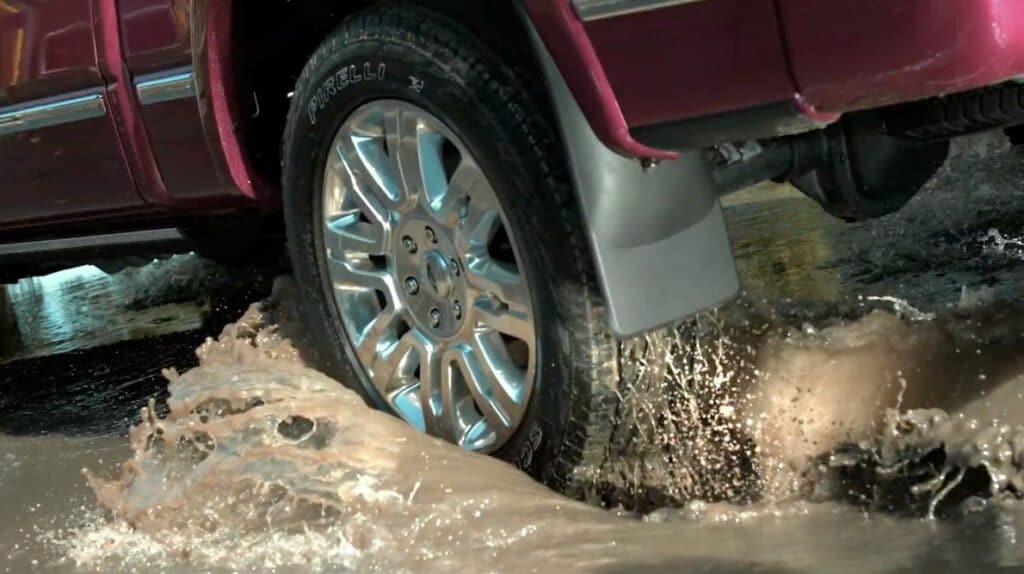 Mud flaps are also known as splash guards or mud guards.
A mud flap is a rectangular sheet that hangs behind a vehicle's tire. Its purpose is to block flying water, mud, rocks, and debris that get kicked up by the tire. This protects the undercarriage and exterior of the vehicle, as well as other vehicles, pedestrians, and property that are behind the vehicle.
Mud flaps are made from rubber or similar material that's strong enough to withstand a barrage of fast-flying mud and debris.
Trucks, cars, and even bicycles can utilize mud flaps. However, they're most common on trucks, which is our focus in this guide.
Now, let's take a closer look at the two categories of protection offered by mud flaps: protection for your own vehicle and protection for whoever or whatever is behind you.
How Mud Flaps Protect Your Truck
Tires kick up all sorts of potentially damaging material: rainwater, snow, mud, stones, nails, grease, and so on. This is especially true if you take your truck off-road. But, even seemingly clean and dry roads contain lots of harmful debris.
When material flies off of your rotating tire, it zooms right into your truck's most vulnerable areas: the fenders and all along the undercarriage.
Water and grime that strikes surfaces under your truck will stay there until it's cleaned off. Rain and wind won't wash it away. Eventually, the paint will wear off, and the surfaces will rust.
A mud flap forms an intervening layer between the tire and the undercarriage. Situated along the entire width of the tire, flaps block the bulk of material that would otherwise coat the bottom of the truck.
The sides of your truck will also benefit. Tires rolling over muddy surfaces spray mud all over your doors and windows. Mud flaps can't completely prevent this mess, but they'll block a majority of it.
While a mud-coated truck is a classic and rugged look, it's also unpleasant and bad for your paint job. With a high-quality set of mud flaps, cleaning your truck can be a less frequent and less exhausting task.
How Mud Flaps Protect Vehicles, People, and Property Behind Your Truck
You're shopping for mud flaps because you want to protect your own truck. And there's nothing wrong with that. But it's the safety benefits for other vehicles, pedestrians, cyclists, and property that makes mud flaps a requirement in many US states.
Trucks kick up lots of rocks. Those big tires are like pebble cannons, and this creates a hazard for whoever or whatever is close to the rear.
Mud flaps block stones and other debris from flying back behind your rear tires, making your truck a safer vehicle for everyone that shares the road.
Shopping for WeatherTech Mud Flaps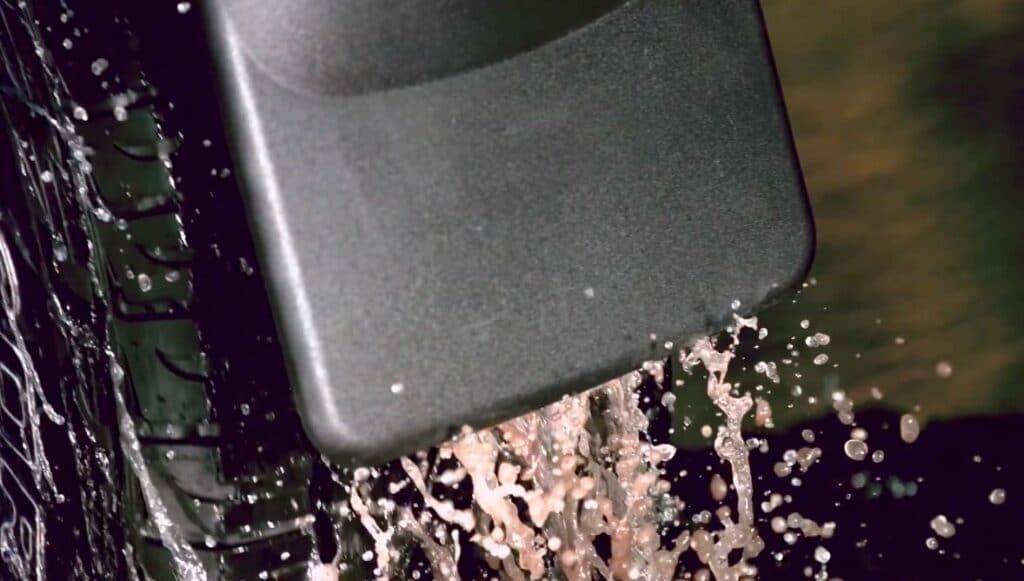 WeatherTech no-drill mud flaps are designed for trucks and sport utility vehicles per make, model, and trim level.
Like many WeatherTech products, laser measuring is used to produce a customized perfect fit.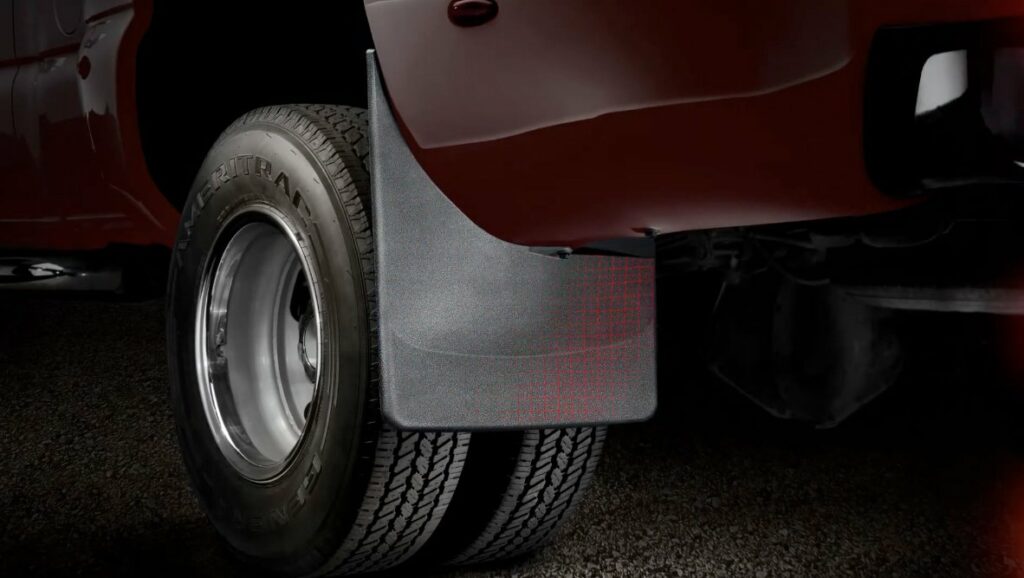 When handling and installing mud flaps—or any product by WeatherTech—the expert engineering is evident.
Products by WeatherTech always feel like they were designed specifically for your vehicle—and that's because they were. The premier material quality is a welcome delight in a world where so many items are made cheaply.
Some mud flap brands require drilling during installation. Drilling through steel is no fun and can easily result in vehicle damage.
Thankfully, WeatherTech mud flaps install with no drilling or wheel removal and can be completed in about an hour.
No drilling means that your mud flaps install without causing any permanent modifications to your truck.
Installation steps vary depending on the truck model. However, the job basically consists of turning a few screws—no special skills required.
Depending on your truck, your mud flaps will be held in place by WeatherTech's QuickTurn system, provided hardware, or factory hardware.
To find the mud flap kit that fits your truck, visit the PartCatalog mud flap inventory. Select your vehicle brand and year, and the search results will display your options.
WeatherTech Mud Flaps: Frequently Asked Questions
Many WeatherTech fans like knowing that almost all of their products are designed and manufactured in the USA.
Here's a bit more detail on WeatherTech no-drill mud flaps:
WeatherTech No-Drill Mud Flaps: Product Details
Materials
Proprietary thermoplastic resin
Manufacturing Location
Engineered in Downers Grove, Illinois; produced in Bolingbrook, Illinois
Required Installation Tools
Installation details vary per model. Installation requires basic hand tools such as a screwdriver and sockets. Any specialized items needed for installation come included with your purchase. Mud flap kits come with extra hardware, such as extra nuts, screws, and washers.
High-quality mud flaps are a great investment for your pickup truck. If you're shopping WeatherTech, you're off to a great start. You'll get a custom fit and an easy install with no drilling required.
For more details on the flaps that fit your truck, navigate to the PartCatalog product page. See below for some quick answers to commonly asked mud flap questions.
Does WeatherTech make mud flaps for cars, too?
As of yet, no. Mud flaps are currently only available for trucks and sport utility vehicles.
What keeps a mud flap in place?
WeatherTech mud flaps are held in place by one of the following: the WeatherTech QuickTurn system, provided hardware, or factory hardware. Drilling is never necessary for installation.
Are mud flaps designed for front tires, rear tires, or both?
This depends on the vehicle. WeatherTech makes no-drill mud flaps for both front and rear tires. For some truck makes and models, full sets are available. For others, just one or the other (front or rear) is applicable.