Tired of car floor mats that follow your feet around?
The floor mat on the driver's seat is always sliding forward as you drive. You can't remember the last time you didn't have to reposition the mats with your feet to keep them in place.
It's annoying.
Then there are those factory mats you can never get clean. It doesn't matter how many times you wash them; a tiny stain becomes a lifelong commitment.
Woe unto you if it's muddy or your dog suffers a mishap…
The good news is, this doesn't have to be the case anymore.
For the past 30 years, WeatherTech has diligently and competently delivered high quality, easy-to-clean, anti-slip floor mats to all car owners looking to:
Protect their cars' flooring from spills and dirt.
Their mats come in two designs:
To help you understand what design suits you and your car's needs, we're going to have a closer look at the must-know features of each.
Best Features All WeatherTech Mats Have
Advanced Rubber
The first thing you'll notice about WeatherTech mats is they make them from smooth rubber.
Car mats come in varying materials, including carpet, vinyl, and rubber. Among them, most buyers prefer rubber due to its high durability.
WeatherTech manufactures all rubber mats from advanced rubber known as Thermoplastic Elastomer (TPE) compound. This makes them resistant to scratches and able to withstand high degrees of thrashing from mud, spills, snow, muck, and other messes.
Other advantages of the advanced rubber material include:
Water-resistant – Rubber is a waterproof material. You won't have to worry about the mats soaking in moisture and causing mold and rust to your car's flooring.
Easy to clean – Having non-stick surfaces, they're quite easy to remove and clean dirt from them.
No fading – Made of a compressed molded combination of natural and synthetic rubber, they don't fade even when exposed to extreme weather conditions or after years of use.
Flexible – They don't curl around the edges or crack in high or low temperatures.
Reservoir System
WeatherTech mats have deep grooves which act as reservoirs for collecting dirt, spills, and muck.
The deep grooves ensure the debris doesn't overflow onto your car's flooring and keeps the mess in one place.
Another advantage of the deep grooves is they keep your feet or shoes moisture and dirt-free.
In the event your coffee spills onto the floor, you won't have to deal with your feet sloshing around in the mess.
They also make it easier to clean and get rid of dirt.
Rigid Core
To increase the stability, WeatherTech backs all mats with a high-density tri-exuded material which provides them with a robust and rigid core.
The rigidness of the mats increases their grip on the car's flooring, further ensuring they lay flat and don't slip while in use.
Latex-free
All the mats are put together from latex-free compounds, which is a huge plus for people with latex allergies.
100% Recyclable
WeatherTech is an environment-conscious brand that dedicates their efforts to minimizing its carbon footprint.
To do so, all the mats from WeatherTech are fully recyclable. Old mats get recycled into other functional rubber products such as bumpers and patio umbrellas.
Limited Lifetime Warranty
All mats are given a limited lifetime warranty upon purchase.
This means that WeatherTech is obligated to replace defective mats and liners with new mats.
For every order you make, you get guaranteed products that are free of any defects in quality, materials, and workmanship.
What Differentiates WeatherTech's Universal and Custom Mats
WeatherTech Universal Mats
Vehicles of all makes and models from a variety of brands exist.
As it is, it's not feasible for manufacturers of car accessories to produce custom fit floor mats for each vehicle unless commissioned to do so.
Instead, WeatherTech all-weather floor mats are universally designed to fit the floor of practically any car.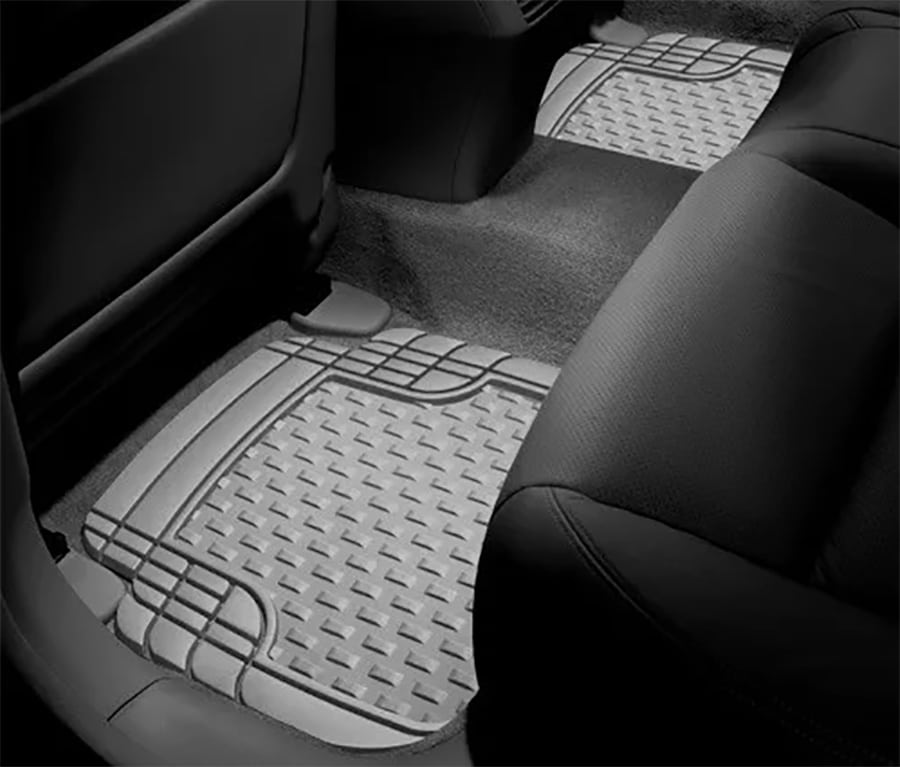 These mats are trimmable to give you a better fit, but the fit won't be perfect like the DigitalFit custom fit liners.
Other unique qualities include:
Trim-to-fit application – WeatherTech all-weather mats cover most space on your floor. Sometimes, they can fit perfectly fine without needing any adjustments.

In the event the all-weather mats don't suit the floor to your satisfaction, you can cut along the well-shaped trim lines they come embedded with to readjust the look.
Rugged outer ribbing – They come fitted with a rugged outer ribbing to ensure dirt and spills get trapped and directed to the reservoir.
TechGrip retention device – To further enhance the grip of the driver's floor mat, the all-weather mats feature a TechGrip retention device to completely hold the mat in place.
Cost friendly – Of all WeatherTech rubber mats, they're the cheapest, and the price won't dent your wallet.
WeatherTech Custom Mats
WeatherTech Custom DigitalFit Liners are specifically designed for each car.
Also known as WeatherTech floor liners, custom fit mats are produced using laser technique after the measurements of each vehicle's flooring are taken.
Since WeatherTech liners leave no carpet exposed, they offer a more complete coverage compared to all-weather mats. As a result, your car's resale value is left intact despite years' passing.
Characteristics of WeatherTech liners include:
High-walled design – Unlike regular mats, custom mats and liners cover every contour and also the sides of your car's floor. The high-wall design ensures none of the spills and dirt ever come into contact with the car's floor.
Cleaner look – WeatherTech liners give your car's interior a cleaner finish compared to traditional mats and factory carpet mats. This is because liners don't leave any exposed spaces, making for a smooth appearance.
More expensive – Custom-fit liners are expensive compared to other WeatherTech designs. A WeatherTech liner fits like a glove and guarantees the best protection to your car's flooring hence the high price.
Frequently Asked Questions
Are WeatherTech Floor Liners Better Than All-Weather Mats?
Yes. WeatherTech liners provide more complete coverage with their high-walled raised edges that cover the sides of the car's floor. This ensures all dirt and debris gets trapped and cannot overflow onto the floor of the car.
On the other hand, all-weather mats don't have raised edges to cover the sides, meaning less protection. This may translate to some of the debris coming into contact with the car's flooring, which could eventually affect the car's resale value.
Do WeatherTech Floor Mats Smell?
No. WeatherTech rubber mats don't have the factory rubbery smell that comes with many car interior accessories.
Are There WeatherTech Trunk Liners?
Yes. WeatherTech also produces both universal and custom-fit trunk liners for the cargo area.
While ordering a set of front mats and rear liners, you can also order a matching trunk liner.
Are WeatherTech Floor Liners More Durable Than Husky WeatherBeater Liners?
Yes, Husky liners are made of elastomeric material, which is less durable compared to the high-density tri-exuded material WeatherTech liners use.
In extremely low temperatures, elastomeric material becomes brittle. It loses its rubbery properties and cracks.
On the other hand, the HD tri-exuded material in WeatherTech liners allows them to be rigid and resistant to harsh temperatures.
Are WeatherTech Mats and Liners Made in the USA?
Yes. WeatherTech has its tooling facility in Bolingbrook, Illinois. Here the designs and the molds get tested, and if approved, they're then mass-produced in the same facility.
Are WeatherTech Floor Mats Harmful?
No. WeatherTech's choice of material, Thermoplastic Elastomer, contains:
No latex
No toxic PVCs
No Cadmium
No lead
No odor
They're safe to use for humans, even those who are allergic to latex and rubber-related triggers.
Is There a Warranty on WeatherTech Floor Mats?
WeatherTech provides a Limited Lifetime Warranty on all its mats and liners.
What does this mean?
It means that you're guaranteed of WeatherTech products free from defects in:
Quality
Workmanship
Material
If there's a defect, WeatherTech is contractually obligated to replace the defective product with a new one.
However, the following aren't included in the warranty:
Severe abrasive conditions like chemical contamination
Car accidents
Incorrect installation
Misuse