WeatherTech All-Vehicle Floor Mats
Find this for your car.
Current Step

Current Step

Current Step
Show Products
Universal floor liner requires some trimming
Cheaper alternative to custom fit floor liners
Perfect for obscure or hard to find vehicles
Comes with a limited lifetime warranty
Choose one of the following options:
Sorry. There are no products matching your selection. Try reseting filters or choose different options
The Lowest Price Perfect Fit Guarantee
Our #1 value is customer service.
We believe in doing right by our customers, no matter what it takes.
In keeping with that, we offer a "perfect fit guarantee" that ensures your satisfaction on 3 levels: low price, free shipping, and perfect fitment.
- Alan Marek, Founder of PartCatalog.com
The Lowest Price Anywhere--Guaranteed
At PartCatalog, we'll beat any competing vendor's price. And we're so confident in our rock-bottom prices that we'll refund the difference if you find a lower price elsewhere.
Free Shipping Both Ways
Our "free shipping both ways" policy means that returns and orders ship free of charge. When you place an order, you pay only the list price and any applicable taxes. We cover the shipping to save you money and ensure timely delivery.
100% Guaranteed to Fit
In the highly unlikely event of a fitment problem, we'll return your purchase at no cost to you. We pay return shipping on all orders, so it won't cost you a penny to send back a defective part.
Universal, trim-to-fit floor mats for fitment in most vehicles
Rugged outer ribbing to trap and contain water and dirt
Mold-in support nibs to fasten the mats on the floor
TechGrip retention device to secure mat on the floor
Mats do not curl, harden or crack in cold temperatures
No factory rubber smell that comes with new car interior products
Made with no toxic chemicals and can be fully recycled
Latex-free make for the safety and comfort of people with allergies and intolerance
Made with authentic, high-quality OEM approved material
Limited lifetime warranty against faulty craftsmanship and defective materials
Universal, trim-to-fit floor mats
The WeatherTech all-vehicle floor mats are designed to be trimmable for a better universal fit. You can easily cut them with a pair of scissors to shape them. They are also cost-friendly compared to the custom-fit mats.
Rugged outer ribbing
The mats have a rugged outer ribbing that traps and contains water, sand, dust and dirt. It prevents messes from accessing and damaging the car floor by directing them to the strategically designed reservoir.
Mold-in support nibs
The mold-in nibs at the bottom fasten the mat to the floor so that it doesn't keep shifting. This makes sure that the dirt contained does not get to the floor, and also ensures a comfortable ride.
TechGrip retention device
The WeatherTech all-vehicle floor mats also feature a TechGrip device on the driver's side mat to hold the mat in place. They also include water-tight gommets with retention holes that prevent water from leaking to the floor.
Flexibility in cold temperatures
The mats are made with flexible material that stays in its original form in cold temperatures. They do not crack, curl or harden. This makes them a good choice if you live in a cold place.
No factory smell
They don't have the factory smell that comes with many car interior products. You can enjoy an odorless drive or even scent your car according to your preference.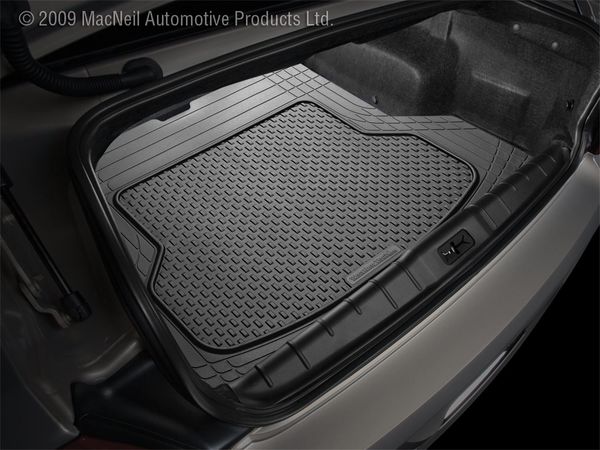 100% recyclable
The WeatherTech all-vehicle mats do not contain any harmful chemicals and components such as lead and PVCs. They are fully recyclable and therefore, friendly to the environment.
Latex-free
They do not contain latex, which is great for people with an intolerance or allergic reactions to the material.
OEM approved material
The all-vehicle floor mats are made with high-grade OEM approved material. They are quite durable and will serve you well beyond your expectations.
Limited lifetime warranty
WeatherTech offers a limited lifetime warranty for every purchase of the mats. You are assured that the floor mats are free of any defects in quality, workmanship and materials.
Related Articles:
Sorry, there are no videos available.
This product comes with the manufacturer's limited lifetime warranty.
The following part numbers are available in this product line:
11AVMST 11AVMSG 11AVMSB
To purchase this product for your vehicle, please select the Year, Make and Model of your vehicle at the top of this page.