WeatherTech DigitalFit Floor Liners - #1 Best Selling Brand
Find this for your car.
Current Step

Current Step

Current Step
Show Products
SALE:

$15.00 off 2 cabin sets or $22.50 off 3 cabin sets!
These DigitalFit Floor Liners are better than factory
Most trusted name in floor mats
Laser-fit technology provides perfect fitment
Lip and channeling keep water away from carpet
Comes with the WeatherTech's lifetime warranty
Choose one of the following options:
Sorry. There are no products matching your selection. Try reseting filters or choose different options
The Lowest Price Perfect Fit Guarantee
Our #1 value is customer service.
We believe in doing right by our customers, no matter what it takes.
In keeping with that, we offer a "perfect fit guarantee" that ensures your satisfaction on 3 levels: low price, free shipping, and perfect fitment.
- Alan Marek, Founder of PartCatalog.com
The Lowest Price Anywhere--Guaranteed
At PartCatalog, we'll beat any competing vendor's price. And we're so confident in our rock-bottom prices that we'll refund the difference if you find a lower price elsewhere.
Free Shipping Both Ways
Our "free shipping both ways" policy means that returns and orders ship free of charge. When you place an order, you pay only the list price and any applicable taxes. We cover the shipping to save you money and ensure timely delivery.
100% Guaranteed to Fit
In the highly unlikely event of a fitment problem, we'll return your purchase at no cost to you. We pay return shipping on all orders, so it won't cost you a penny to send back a defective part.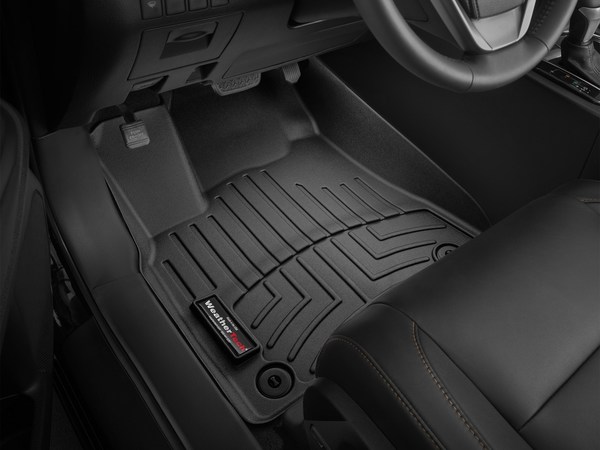 Fits like a glove
The floors in your vehicle have been scanned with lasers - a tried-and-true method to make sure these floor mats fit every corner of your car. Your set of floor mats are designed to fit your car, not anyone else's.
All-weather protection
You have full protection in all environments, including messy kids, snow, mud and dirt. Since these WeatherTech DigitalFit mats work like a tray, it's incredibly easy to get the messy liners out of the car, spray them down, and put them back in.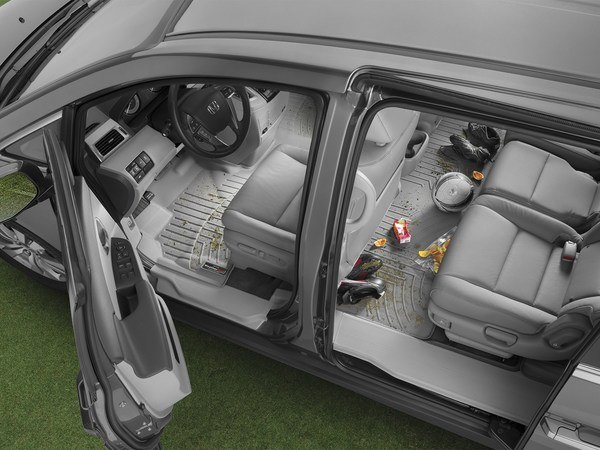 More value when you sell
Your original flooring will remain in pristine condition, which means - in most cases - your vehicle will be more valuable when you sell or trade-in your vehicle. Your carpeting won't be subjected to normal wear and tear.
Match your interior
Black, gray, or tan. And cocoa for some applications. Choose whichever color best matches your interior. While black is the most popular, and looks great with all interiors, we also have tan, gray and cocoa in certain applications.
Works like a tray
This means that they aren't flimsy or rubbery, so dirt & spills will remain ON the mat when you take them out of your vehicle. You can grab the floor mat with one hand and its shape will stay the same. WeatherTech DigitalFit is able to accomplish this with a patented blend of materials.
Stays in place
These floor mats aren't going to move around. They are 100% custom fit to your vehicle with a backing that helps them stay in place. These also feature retention devices if your vehicle has built-in retention devices (like a hook or anchor) on the driver's side.
Keeps spills from your feet
If you spill your drink on the floor, the mats have a channel design that will direct the spill to the bottom of the mat and away from your feet. This is designed so that you can keep driving to your destination without worrying about getting your feet dirty.
Available for most vehicles
WeatherTech DigitalFit floor mats are available for hundreds of different vehicles, each with their own specific design. To find the set for your vehicle, just click the blue button at the top of this page to select your vehicle.
Lifetime limited warranty
As an authorized retailer, you're protected for as long as you own your vehicle. WeatherTech's Limited Lifetime Warranty ensures that you're protected from any manufacturer's defects in materials or workmanship. Excludes normal wear and tear.
Can you pressure wash WeatherTech mats?
Yes, you can pressure wash your WeatherTech floor mats. You should only need to do this on really tough or stubborn stains, as a normal water hose and/or soap is normally good enough. Make sure to let it fully dry before putting them back in the car.
Can you return WeatherTech floor mats?
We offer a 60 day return policy for all WeatherTech orders, starting from the date of delivery. If you wish to make a return, please contact us on our website or by replying to your order confirmation email.
Can you use Armor All on WeatherTech floor mats?
We do not recommend using Armor All to clean your mats, as it can cause the mats to be slippery. For normal cleaning, just some water and soap is sufficient - just make sure to let it fully dry before putting them back in the car.
Does WeatherTech have lifetime warranty?
Yes, these WeatherTech floor mats come with the manufacturer's lifetime warranty. We are an authorized seller so your order will come with full warranty support. Orders from other sellers may not include the warranty.
How are WeatherTech mats made?
WeatherTech uses state-of-the-art 3D scanning equipment to take an interior scan of each and every vehicle. They use CAD (Computer Assisted Design) and modeling to create the most perfect fitting set of floor liners they can.
The mold is then sent to WeatherTech's tooling facility in Illinois, in which the engineers create a metal mold and do test fitting in a production vehicle.
After pre-production is complete, the molds are sent to production facility, also in Illinois, to being mass production. The production facility takes large sheets of patented HDTE material, bakes it an industrial oven, and then pressed into the metal molds. Once the material is molded, it is then quickly cooled down so that it retains its shape in your vehicle's exact configuration.
How do I keep my floor mats from slipping?
These are designed not to slip. They are custom molded to your vehicle's floors which greatly minimizes the chance of slipping. Additionally, the liners use factory retention devices (where possible, if your vehicle is equipped with them) to further hold the floor mats down to the floor.
How do I remove WeatherTech floor mats?
It's easy, even if you have a spill on them! Just grab the liner from each end, lift up, and pull it out. If your vehicle has retention devices you'll need to unhook it first.
How do you clean rubber car mats at home?
If you don't have access to a water hose, there are alternatives: you can use your kitchen sink, bath tub or shower to run water and soap over your liners. You can also use just a wet towel.
How do you get salt out of WeatherTech mats?
At the end of the winter season, we recommend hosing your floor liners down, and scrubbing them with an all-purpose cleaner and heavy duty brush (similar to a tire brush). After that, if possible, use a pressure washer for a final clean. Be sure to remove all the soap and let the liners fully dry (preferably in the sun) before putting them back in the vehicle.
How do you install WeatherTech mats?
It's easy, just place the floor liner into position, and if equipped, hook the retention device that's built into the mat. Once you install it, you can try to shift it around a bit to see if it moves around. A properly positioned mat will not shift around.
How do you clean WeatherTech mats to keep them looking new & shiny?
We recommend using an all purpose cleaner, water hose, and a tire brush for a deep scrub. To get deep into the grooves you may want to use a pressure washer. Do not use a tire scrub or any product that "greases" the floor liner, as this can cause a safety issue by making the floor mats slippery.
How long does it take to get WeatherTech mats?
We process all WeatherTech orders the same business day, and the vast majority of orders ship out the same day. In uncommon cases where we need to ship from a different warehouse, your order still ships quickly but it may take us an extra day or two to email your tracking information. Most deliveries are made in 2-3 business days.
How thick are WeatherTech floor liners?
WeatherTech liners use a heavy duty patented HDTE material. They are thick enough to offer robust and heavy duty protection. The walls of the liners offer anywhere from 1-2" of protection for spills.
What are the best all weather floor mats?
For a custom fit all-weather auto floor mat, it's hard to beat WeatherTech for their proven quality. With the top brands, it mainly comes down to personal preference.
What are WeatherTech floor liners made of?
WeatherTech floor mats are made of a patented Hi-Density Tri-Extruded (HDTE) material. In a nutshell, this is a material that has a rigid core that allows the mats to retain their shape and durability for years.
What is HDTE?
HDTE stands for Hi-Density Tri-Extruded material, and is a WeatherTech patented material designed for a rigid core and high durability.
What's the difference between floor mats and floor liners?
The difference is simple - floor mats do not have a raised wall, but floor liners have a walled liner around the perimeter. Floor liners are often described as floor mats, just because it's a term everyone is already familiar with.
Where are WeatherTech floor liners made?
WeatherTech floor mats are made in Illinois, with both design and production facilities here in the USA. This helps the U.S. economy and brings jobs to hundreds of people.
Who owns WeatherTech mats?
WeatherTech's parent company is MacNeil Automotive, it is a private company located in Illinois.
Related Articles:
Sorry, there are no videos available.
This product comes with the manufacturer's limited lifetime warranty.
The following part numbers are available in this product line:
40013, 40040, 401049, 401091, 401249, 401409, 40212, 40387, 40468, 40536, 40707, 411236, 411369, 41181, 41198, 41318, 41444, 41457, 41600, 42031, 42058, 42176, 42218, 42308, 42556, 42950, 42997, 440443, 440591, 44091-1-2, 4410491-443862, 4415621, 441633-1-2, 441644-1-2, 441654-1-2, 4416542, 441881-441662, 44285-1-2, 444081-440933, 44445-1-2, 444911, 445231-443442, 446011, 446122, 446521-443733, 44676-1-3, 446972, 447512, 45066-1-6-5, 450872, 4510002, 4510121-456973, 4511091, 451221, 4514911-4514366, 451609-1-2, 4516182, 4516761, 45177-1-2, 451891, 452071, 452872, 453161-450982, 453221, 453594, 454103, 45514-1-3, 455601, 455621-450272, 458875, 46011-1-2, 46060-1-2, 46066-1-6-462354, 4610032, 461442, 4615931, 4615933, 462142, 462511-469423, 462521, 462711, 463171-460492, 464651-462162, 465713, 466601, 46989-1-3, 4714301-4714282, 4714591-474763, 4715012, 471590-1-2, 472301, 472381-472162, 473021-472372, 474012, 47447-1-3, 475752, 477472, 477492, 478821-475654, 479391-478742
To purchase this product for your vehicle, please select the Year, Make and Model of your vehicle at the top of this page.
CL, ILX, Integra, MDX, RDX, RLX, SLX, TL, TLX, TSX, ZDX
A3, A3 Quattro, A3 Sportback e-tron, A4, A4 allroad, A4 Quattro, A5, A5 Quattro, A5 Sportback, A6, A6 Quattro, A7 Quattro, A8 Quattro, allroad, Allroad Quattro, Q3, Q3 Quattro, Q5, Q7, R8, RS3, RS4, RS5, RS7, S3, S4, S5, S5 Sportback, S6, S7, S8, SQ5, TT, TT Quattro
Bentayga
1 Series M, 128i, 135i, 135is, 228i, 228i xDrive, 230i, 230i xDrive, 318i, 318is, 318ti, 320i, 320i xDrive, 323Ci, 323i, 323is, 325Ci, 325i, 325is, 325xi, 328Ci, 328d, 328d xDrive, 328i, 328i GT xDrive, 328i xDrive, 328is, 328xi, 330Ci, 330e, 330i, 330i GT xDrive, 330i xDrive, 330xi, 335d, 335i, 335i GT xDrive, 335i xDrive, 335is, 335xi, 340i, 340i GT xDrive, 340i xDrive, 428i, 428i Gran Coupe, 428i xDrive, 428i xDrive Gran Coupe, 430i, 430i Gran Coupe, 430i xDrive, 430i xDrive Gran Coupe, 435i, 435i Gran Coupe, 435i xDrive, 435i xDrive Gran Coupe, 440i, 440i Gran Coupe, 440i xDrive, 440i xDrive Gran Coupe, 525i, 525xi, 528i, 528i xDrive, 528xi, 530e, 530e xDrive, 530i, 530i xDrive, 530xi, 535d, 535d xDrive, 535i, 535i GT, 535i GT xDrive, 535i xDrive, 535xi, 540i, 540i xDrive, 545i, 550i, 550i GT, 550i GT xDrive, 550i xDrive, 640i, 640i Gran Coupe, 640i xDrive, 640i xDrive Gran Coupe, 640i xDrive Gran Turismo, 650i, 650i Gran Coupe, 650i xDrive, 650i xDrive Gran Coupe, 740e xDrive, 740i, 740i xDrive, 740iL, 740Ld xDrive, 740Li, 740Li xDrive, 745i, 745Li, 750i, 750i xDrive, 750iL, 750Li, 750Li xDrive, 760i, 760Li, i3, i8, M2, M3, M4, M5, M6, M6 Gran Coupe, M760i xDrive, M760Li xDrive, X1, X2, X3, X4, X5, X6, Z4
Cascada, Enclave, Encore, Envision, LaCrosse, Lucerne, Rainier, Regal, Rendezvous, Terraza, Verano
ATS, CT6, CTS, DeVille, Eldorado, ELR, Escalade, Escalade ESV, Escalade EXT, Seville, SRX, STS, XT5, XTS
Astro, Avalanche, Avalanche 1500, Avalanche 2500, Aveo, Aveo5, Blazer, Bolt EV, C10 Suburban, C1500 Suburban, C20 Suburban, C2500 Suburban, Camaro, Captiva Sport, City Express, Cobalt, Colorado, Corvette, Cruze, Cruze Limited, Equinox, HHR, Impala, Impala Limited, K10 Suburban, K1500 Suburban, K20 Suburban, K2500 Suburban, Malibu, Malibu Limited, R10 Suburban, R1500 Suburban, R20 Suburban, R2500 Suburban, S10, S10 Blazer, Silverado 1500, Silverado 1500 Classic, Silverado 1500 HD, Silverado 1500 HD Classic, Silverado 1500 Legacy, Silverado 2500, Silverado 2500 HD, Silverado 2500 HD Classic, Silverado 3500, Silverado 3500 Classic, Silverado 3500 HD, Sonic, Spark, Spark EV, SS, Suburban, Suburban 1500, Suburban 2500, Suburban 3500 HD, Tahoe, Tracker, Trailblazer, Trailblazer EXT, Traverse, Trax, Uplander, V10 Suburban, V1500 Suburban, V20 Suburban, V2500 Suburban, Venture, Volt
200, 300, Aspen, Concorde, Pacifica, PT Cruiser, Town & Country, Voyager
Avenger, Caliber, Caravan, Challenger, Charger, Dakota, Dart, Durango, Grand Caravan, Intrepid, Journey, Magnum, Nitro, Ram 1500, Ram 2500, Ram 3500, Sprinter 2500, Sprinter 3500
360, 458 Italia, 458 Spider, 488 GTB, 488 Spider, 599 GTB, California, California T, F430, FF, GTC4Lusso, LaFerrari
124 Spider, 500, 500L, 500X
Aerostar, Bronco, C-Max, Crown Victoria, E-150, E-150 Club Wagon, E-150 Econoline, E-150 Econoline Club Wagon, E-250, E-250 Econoline, E-350 Club Wagon, E-350 Econoline, E-350 Econoline Club Wagon, E-350 Super Duty, Edge, Escape, Escort, Excursion, Expedition, Explorer, Explorer Sport, F-150, F-150 Heritage, F-250, F-250 Super Duty, F-350 Super Duty, Falcon, Fiesta, Five Hundred, Flex, Focus, Freestar, Freestyle, Fusion, Mustang, Ranger, Taurus, Taurus X, Transit Connect, Transit-150, Transit-250, Transit-350, Transit-350 HD, Windstar
G80, G90
Tracker
Acadia, Acadia Limited, C1500 Suburban, C2500 Suburban, Canyon, Envoy, Envoy XL, Envoy XUV, Jimmy, K1500 Suburban, K2500 Suburban, S15 Jimmy, Safari, Sierra 1500, Sierra 1500 Classic, Sierra 1500 HD, Sierra 1500 HD Classic, Sierra 2500, Sierra 2500 HD, Sierra 2500 HD Classic, Sierra 3500, Sierra 3500 Classic, Sierra 3500 HD, Sonoma, Terrain, Tracker, Yukon, Yukon XL, Yukon XL 1500, Yukon XL 2500
Accord, Accord Crosstour, Civic, CR-V, CR-Z, Crosstour, Fit, HR-V, Insight, Odyssey, Passport, Pilot, Ridgeline
H2, H3
Accent, Azera, Elantra, Elantra Coupe, Elantra GT, Entourage, Equus, Genesis, Genesis Coupe, Ioniq, Santa Fe, Santa Fe Sport, Santa Fe XL, Sonata, Tucson, Veloster, Veracruz
EX35, EX37, FX35, FX37, FX45, FX50, G25, G35, G37, I30, I35, JX35, M35h, M37, M56, Q40, Q50, Q60, Q70, Q70L, QX50, QX56, QX60, QX70, QX80
Ascender, i-280, i-290, i-350, i-370, Oasis, Rodeo, Trooper
F-Pace, F-Type, XE, XF, XJ, XJR, XK
Cherokee, Commander, Compass, Grand Cherokee, Liberty, Patriot, Renegade, TJ, Wrangler, Wrangler JK
Borrego, Cadenza, Forte, Forte Koup, Forte5, K900, Niro, Optima, Rio, Rondo, Sedona, Sorento, Soul, Soul EV, Sportage
Discovery, Discovery Sport, Freelander, LR2, LR3, LR4, Range Rover, Range Rover Evoque, Range Rover Sport, Range Rover Velar
CT200h, ES300, ES300h, ES330, ES350, GS F, GS Turbo, GS200t, GS300, GS350, GS400, GS430, GS450h, GS460, GX460, GX470, HS250h, IS F, IS Turbo, IS200t, IS250, IS300, IS350, LS400, LS430, LS460, LS600h, LX450, LX470, LX570, NX200t, NX300, NX300h, RC F, RC200t, RC300, RC350, RX300, RX330, RX350, RX350L, RX400h, RX450h, RX450hL
Aviator, Continental, Mark LT, MKC, MKS, MKT, MKX, MKZ, Navigator, Town Car, Zephyr
Ghibli, GranTurismo, Quattroporte
2, 3, 3 Sport, 5, 6, CX-3, CX-5, CX-7, CX-9, MPV, MX-5 Miata, Navajo, Tribute
300E, 300TE, 400E, 400SE, 400SEL, 500E, 500SEC, 500SEL, 600SEC, 600SEL, AMG GT, AMG GT C, AMG GT R, AMG GT S, B Electric Drive, B250, C220, C230, C240, C250, C280, C300, C32 AMG, C320, C350, C350e, C36 AMG, C400, C43 AMG, C450 AMG, C55 AMG, C63 AMG, C63 AMG S, CL500, CL550, CL600, CL63 AMG, CL65 AMG, CLA250, CLA45 AMG, CLK350, CLK550, CLK63 AMG, CLS400, CLS500, CLS55 AMG, CLS550, CLS63 AMG, CLS63 AMG S, E250, E280, E300, E320, E350, E400, E420, E43 AMG, E430, E500, E55 AMG, E550, E63 AMG, E63 AMG S, G500, G55 AMG, G550, G550 4x4, G63 AMG, G65 AMG, GL320, GL350, GL450, GL550, GL63 AMG, GLA250, GLA45 AMG, GLC300, GLC43 AMG, GLC63, GLC63 S, GLE300d, GLE350, GLE350d, GLE400, GLE43 AMG, GLE450 AMG, GLE550, GLE550e, GLE63 AMG, GLE63 AMG S, GLK250, GLK350, GLS450, GLS550, GLS63 AMG, Maybach S550, Maybach S560, Maybach S600, Maybach S650, Metris, ML250, ML320, ML350, ML400, ML430, ML450, ML500, ML55 AMG, ML550, ML63 AMG, S320, S350, S400, S420, S430, S450, S500, S55 AMG, S550, S550e, S560, S600, S63 AMG, S65 AMG, SL400, SL450, SL55 AMG, SL550, SL600, SL63 AMG, SL65 AMG, SLC300, SLC43 AMG, SLK250, SLK300, SLK350, SLK55 AMG, Sprinter 2500, Sprinter 3500
Mariner, Milan, Montego, Monterey, Mountaineer, Sable, Villager
Cooper, Cooper Clubman, Cooper Countryman, Cooper Paceman
>
Galant, Lancer, Mirage, Mirage G4, Montero, Montero Sport, Outlander, Outlander Sport, Raider, RVR
370Z, Altima, Armada, Cube, Frontier, Juke, Leaf, Maxima, Murano, NV200, Pathfinder, Pathfinder Armada, Quest, Rogue, Rogue Select, Rogue Sport, Sentra, Titan, Titan XD, Versa, Versa Note, X-Trail, Xterra
Bravada, Silhouette
Grand Voyager, Voyager
Aztek, G3, G3 Wave, G5, G6, G8, Grand Prix, Montana, Torrent, Trans Sport, Vibe
718 Boxster, 718 Cayman, 911, 918 Spyder, 944, Boxster, Cayenne, Cayman, Macan, Panamera
1500, 2500, 3500, Dakota, ProMaster 1500, ProMaster 2500, ProMaster 3500, ProMaster City
9-5, 9-7x
Astra, Aura, L100, L200, L300, LS, LS1, LS2, LW1, LW2, LW200, LW300, Outlook, Relay, SC, SC1, SC2, SL, SL1, SL2, SW1, SW2, Vue
FR-S, iA, iM, iQ, tC, xB, xD
Fortwo
B9 Tribeca, BRZ, Crosstrek, Forester, Impreza, Legacy, Outback, Tribeca, WRX, WRX STI, XV Crosstrek
Equator, Forenza, Grand Vitara, Kizashi, Sidekick, Vitara, XL-7
3, S, X
4Runner, 86, Avalon, C-HR, Camry, Celica, Corolla, Corolla iM, Echo, FJ Cruiser, Highlander, Land Cruiser, Matrix, Previa, Prius, Prius C, Prius Plug-In, Prius Prime, Prius V, RAV4, Sequoia, Sienna, Solara, Tacoma, Tercel, Tundra, Venza, Yaris, Yaris iA
Atlas, Beetle, CC, Eos, Golf, Golf Alltrack, Golf City, Golf R, Golf SportWagen, GTI, Jetta, Passat, R32, Rabbit, Routan, Tiguan, Touareg
740, 760, 850, 940, 960, C30, S40, S60, S60 Cross Country, S70, S80, S90, V40, V50, V60, V60 Cross Country, V70, V90, V90 Cross Country, XC60, XC70, XC90