It's no secret that there's an overwhelming number of vehicle floor mats in the market.
So many options that they're enough to leave even the greatest of car enthusiasts a little unsure of what brand to settle on.
You've probably read or watched various reviews on WeatherTech and MAXpider floor mats by now. In fact, you may even have been drawn in by some of the advertising slogans these floor mat manufacturers use, such as:
"No matter the weather."
WeatherTech
It's clear from its marketing that WeatherTech is not only legit but also the gold standard for vehicle mats and liners. Yet, unless you spot a bargain on WeatherTech floor mats, you might end up spending quite a bit more than your budget.
Even if it seems to you that the popularity of WeatherTech floor mats is undeniable, the pocket friendlier MAXpider mats are inviting due to their looks and price.
Additionally, some of the features available in the WeatherTech mats are available in the MAXpider.
Since MAXpider mats are newer entrants in the market, however, there's limited inventory, particularly for less popular vehicles.
MAXpider focuses on new vehicle models. There might not be floor mats available for older vehicle models manufactured before 2010.
Thankfully, with a helpful guide pinpointing the similarities and differences in these floor mats, you can make the best decision. Find out which great product, if available for your vehicle, you should settle on:
Design, Style, and Construction Material
When it comes to construction material and style, neither WeatherTech nor MAXpider floor mats cut corners.
All MAXpider mats, for instance, are made using three layers. There's a surface layer, inner layer, and the bottom, anti-skid backing.
Additionally, there are three types of MAXpider liners:
Classic—older carpeted liner. It's being phased out by the Elegant liner
Elegant—a plush carpeted liner
Kagu—sports a stylish, lightweight rubberized liner that's carbon fiber-looking
The main difference between these types of MAXpider mats is the surface layer.
WeatherTech floor mats, on their part, come in four different designs:
WeatherTech Heavy Duty Trim-to-Fit Floor Mats
The difference between the floor liners and all-weather floor mats that WeatherTech offers is that their liners have raised edges that cover the sides of the vehicle's footwell—like a tray.
The All-Weather and Trimmable Floor Mats by WeatherTech are more minimalistic as they don't cover the sides of the footwell.
This table expands on the construction and style options available for WeatherTech and MAXpider floor mats:
| | | | |
| --- | --- | --- | --- |
| Feature | WeatherTech FloorLiners | WeatherTech All-Weather/Trimmable Floor Mats | MAXpider Floor Mats |
| Raised edges/lips that cover sides of the footwell | Yes | No | Yes |
| Custom-fit | Yes | No (semi-universal) | Yes |
| Construction material | High-density tri-extruded material (HDTE)* | Advanced thermoplastic elastomer (TPE) | 3-layer whose middle layer is a cushion material known as XPE foam |
*While WeatherTech FloorLiners are made using HDTE, Floorliner HP is made of TPE. Floorliner HP is similar to WeatherTech floor liners in every other way.
Some people find that WeatherTech mats look rugged, heavy-duty, or commercial. They are, therefore, quite appealing for truck and SUV owners.
MAXpider floor mats, on the other hand, look classy and luxurious, especially in high-end vehicles and sedans. This is more so the case for the Kagu variant that has a carbon fiber print pattern on its top layer.
Cleaning, Safety, and Cabin Protection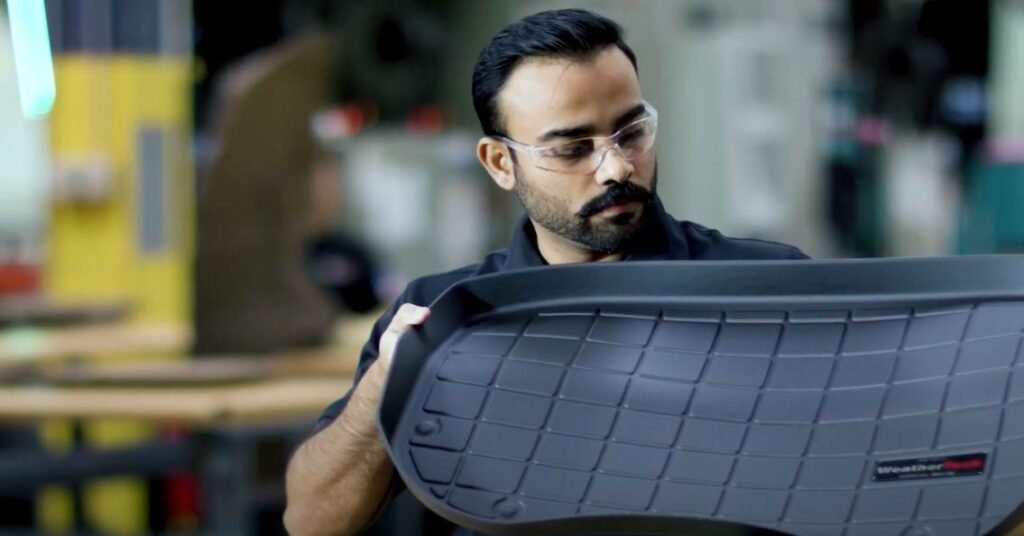 One of the most important considerations when buying mats, whether they are car mats, household mats, or cargo mats, is mess containment and ease of cleaning.
Due to the fact that WeatherTech floor mats have built-in water channels that carry fluids to a lower reservoir, they're able to protect your vehicle's carpet from unwanted spillage and messes.
Additionally, their dirt-resistant quality (courtesy of the HDTE material) makes WeatherTech mats very low-maintenance. Your all-weather floor mats can be easily cleaned in less than five minutes by simply hosing them down with water and leaving them to dry.
MAXpider floor mats also have an efficient mess containment system. Their raised edges help contain any spills and debris and their custom fit ensures a snug fit in your vehicle's cabin. Since these mats also work like a tray, clean-up becomes much easier.
Cleaning both the WeatherTech and MAXpider floor mats is an easy enough operation that only requires the use of a mild detergent or dish soap with a soft bristle brush.
Expert Tip: You can always make your WeatherTech floor mats and liners look new again by using WeatherTech's Protector Kit to condition and detail them.
In terms of safety and cabin protection, WeatherTech mats neither expand nor shrink in different temperatures. They're resistant to cracking and warping.
Additionally, the premium TPE material they're made of has better traction than typical rubber mats and is less slick.
MAXpider floor mats, on the other hand, ensure safety and cabin protection through their velcro-like, anti-skid backing/bottom.
The anti-skid backing material is gentle on the carpet flooring of your car, and it ensures that your mats don't shift and shuffle under your feet. As a bonus, MAXpider doesn't have to use raised nibs that would otherwise destroy the carpet flooring in your vehicle over time.
While WeatherTech mats don't have an anti-skid backing feature, they do minimize movement under the vehicle occupants' feet through the use of factory anchors. That's because WeatherTech fits its mats with retention systems that are compatible with vehicle manufacturer retention posts.
Comfort, Durability, and Warranty
The 3-layer construction model found in MAXpider floor mats consists of a surface and inner layer, and the anti-skid backing.
These mats have essentially been engineered for comfort. Their XPE foam cushion (inner layer) enhances a quieter ride by providing a sound barrier while ensuring that the driver's or passenger's feet endure minimal fatigue.
Additionally, the all-weather floor mats by MAXpider are built to guard against rain, mud, snow, and spills. These mats may be lightweight, but they are durable and meant to provide edge-to-edge protection and coverage.
Yet while floor mats by MAXpider come with a 3-year limited warranty, those by WeatherTech come with a limited lifetime warranty.
The limited lifetime warranty provided by WeatherTech guarantees the quality of the materials used in their products — providing they remain in the original vehicle they were installed in.
In terms of durability, WeatherTech mats made using HDTE material will serve your car for a longer time as this material, compared to normal rubber, is:
Tougher
More rigid
More durable
Frequently Asked Questions
Is There a Difference Between Full and Limited Warranty?
Yes. A full warranty typically covers all types of defects apart from a few exceptions such as normal wear and tear. A limited warranty only covers a limited number of defects.
WeatherTech provides a lifetime limited warranty on its mats while MAXpider gives a 3-year limited warranty.
In addition to covering a limited number of defects, a limited warranty:
Specifies the person eligible for it, such as the original buyer only
Lets the customer bear some of the charges such as shipping costs
Doesn't require the manufacturer to either repair, replace, or refund the cost of the product like a full warranty does
Are WeatherTech and MAXpider All-Weather Floor Mats Environmentally Safe?
Yes, both of these products are made using environmentally safe materials.
You may have gone for custom-fit MAXpider or WeatherTech liners or opted for the all-weather floor mats that can be trimmed to fit your truck. Whatever the case, you can rest assured that these products are not only free of harmful PVCs, cadmium, or lead but also virtually odorless.
WeatherTech or MAXpider?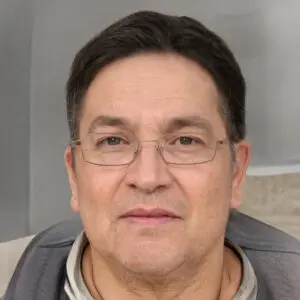 "I have these in my Porsche, mustang, and Titan. There are many other brands out there; however, these are the best fit. You do get what you pay for!"
– Steven K.
It all boils down to personal taste and preference, as well as your sense of style when determining which floor mat you eventually buy.
While you can't go wrong with either option, you should go for WeatherTech if you're into a tough, rugged, and off-roady look. But if a minimalist and quietly luxuriant look and feel does it for you, then the newer entrant MAXpider will more than rock your boat.
Whichever way you end up choosing, you can relax fully in the knowledge that your car's floors are completely protected. Happy choosing!