Vehicle floor mats aren't the sort of car thing that you would expect to generate passionate fans.
So how does a brand manage to turn something so mundane into a product that customers swear by? By raising the bar so high that their version of the product stands out from the crowd.
That's the reputation that WeatherTech has managed to achieve with floor mats, floor liners, and other vehicle interior items.
WeatherTech uses digital laser measuring for some products to ensure precise sizing. Once you bring lasers into the equation, people start to take notice.
But is all that just fancy talk, or are top-of-the-line floor mats really worth your time and money?
Let's dig into the details to learn how WeatherTech sets the standard. In this guide, we'll take a closer look at the features, pricing, and value of premier vehicle floor mats.
What's Better? Floor Mats vs. Floor Liners
First of all, let's define some terms.
Vehicle floor mats, also known as automobile floor mats, are interior car accessories that cover the floor of the vehicle. They're typically made from rubber or carpet fabric. Mats come in sets that lay on the floor in front of each seat.
Floor liners are a similar product. A floor liner has raised edges and nearly covers the entire floor. An entire row of seating can be covered by a single liner. Floor mats, on the other hand, cover only the footwell, not the sides.
For covering up the trunk floor, there are cargo liners. Those are typically sold separately from floor mats and floor liners.
| | |
| --- | --- |
| Floor Mats | Floor Liners |
| Material: Premium, latex-free Thermoplastic Elastomer | Material: High-Density Tri-extruded (HDTE) |
| No raised edges | High edges along each side of the footwell |
| Deep surface channels carry messes away from the feet towards a lower reservoir | Shallow surface channels carry dirt and debris to a lower reservoir, contained by outside edges |
| Custom-fit design for specific vehicle makes and models | Digital laser measurements form precise fits for specific vehicle makes and models |
Both floor mats and floor liners use raised surface channels to trap dirt, water, and grime. The ridges along the surface separate our feet from the mess.
Floor liners are laser-measured and provide more comprehensive floor coverage. Floor mats are a bit more simple and minimalist and tend to be lower-priced.
Mats use less material and don't extend all the way to a vehicle's interior edges. However, floor mats fully cover the area where feet rest and most messes are made. Thanks to deeper channels, mats provide excellent protection for this area.
WeatherTech Floor Mats: Best Features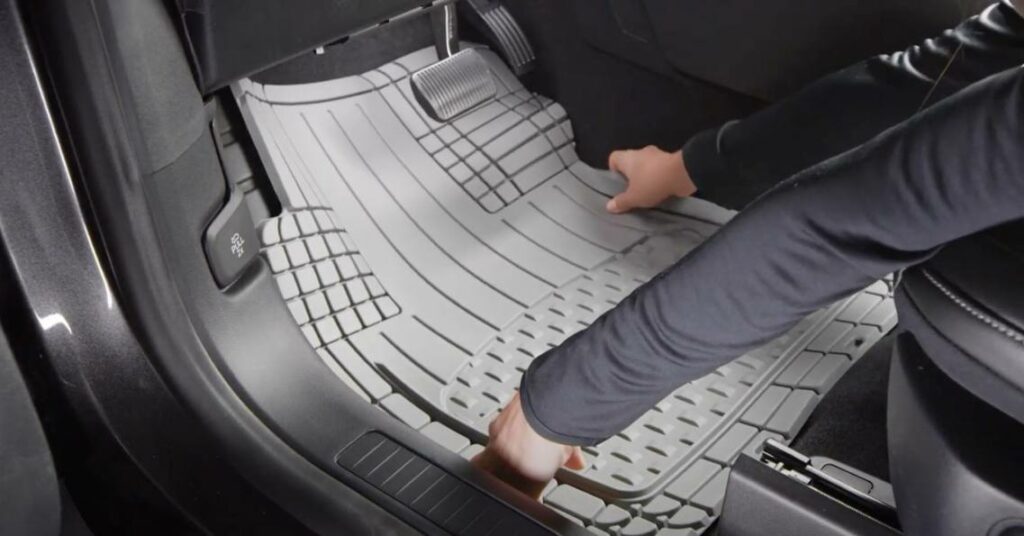 New cars will typically, but not always, come with floor mats. They're considered an accessory, but many dealers include them without much fuss.
When buying a used car, floor mats may or may not be included. A previous owner may have thrown them out when they got dirty. Or, they may have been removed for separate resale.
New floor mats are typically purchased when:
Floor mats weren't included with a vehicle purchase
Floor mats are worn out and need replacing
An upgrade to better, premium mats is desired
When considering adding or replacing floor mats, you'll decide whether or not it's worth investing in a top-of-the-line brand.
Here are some of the features that make WeatherTech floor mats a great choice:
Made from premium, latex-free, weather-resistant Thermoplastic Elastomer (TPE) that provides underfoot traction
Flexible design and material that isn't affected by changes in temperature
Includes non-stick coating that allows for easy maintenance
Textured anti-skid backside that prevents shifting around on the floor and won't damage the carpet
Deep channel grooves to sequester spills and messes
Designed for all-weather performance with material that's more rubbery and flexible and less slick than floor liners
Resistant to warping or cracking
Easy to pull out and clean
Not everyone brings grime and messes—or is bothered by grime and messes—in their vehicle interior. Not all drivers live in areas with nasty weather that ends up soiling the floor of their car or truck.
However, if you do feel the need to protect your car's interior—and resale value—then upgrading your floor mats is a simple and productive investment. And when it comes to high-performance features, no brand goes further than WeatherTech.
All-Weather Floor Mats
Your new car might come with a set of carpet fabric floor mats. Once you've brought your muddy boots into the vehicle a few times, you might find that you're not satisfied with your carpet mats.
When you start shopping around, you'll come across the term "all-weather floor mats."
All-weather floor mats are mats made from tougher material (rubber) and designed to withstand lots of dirt, rain, and snow.
Having all-weather mats makes a big difference if your car's interior suffers any sort of rough treatment from dirty shoes, spills, moisture, and so on. The rubber material and raised grooves help to trap and move messes out of the way.
With a carpeted floor mat, messes soak into the material. So, those that come included with new vehicles tend to wear out pretty quickly.
Pricing: Do WeatherTech Floor Mats Offer Good Value?
Even car enthusiasts don't always prioritize their vehicle's interior surfaces. This aspect of car care is often an afterthought, taking a distant backseat (pardon the pun) to the moving parts as well as the exterior trim.
The good news is, interior care can be upgraded significantly with one simple purchase: a set of high-quality floor mats.
You might spend a bit more on WeatherTech floor mats in comparison to some other brands. For floor liners, the cost goes up a bit more.
Of course, your car's floor might not be a high priority. Or you might not subject the interior to much abuse. Maybe your shoes are always clean, and you only drink from spill-proof beverage containers while driving.
But if you're like most of us, then your car's floor takes a bit of a beating. There are dirty and muddy shoes, rain and snow, donut crumbs, and coffee spills.
Interior surface quality is a big factor in a vehicle's overall look and feel. It also counts when it comes to resale value.
So, if your vehicle has missing or low-quality floor mats, it's worth considering upgrading to a premier set, such as some all-weather mats from WeatherTech.
Frequently Asked Questions
PartCatalog carries an enormous variety of floor mats, floor liners, and cargo mats. Whatever you're driving, we've got you covered.
Check out our buying guides for more info on floor mats. Just looking for the basic facts? Here's a quick FAQ to help get you started.