Spyder DRL LED Crystal Headlights
LED Crystal Headlights
Have Daytime Running Lights
Sleek innovative design
Smoked and clear lenses
Weather-sealed
Made by an OE approved and ISO certified manufacturer
OEM fitment
1-year warranty
Get Easy-to-Install Parts. No Hassle.
Choose one of the following options:
Sorry. There are no products matching your selection. Try reseting filters or choose different options
The Lowest Price Perfect Fit Guarantee
Our #1 value is customer service.
We believe in doing right by our customers, no matter what it takes.
In keeping with that, we offer a "perfect fit guarantee" that ensures your satisfaction on 3 levels: low price, free shipping, and perfect fitment.
- Alan Marek, Founder of PartCatalog.com
The Lowest Price Anywhere--Guaranteed
At PartCatalog, we'll beat any competing vendor's price. And we're so confident in our rock-bottom prices that we'll refund the difference if you find a lower price elsewhere.
Free Shipping Both Ways
Our "free shipping both ways" policy means that returns and orders ship free of charge. When you place an order, you pay only the list price and any applicable taxes. We cover the shipping to save you money and ensure timely delivery.
100% Guaranteed to Fit
In the highly unlikely event of a fitment problem, we'll return your purchase at no cost to you. We pay return shipping on all orders, so it won't cost you a penny to send back a defective part.
Improve your visibility to other drivers and your nighttime vision
Better visibility during inclement weather like when it is misty or foggy
Gives your ride a sleek and stylish look
Make your own choice of lens between smoked and clear
No water can sip into the weather-sealed housing
Meet the quality standards and requirements and comply with the legal standards
Allow for simple bolt-on, plug-and-play installation
Guaranteed quality performance and workmanship with no manufacturing defects
LED Crystal Headlights
Upgrade your vehicle's style, be more visible to other drivers, and get better illumination during the night with a set of Spyder DRL Crystal Headlights. Custom-designed for a direct replacement and perfect fitting, these headlights will mount on your vehicle so effortlessly and match with your other accessories, creating an authentic OEM look. They are made using Philips Lumiled LEDs, whose radiance is unsurpassed by the other typical LEDs.
Visibility during inclement weather
The lights are usable at night and during the day. They feature daytime running lights which are meant to provide good visibility during inclement weather like when its foggy or misty.
Sleek innovative design
You can choose any design from the extensive selection of styles available, according to your taste and vehicle design. Whichever design you choose, rest assured it will transform your whole front-end.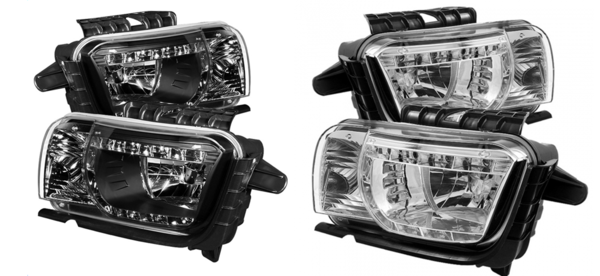 Smoked and clear lenses
Spyder DRL Crystal Headlights are available in both smoked and clear lenses and whichever you choose, rest assured it will look great on your vehicle.
Weather-sealed
Foggy and cloudy headlights can dim the level of light output and put the driver in a tricky situation where they have to strain in order to see clearly. This fogginess and cloudiness are most of the time caused by the elements, especially water, that get into the light housing. Spyder DRL Crystal Headlights, therefore, comes with a weather-sealed housing that will not allow any water inside, keeping the light output brilliant all the time.
Meet the quality and legal standards
These Spyder DRL Crystal Headlights are made by an OE approved and ISO certified manufacturer. They meet all the DOT rules and regulations and their quality exceed that of OE.
Simple bolt-on, plug-and-play installation
The headlights have direct OEM fitment. It plugs directly into the existing wiring harness and bolts on easily and fast, giving a seamless installation.
1-year warranty
The headlights are backed by a 1-year warranty. This guarantees quality performance and workmanship with no manufacturing defects of material or craftsmanship.
Sorry, there are no videos available.
This product comes with the manufacturer's warranty.
The following part numbers are available in this product line:
5029638 5029645 5042149
To purchase this product for your vehicle, please select the Year, Make and Model of your vehicle at the top of this page.
Chevrolet (2010-2013)
Camaro
Ford (2010-2012)
Mustang