Spyder Dual Halo Projector Headlight
Dual Halo Projector Headlight
Made from tough and high quality material
Black housing, clear lens
Completely sealed
Tested and verified
Perfect OE replacement
1-year warranty
Get Easy-to-Install Parts. No Hassle.
Choose one of the following options:
Sorry. There are no products matching your selection. Try reseting filters or choose different options
The Lowest Price Perfect Fit Guarantee
Our #1 value is customer service.
We believe in doing right by our customers, no matter what it takes.
In keeping with that, we offer a "perfect fit guarantee" that ensures your satisfaction on 3 levels: low price, free shipping, and perfect fitment.
- Alan Marek, Founder of PartCatalog.com
The Lowest Price Anywhere--Guaranteed
At PartCatalog, we'll beat any competing vendor's price. And we're so confident in our rock-bottom prices that we'll refund the difference if you find a lower price elsewhere.
Free Shipping Both Ways
Our "free shipping both ways" policy means that returns and orders ship free of charge. When you place an order, you pay only the list price and any applicable taxes. We cover the shipping to save you money and ensure timely delivery.
100% Guaranteed to Fit
In the highly unlikely event of a fitment problem, we'll return your purchase at no cost to you. We pay return shipping on all orders, so it won't cost you a penny to send back a defective part.
Illuminate your way at night and makes you more visible to other drivers
Tough and high quality material guarantee longer durability
Unique and eye catching appearance for your vehicle
Weather-resistant to ensure consistent brilliance and low maintenance needs
Approved to meet all the quality and legal standards
Easy installation with minimal wiring required
Manufacturer's guarantee of quality and performance with no manufacturing defects
Dual Halo Projector Headlight
Light your way, be more visible to other drivers and avoid accidents with this Spyder Halo Projector Headlight. With the Halo rings, these projector headlights will produce sharper and more focused beams of light, ensuring you do not miss a bump or even bump into another road user. In addition to being functional, the headlights are also very stylish and they will upgrade your front-end appearance.
Made from tough and high quality material
These halo headlights are made from tough and high-quality material, which gives them very long durability. The material is very sturdy and will not get easily damaged by the elements. Light physical impact like stones chips will also not cause any breakages.
Black housing, clear lens
The headlights have black housing and clear lenses. This design makes them unique with a distinctive style while maintaining the quality of the light.
Completely sealed
Elements such as moisture, dust, and dirt are damaging to the light unit since they cloud it and prevent it from shining as bright as they should. The manufacturer has sealed this Spyder Halo Projector Headlight to ensure all these elements are blocked out of the housing. This helps reduce maintenance costs and time.
Tested and verified
These headlights meet or exceed the set quality and legal standards. Before they are released into the market, the manufacturer takes them through a series of rigorous tests, to ensure they are up to the task. After that, they are again tested by DOT, ISO, and SAE for any legal or quality gaps. After passing all the tests, they are then verified and released into the market.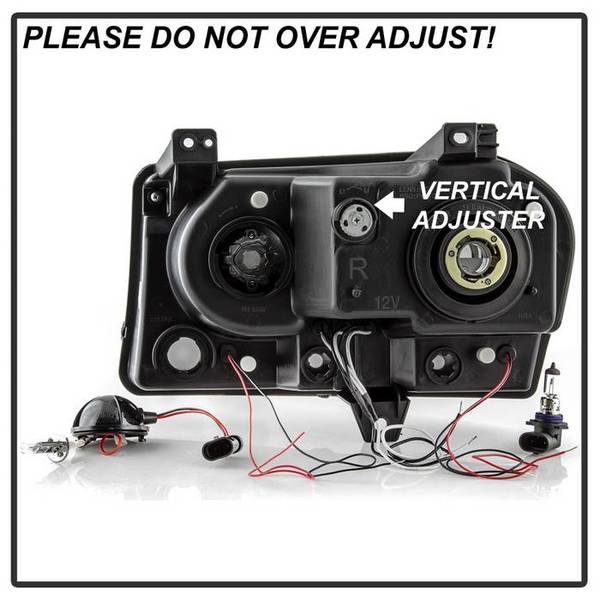 Perfect OE replacement
The projector headlights are a perfect OE replacement. They do not require drilling since they bolt into the factory mounting points. They also hardly require any wiring, thanks to their plug and play application.
1-year warranty
Spyder Halo Projector Headlight is backed by a 1-year warranty. This is a guarantee that the headlight is manufactured in the best way in terms of material and workmanship, and that it will not have any defects.
Sorry, there are no videos available.
This product comes with the manufacturer's warranty.
The following part numbers are available in this product line:
5034236
To purchase this product for your vehicle, please select the Year, Make and Model of your vehicle at the top of this page.
Chevrolet (2010-2013)
Camaro