2015-2020 Ford Transit-350 WeatherTech DigitalFit Floor Liners
Find this for your car.
Current Step

Current Step

Current Step
Show Products
Made for your 2015-2020 Ford Transit-350
Custom fit to your vehicle
Perfect Ford Transit-350 floor protection
Made for all weather environments
Get Easy-to-Install Parts. No Hassle.
Choose one of the following options:
Sorry. There are no products matching your selection. Try reseting filters or choose different options
The Lowest Price Perfect Fit Guarantee
Our #1 value is customer service.
We believe in doing right by our customers, no matter what it takes.
In keeping with that, we offer a "perfect fit guarantee" that ensures your satisfaction on 3 levels: low price, free shipping, and perfect fitment.
- Alan Marek, Founder of PartCatalog.com
The Lowest Price Anywhere--Guaranteed
At PartCatalog, we'll beat any competing vendor's price. And we're so confident in our rock-bottom prices that we'll refund the difference if you find a lower price elsewhere.
Free Shipping Both Ways
Our "free shipping both ways" policy means that returns and orders ship free of charge. When you place an order, you pay only the list price and any applicable taxes. We cover the shipping to save you money and ensure timely delivery.
100% Guaranteed to Fit
In the highly unlikely event of a fitment problem, we'll return your purchase at no cost to you. We pay return shipping on all orders, so it won't cost you a penny to send back a defective part.
WeatherTech DigitalFit Floor Mats
Made for your 2015-2020 Ford Transit-350
Custom fit to your vehicle
Perfect Ford Transit-350 floor protection
Made for all weather environments
Will these fit my Transit 350 with vinyl floors?
Yes, we do have an option for Transit 350's with vinyl floors. Just click the blue button at the top of this page to select your vehicle. You'll then see a "Fitment Note" section which states if it's for Transit's with or without vinyl floors. We carry liners for both carpet and vinyl floors, so you just need to select the set for the floors you have.
Is there a cargo mat that fits behind the 3rd row?
Unfortunately, WeatherTech doesn't make a cargo liner for the Transit 350. Instead, we'd recommend the BedRug VanTred Cargo Mat, which goes on top of the sheet metal in the cargo area. This gives your cargo area some protection, and helps prevent cargo from sliding around. This is a great alternative to a cargo mat, especially for the Transit 350.
Will this fit over the hump?
Yes, we have a set that fits over the hump if you need middle coverage for your Transit 350. If you have a console in the middle, the "over the hump" mat will not work for your van. In this case you would need to choose the 2-piece front row liner.
Will this fit the 5, 10 or 14 passenger configuration?
The front row will, but the 2nd row will not fit the 5, 10 or 14 passenger configuration.
Is the 2nd and 3rd row liner one piece?
Yes, the 2nd and 3rd row liner come bundled as one piece. It provides coverage to both rear passenger rows. However, this piece will not fit the 5, 10 or 14 passenger configurations as the floor pan on these are a little different.
Available For:
Years: 2020, 2019, 2018, 2017, 2016, 2015
Body Styles: Cab & Chassis, Crew Van, Cutaway Van, Extended Cargo Van, Standard Cargo Van, Standard Passenger Van
Submodels: Base, PTV, XL, XLT
Part Numbers
445995, 445995V, 447391, 447391-445995V, 449751, 449751-445995, 449751V, 449751V-445995V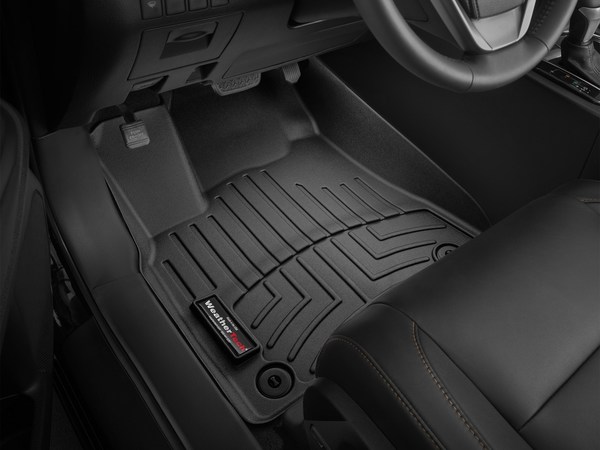 Fits your Ford Transit-350 like a glove
The floors in your Transit-350 have been scanned with lasers - a tried-and-true method to make sure these floor mats fit every corner of your Ford. Your set of floor mats are designed to fit your car, not anyone else's.
All-weather Ford protection
You have full protection in all environments, including messy kids, snow, mud and dirt. Since these WeatherTech DigitalFit mats work like a tray, it's incredibly easy to get the messy liners out of your Ford, spray them down, and put them back in.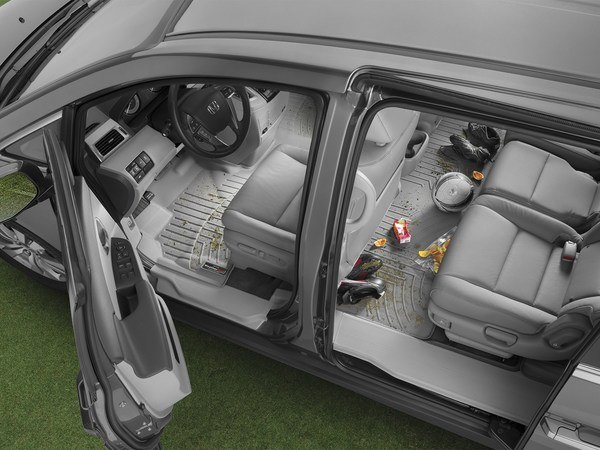 More value when you sell your Ford Transit-350
Your original Transit-350 flooring will remain in pristine condition, which means - in most cases - your vehicle will be more valuable when you sell or trade-in your vehicle. Your carpeting won't be subjected to normal wear and tear.
Match your Transit-350's interior
Black, gray, or tan. And cocoa for some applications. Choose whichever color best matches your Ford Transit-350. While black is the most popular, and looks great with all interiors, we also have tan, gray and cocoa in certain applications.
Works like a tray
This means that they aren't flimsy or rubbery, so dirt & spills will remain ON the mat when you take them out of your Transit-350. You can grab the floor mat with one hand and its shape will stay the same. WeatherTech DigitalFit is able to accomplish this with a patented blend of materials.
Stays in place in your Ford Transit-350
These floor mats aren't going to move around. They are 100% custom fit to your Transit-350 with a backing that helps them stay in place. These also feature retention devices if your Ford has built-in retention devices (like a hook or anchor) on the driver's side.
Keeps spills from your feet
If you spill your drink on the floor, the mats have a channel design that will direct the spill to the bottom of the mat and away from your feet. This is designed so that you can keep driving to your destination without worrying about getting your feet dirty.
Lifetime limited warranty
As an authorized retailer, you're protected for as long as you own your Ford Transit-350. WeatherTech's Limited Lifetime Warranty ensures that you're protected from any manufacturer's defects in materials or workmanship. Excludes normal wear and tear.
Sorry, there are no videos available.
This product comes with the manufacturer's limited lifetime warranty.
The following part numbers are available in this product line:
445995 445995V 447391 447391-445995V 449751 449751-445995 449751V 449751V-445995V
To purchase this product for your vehicle, please select the Year, Make and Model of your vehicle at the top of this page.
Ford
Aerostar, Bronco, C-Max, Crown Victoria, E-150, E-150 Club Wagon, E-150 Econoline, E-150 Econoline Club Wagon, E-250, E-250 Econoline, E-350 Club Wagon, E-350 Econoline, E-350 Econoline Club Wagon, E-350 Super Duty, Edge, Escape, Escort, Excursion, Expedition, Explorer, F-150, F-250 Super Duty, F-350 Super Duty, Fiesta, Five Hundred, Flex, Focus, Freestar, Freestyle, Fusion, Mustang, Ranger, Taurus, Taurus X, Transit Connect, Transit-150, Transit-250, Transit-350, Windstar
Reviews From Verified Customers
Prefect fit, fast shipping.
Turnaround time was great. No hassles.
Absolutely terrific service!
I had the greatest experience working with this site! They emailed me to make sure I was ordering the correct products for my van.

2016 Ford Transit-350
These mats fit great in a hard to fit vehicle. Thank you