AVS Seamless Low Profile Vent Visors
Find this for your car.
Current Step

Current Step

Current Step
Show Products
Allows cool air in your cabin
Sleek low profile, high-end look
Adhesive application outside of window channel
No drill installation
Choose one of the following options:
Sorry. There are no products matching your selection. Try reseting filters or choose different options
The Lowest Price Perfect Fit Guarantee
Our #1 value is customer service.
We believe in doing right by our customers, no matter what it takes.
In keeping with that, we offer a "perfect fit guarantee" that ensures your satisfaction on 3 levels: low price, free shipping, and perfect fitment.
- Alan Marek, Founder of PartCatalog.com
The Lowest Price Anywhere--Guaranteed
At PartCatalog, we'll beat any competing vendor's price. And we're so confident in our rock-bottom prices that we'll refund the difference if you find a lower price elsewhere.
Free Shipping Both Ways
Our "free shipping both ways" policy means that returns and orders ship free of charge. When you place an order, you pay only the list price and any applicable taxes. We cover the shipping to save you money and ensure timely delivery.
100% Guaranteed to Fit
In the highly unlikely event of a fitment problem, we'll return your purchase at no cost to you. We pay return shipping on all orders, so it won't cost you a penny to send back a defective part.
Low profile vent visor with a seamless design for contouring
Sleek and streamlined design for a great look and improved aerodynamics
Available in smoke black with a chrome finish and matte black (some applications)
Custom made with a perfect fit design for your vehicle's specific model
Easy tape-on installation with no drilling
Made with premium-grade materials for durability and flexibility
Limited lifetime warranty to cover costs arising from manufacturer's defects
Made in the USA with authentic materials and advanced technology
Low profile vent visor
The AVS low profile vent visors are designed to be seamless for a classic look. They give a smooth contour to your vehicle while providing you with the benefits of the traditional window deflectors. These include aeration in the car, preventing the entry of dust and rain, reducing wind noise and lowering the temperatures in the hot days.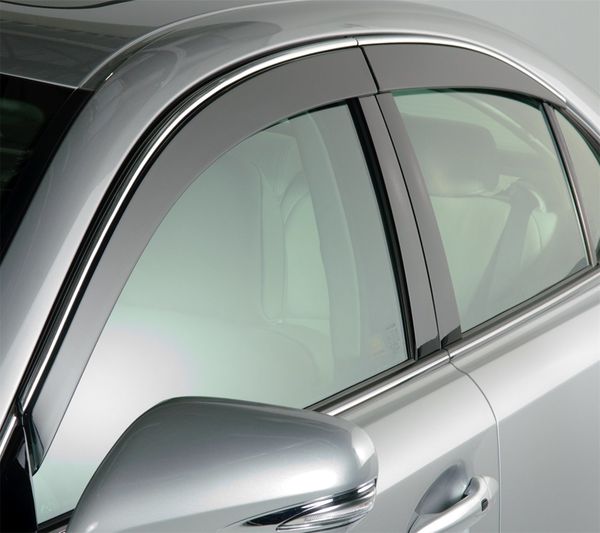 Sleek and streamlined design
The visors have a sleek look that is sure to reflect on your vehicle. This comes from the streamlined design that not only gives the deflectors their classy appearance but also reduces wind drag on your car, effectively improving its aerodynamics.
Available in smoke and matte black (some applications)
You can now choose your visor's finish between smoke and matte black (some applications). The two choices help you match your deflectors with your car's design and style effortlessly.
Perfect fit design
The AVS low profile vent visors are designed to fit your car perfectly. They are cut with high precision, tried and tested on various vehicle models to make sure they are not an inch too short.
No-drill installation
The visors are easy to install. You only need to tape them on with the super adhesive 3m double-sided tape. There are also detailed instructions in the package that should help you do it properly and quickly.
Premium grade materials
The visors are made with high-quality materials that have been tested and passed for durability. They will withstand harsh weather and extreme temperatures to stay strong and maintain their streak for years after purchase.
Limited lifetime warranty
For every purchase of the AVS low profile vent visors, you get a limited lifetime warranty. The manufacturer warrants this product to be free from defects from materials or workmanship.
Made in the USA
The visors are proudly made in the USA with authentic OEM material. The craftsmen are highly skilled and experienced. The technology used is high-end and improves every day to make sure that you get the best in the market.
Related Articles:
Sorry, there are no videos available.
Limited Lifetime Warranty
What is covered: All defects in materials or workmanship except paint and painting on all Lund International, Inc.'s ("Lund International") Lund® Accessories branded products properly installed per provided instructions except those listed below under Three Year Warranty and One Year Warranty. This warranty does not apply to any product from Lund International's direct or indirect subsidiaries.
For How Long: This warranty, and any implied warranties including merchantability and fitness for a particular purpose, last as long as the original retail purchases owns the vehicle on which the product is installed. The warranty expires if the product is removed from the original vehicle or if the original vehicle is transferred to another owner. The warranty is not transferable from the original purchaser.
The following part numbers are available in this product line:
1774036, 774007, 774009, 774011, 774015, 774017, 774024, 774034, 774037, 774040, 774041, 774044, 774048, 774049, 774061, 774067, 774074, 774075, 794002, 794004, 794005, 794006, 794008, 794009, 794010, 794011, 794012, 794014, 794016, 794022, 794025, 794026, 794060, 794065, 794069, 794082, 892011, 892015, 892023, 892024, 892025, 894001, 894002, 894003, 894004, 894006, 894007, 894008, 894009, 894010, 894012, 894014, 894015, 894019, 894020, 894021, 894024, 894025, 894027, 894030, 894033, 894034, 894035, 894037, 894039, 894044, 894047, 894049, 894050, 894052, 894054, 894055, 894057, 894058, 894061, 894062, 894066, 894067, 894070, 894074, 894075, 894080, 894082, 894083, 894086, 894089, 894090, 896003, 896004, 896005, 896007, 896081, 994003, 994004, 994014, 994022, 994027, 994057, 994064, 994081
To purchase this product for your vehicle, please select the Year, Make and Model of your vehicle at the top of this page.
BMW (2003-2006)
325i, 325xi, 330i, 330xi
Buick (2008-2017)
Enclave, Encore
Cadillac (2004-2017)
CTS, Escalade, Escalade ESV, Escalade EXT, SRX, XT5
Chevrolet (2001-2017)
Avalanche, Colorado, Equinox, Silverado 1500, Silverado 1500 Classic, Silverado 1500 HD, Silverado 1500 HD Classic, Silverado 2500, Silverado 2500 HD, Silverado 2500 HD Classic, Silverado 3500, Silverado 3500 Classic, Silverado 3500 HD, Suburban 1500, Suburban 2500, Tahoe, Traverse
Chrysler (2005-2017)
300
Dodge (2002-2010)
Ram 1500, Ram 2500, Ram 3500
Ford (1999-2017)
Edge, Escape, Explorer, F-150, F-250 Super Duty, F-350 Super Duty, F-450 Super Duty, F-550 Super Duty, Focus, Fusion
GMC (2007-2017)
Acadia, Acadia Limited, Canyon, Sierra 1500, Sierra 2500 HD, Sierra 3500, Sierra 3500 HD, Yukon, Yukon XL 1500, Yukon XL 2500
Honda (2003-2017)
Accord, Civic, CR-V, Fit
Infiniti (2003-2010)
FX35, G35, M35, M45
Jeep (2007-2017)
Grand Cherokee (WK2), Wrangler (JK)
Lexus (2001-2013)
ES350, GS300, GS350, GS430, GS450h, GS460, IS250, IS350, LS430
Nissan (2005-2017)
Altima, Frontier, Maxima, Murano
Ram (2011-2017)
1500, 2500, 3500
Scion (2008-2013)
xB
Subaru (2007-2010)
Impreza
Toyota (2005-2017)
4Runner, Camry, FJ Cruiser, Prius, Prius Plug-In, RAV4, Tacoma, Tundra
Volkswagen (2006-2010)
Jetta