AVS In-Channel Window Visors for 2003-2011 Honda Element [Front Set, Smoke] | AVS18867
Or 3 interest-free payments of $20.37 with Affirm.
Find this for your car.
Current Step

Current Step

Current Step
Show Products
AVS In-Channel Window Visors
Installs in your window channels
Allows cool air in, keeps rain out
Catalog Number: AVS18867
Fits: Honda Element (check fitment chart for compatibility)
Set/Pieces: Front
AVS In-Channel Window Visors for 2003-2011 Honda Element (192725) [Front Set, Smoke]
Product Specifications:
Color Group: Smoke
Color/ Finish: Smoke
Installation Location: Inside Channel
Installation Type: Snap-In With Tape
Material: Acrylic
Quantity: Set Of 2
Style: Aerodynamic
Fitment Chart:
| Years | Make | Model | Notes |
| --- | --- | --- | --- |
| 2003-2011 | Honda | Element | Smoke |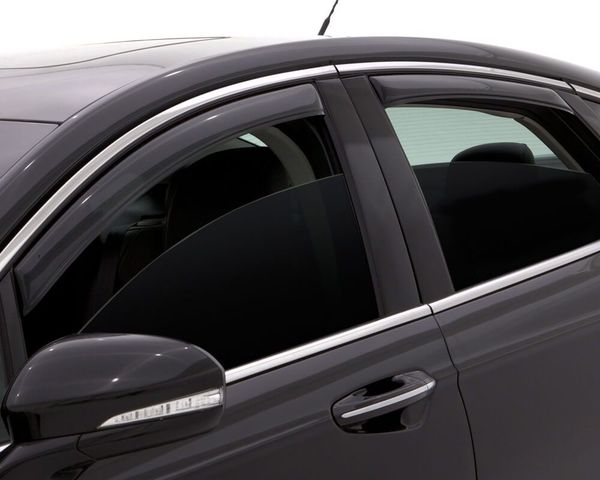 Honda Element window deflectors
The AVS in-channel window deflectors (set #192725) are installed in the Honda Element window channels for better visibility and reduced wind noise. When installed correctly, you won't have to deal with side mirror obstruction or any exterior tape touching the vehicle.
Protection from wind, rain, snow and high temperatures
The visors offer excellent protection against rain and snow. They let in the fresh air and keep the car cool in hot weather. They also keep the sun out in the rear and front windows.
Custom made for your Honda Element
The Auto Vent shade window deflectors are custom made for your vehicle model for a perfect fit. They are cut with high precision to make sure that they are not an inch too small or too big for your windows.
Sleek, streamlined design
The AVS in-channel window deflectors are designed to look great with a sleek design. They are streamlined for not just the classic look but also to reduce aerodynamic drag on the truck. They reduce wind noise for more peaceful driving.
Smoke color finish
These window visors come in a smoke finish which look great on your Honda Element. It matches well with any car decor and is guaranteed to look great on your car and front window regardless of their color.
Easy mount-on installation
The window deflectors are easy to install and mount, and are secured with 3M tape that comes with the package. You don't need to drill into your Honda Element. They also come with detailed installation instructions to help you install it quickly.
High quality material
Set 192725 is made with high-quality impact-resistant acrylic material that is guaranteed to serve you for years through harsh environmental factors. They are flexible and made to last years.
Limited lifetime warranty
AVS provides you with a limited lifetime warranty on every purchase of the vent visors. You are covered from every cost that may arise from defective parts or materials. The warranty is included with purchases from authorized retailers (us!)
Made in the USA
The AVS in-channel window deflectors are proudly made in the USA. They are authentic, made with high-quality materials and processed with cutting-edge technology. The craftsmen are highly skilled with considerable experience in the industry.
Video is a representation and may not be the exact model listed
The following part numbers are available in this product line:
192011
,
192052
,
192054
,
192077
,
192081
,
192083
,
192100
,
192212
,
192232
,
192301
,
192326
,
192403
,
192407
,
192410
,
192430
,
192452
,
192455
,
192457
,
192725
,
192741
,
192805
,
192956
,
192971
,
194056
,
194063
,
194079
,
194117
,
194119
,
194134
,
194135
,
194141
,
194189
,
194211
,
194213
,
194241
,
194242
,
194243
,
194248
,
194252
,
194261
,
194309
,
194330
,
194344
,
194358
,
194359
,
194361
,
194362
,
194373
,
194375
,
194383
,
194389
,
194405
,
194415
,
194425
,
194427
,
194432
,
194434
,
194443
,
194447
,
194456
,
194457
,
194459
,
194462
,
194512
,
194528
,
194529
,
194530
,
194535
,
194538
,
194539
,
194557
,
194618
,
194623
,
194629
,
194632
,
194634
,
194650
,
194652
,
194655
,
194675
,
194714
,
194727
,
194738
,
194743
,
194744
,
194751
,
194758
,
194773
,
194810
,
194825
,
194851
,
194860
,
194930
,
194943
,
194959
,
194964
,
194972
,
194977
,
194992
,
194995