AVS In-Channel Vent Visors
Allows cool air in your cabin
Installs inside window channel
Custom fit application
No drill installation
Get Easy-to-Install Parts. No Hassle.
Choose one of the following options:
Sorry. There are no products matching your selection. Try reseting filters or choose different options
The Lowest Price Perfect Fit Guarantee
Our #1 value is customer service.
We believe in doing right by our customers, no matter what it takes.
In keeping with that, we offer a "perfect fit guarantee" that ensures your satisfaction on 3 levels: low price, free shipping, and perfect fitment.
- Alan Marek, Founder of PartCatalog.com
The Lowest Price Anywhere--Guaranteed
At PartCatalog, we'll beat any competing vendor's price. And we're so confident in our rock-bottom prices that we'll refund the difference if you find a lower price elsewhere.
Free Shipping Both Ways
Our "free shipping both ways" policy means that returns and orders ship free of charge. When you place an order, you pay only the list price and any applicable taxes. We cover the shipping to save you money and ensure timely delivery.
100% Guaranteed to Fit
In the highly unlikely event of a fitment problem, we'll return your purchase at no cost to you. We pay return shipping on all orders, so it won't cost you a penny to send back a defective part.
In channel window deflectors with better visibility and reduced wind noise
Protection from sun, wind, rain, snow and insulation for high temperatures
Custom made and cut with high precision for a perfect fit,
Sleek, streamlined design for a great look and reduced wind drag
Available in a dark smoke finish that matches any car color or style
Easy mount-on installation with no drilling and a detailed instruction sheet
Sets available for both front and rear windows for different vehicle models
Made with high quality impact-resistant material to last years
Limited lifetime warranty, included if purchased from an authorized seller (us!)
Made in the USA with authentic material and professional craftsmen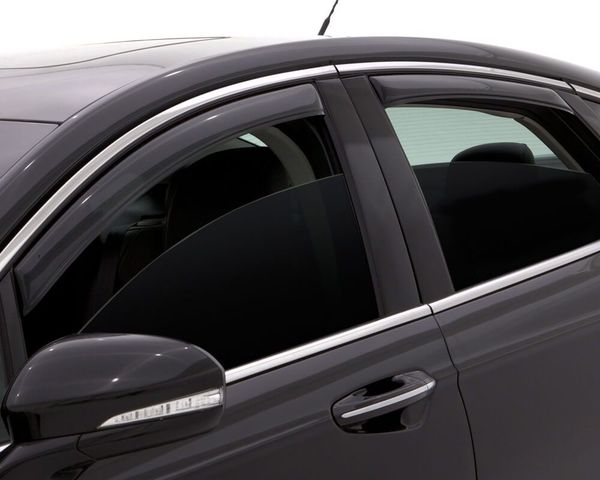 In channel window deflectors
The AVS in-channel window deflectors are installed in the window channels for better visibility and reduced wind noise. When installed correctly, you won't have to deal with side mirror obstruction or any exterior tape touching the vehicle.
Protection from wind, rain, snow and high temperatures
The visors offer excellent protection against rain and snow. They let in the fresh air and keep the car cool in hot weather. They also keep the sun out in the rear and front windows.
Custom made for a perfect fit
The Auto Vent shade window deflectors are custom made for your vehicle model for a perfect fit. They are cut with high precision to make sure that they are not an inch too small or too big for your windows.
Sleek, streamlined design
The AVS in-channel window deflectors are designed to look great with a sleek design. They are streamlined for not just the classic look but also to reduce aerodynamic drag on the truck. They reduce wind noise for more peaceful driving.
Dark smoke finish
These window visors come in a dark smoke finish. It matches well with any car decor and is guaranteed to look great on your car and front window regardless of their color.
Easy mount-on installation
The window deflectors are easy to install and mount, and are secured with 3M tape that comes with the package. You don't need to drill into your car. They also come with detailed installation instructions to help you install it quickly.
Available in front and rear sets
The AVS in-channel window deflectors are available for both the front and the rear windows for most vehicles. You can also get the visors for different vehicle models, years and makes.
High quality material
They are made with high-quality impact-resistant acrylic material that is guaranteed to serve you for years through harsh environmental factors. They are flexible and made to last years.
Limited lifetime warranty
AVS provides you with a limited lifetime warranty on every purchase of the vent visors. You are covered from every cost that may arise from defective parts or materials. The warranty is included with purchases from authorized retailers (us!)
Made in the USA
The AVS in-channel window deflectors are proudly made in the USA. They are authentic, made with high-quality materials and processed with cutting-edge technology. The craftsmen are highly skilled with considerable experience in the industry.
Related Articles:
Sorry, there are no videos available.
Limited Lifetime Warranty
What is covered: All defects in materials or workmanship except paint and painting on all Lund International, Inc.'s ("Lund International") Lund® Accessories branded products properly installed per provided instructions except those listed below under Three Year Warranty and One Year Warranty. This warranty does not apply to any product from Lund International's direct or indirect subsidiaries.
For How Long: This warranty, and any implied warranties including merchantability and fitness for a particular purpose, last as long as the original retail purchases owns the vehicle on which the product is installed. The warranty expires if the product is removed from the original vehicle or if the original vehicle is transferred to another owner. The warranty is not transferable from the original purchaser.
The following part numbers are available in this product line:
1774004, 192002, 192006, 192054, 192068, 192071, 192141, 192301, 192324, 192326, 192410, 192436, 192455, 192457, 192754, 194065, 194068, 194072, 194073, 194100, 194105, 194117, 194133, 194164, 194189, 194213, 194223, 194230, 194235, 194241, 194243, 194248, 194253, 194254, 194275, 194276, 194293, 194307, 194313, 194323, 194330, 194344, 194355, 194357, 194362, 194369, 194378, 194383, 194405, 194407, 194422, 194425, 194429, 194443, 194446, 194447, 194456, 194458, 194484, 194514, 194515, 194528, 194529, 194535, 194550, 194555, 194618, 194621, 194623, 194627, 194632, 194655, 194657, 194675, 194682, 194712, 194722, 194727, 194733, 194736, 194744, 194753, 194759, 194773, 194806, 194811, 194827, 194828, 194832, 194834, 194845, 194858, 194860, 194861, 194944, 194949, 194959, 194974, 194975, 194997
To purchase this product for your vehicle, please select the Year, Make and Model of your vehicle at the top of this page.
Acura (2001-2006)
MDX
Buick (2002-2017)
Enclave, Encore, Envision, LaCrosse, Rainier, Regal, Rendezvous, Verano
Cadillac (1994-2017)
CTS, DeVille, Escalade, Escalade ESV, Escalade EXT, XT5
Chevrolet (1985-2018)
Astro, Avalanche, Avalanche 1500, Avalanche 2500, Aveo, Blazer, C1500 Pickup, C1500 Suburban, C2500 Pickup, C2500 Suburban, C3500 Pickup, Colorado, Cruze, Equinox, Express 1500, Express 2500, Express 3500, HHR, Impala, K1500 Pickup, K1500 Suburban, K2500 Pickup, K2500 Suburban, K3500 Pickup, Malibu, Malibu Limited, R30 Pickup, R3500 Pickup, S10 Blazer, S10 Blazer (Canadian), S10 Pickup, Silverado 1500, Silverado 1500 Classic, Silverado 1500 HD, Silverado 1500 HD Classic, Silverado 2500, Silverado 2500 HD, Silverado 2500 HD Classic, Silverado 3500, Silverado 3500 Classic, Silverado 3500 HD, Sonic, Suburban 1500, Suburban 2500, Tahoe, Trailblazer, Trailblazer EXT, Traverse, Trax, V30 Pickup, V3500 Pickup
Chrysler (2004-2017)
200, 300, Aspen, Pacifica, Sebring
Dodge (1998-2017)
Avenger, Caliber, Charger, Dakota, Dart, Durango, Journey, Neon, Nitro, Ram 1500, Ram 2500, Ram 3500
Ford (1980-2017)
Bronco, Bronco II, C-Max, E Super Duty, E-150 Econoline, E-150 Econoline Club Wagon, E-250 Econoline, E-350 Econoline, E-350 Econoline Club Wagon, E-350 Super Duty, E-450 Econoline Super Duty, E-450 Super Duty, E-550 Econoline Super Duty, E-550 Super Duty, Econoline Super Duty, Edge, Escape, Expedition, Explorer, Explorer Sport Trac, F-100, F-150, F-150 Heritage, F-250, F-250 Super Duty, F-350, F-350 Super Duty, F-450 Super Duty, F-550 Super Duty, F650, F650 HD, F750, F750 HD, Flex, Focus, Freestar, Freestyle, Fusion, Ranger, Taurus, Taurus X
GMC (1985-2017)
Acadia, Acadia Limited, C1500 Pickup, C1500 Suburban, C2500 Pickup, C2500 Suburban, C3500 Pickup, C4500 Topkick, C5500 Topkick, Canyon, Envoy, Envoy XL, Envoy XUV, K1500, K1500 Pickup, K1500 Suburban, K2500 Pickup, K2500 Suburban, K2500 Suburban (Canadian), K3500 Pickup, R3500 Pickup, S15 Jimmy, Safari, Savana 1500, Savana 2500, Savana 3500, Savana 4500, Sierra 1500, Sierra 1500 Classic, Sierra 1500 HD, Sierra 1500 HD Classic, Sierra 2500, Sierra 2500 HD, Sierra 2500 HD Classic, Sierra 3500, Sierra 3500 Classic, Sierra 3500 HD, Sonoma, Terrain, V3500 Pickup, Yukon, Yukon XL, Yukon XL 1500, Yukon XL 2500
Honda (1996-2018)
Accord, Civic, CR-V, Element, Fit, HR-V, Odyssey, Pilot, Ridgeline
Hyundai (2006-2017)
Accent, Elantra, Entourage, Genesis, Santa Fe, Sonata, Tucson
Infiniti (1997-2003)
QX4
Isuzu (1996-2008)
Ascender, Hombre
Jeep (1997-2017)
Cherokee (KL), Commander, Compass, Grand Cherokee (WJ), Grand Cherokee (WK), Grand Cherokee (WK2), Liberty, Patriot, Wrangler (JK), Wrangler (LJ), Wrangler (TJ)
Kia (2005-2017)
Optima, Sorento, Soul, Sportage
Lincoln (1990-2017)
Aviator, Blackwood, Continental, Mark LT, MKX, MKZ, Navigator, Town Car, Zephyr
Mazda (1991-2017)
6, B2300, B2500, B3000, B4000, CX-3, Navajo, Tribute
Mercury (1993-2011)
Mariner, Milan, Monterey, Mountaineer, Villager
Mitsubishi (2007-2010)
Outlander
Nissan (1986-2017)
Altima, Armada, Cube, D21 Pickup (Hard Body), Frontier, Maxima, Murano, Pathfinder, Quest, Rogue, Sentra, Titan, Titan XD, Xterra
Oldsmobile (1996-2004)
Bravada
Pontiac (1997-2010)
G6, Grand Prix, Torrent
Ram (2011-2017)
1500, 2500, 3500
Saturn (2007-2010)
Outlook
Scion (2004-2016)
iA, xA, xB
Subaru (2010-2017)
Forester, Outback
Suzuki (2006-2009)
Grand Vitara
Toyota (1989-2017)
4Runner, Avalon, Camry, Corolla, FJ Cruiser, Highlander, Pickup, Prius, RAV4, Sequoia, Sienna, Tacoma, Tundra, Yaris
Volkswagen (1999-2005)
Jetta
Reviews From Verified Customers
AVS for the win!
I'm on my fourth set of AVS In-channel Window Visors. One car after another, these just look professional and always fit well and hold for years. In-channel means never having to eyeball if it's on straight like body mounted guards. The smoke visors don't impair your view and still have that black-goes-with-everything look. And, as if that wasn't enough, they're made in the USA too.
window visors
nice product and fit.
Viser for 1st gen sequoia
It fit very well. They didnt come with enough double sided tape on the side. The larger piece came with none. And both smaller pieces came only with 1 side. And since they go inside the window track. My window do get caught on them from time to time which is annoying when rolling up
Didnt fit right nor stuck to my window
My first order came in damaged. I contacted Alan and he was amazing. He sent me a 2nd set and it came quick. I tried to install them after watching videos and it still wasnt a good fit. It also wouldn't stick. I bought all weather 3m tape and it still wouldn't stick. I rolled up my windows just to see how they would fit and they were not flushed nor were level with each other. Alan gave great customer service but unfortunately the window visors did not match up for me car
They didn't stick I roll my window up n left it there and still nothing. I cleaned the area before I put them on and that didn't work at all.

In-channel rain gaurds
These visors are great. I love the low profile look that they have. The installation was easy maybe a total of 10 minutes to install. I will purchase these again for any future vehicles.
They don't fit front sides are to small the rear sides are to big
AVS 4 door vent shades, 2020 F250
Not particularly pleased. The product as installed is warped and does not fit as described. Not the quality I have gotten in the past from AVS. Would not buy again.
No more AVS
Terrible back to Weather Tech. 1st set did not stick, second set drivers side flew off going down highway a week after installation.