AVS Low Profile Smoke Window Visors for 2006-2012 Toyota RAV4 | AVS19013
AVS Seamless Low Profile Window Vent Visors
Catalog Number: 896003
Fits: Toyota RAV4 (check fitment chart for compatibility)
Color: Smoke
Get Easy-to-Install Parts. No Hassle.
AVS Low Profile for 2006-2012 Toyota RAV4 (896003) Smoke Window Visors
Product Specifications:
Color Group: Gray
Color/ Finish: Smoke Gray
Installation Location: Outside Channel
Installation Type: Tape-On
Material: Acrylic
Quantity: Set Of 6
Style: Low Profile
Fitment Chart:
| Years | Make | Model | Notes |
| --- | --- | --- | --- |
| 2006-2012 | Toyota | RAV4 | Smoke |
Toyota RAV4 low profile vent visor
The AVS low profile vent visors are designed to be seamless for a classic look for your Toyota RAV4. This set # 896003 gives a smooth contour to your vehicle while providing you with the benefits of the traditional window deflectors. These include aeration in the car, preventing the entry of dust and rain, reducing wind noise and lowering the temperatures in the hot days.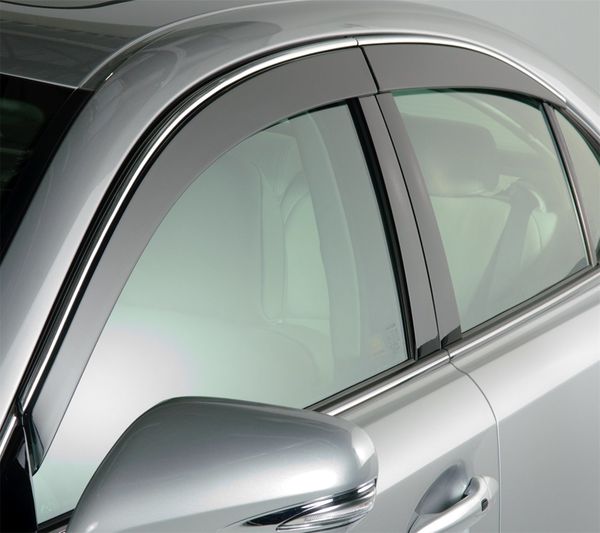 Sleek and streamlined design
The visors have a sleek look that is sure to reflect on your Toyota RAV4. This comes from the streamlined design that not only gives the deflectors their classy appearance but also reduces wind drag on your car, effectively improving its aerodynamics.
Smoke color finish
With a smoke color finish, this AVS low profile vent visor set will combines elegance and function.
Perfect fit design for your Toyota RAV4
The AVS low profile vent visors are designed to fit your car perfectly. They are cut with high precision, tried and tested on various vehicle models to make sure they are not an inch too short.
No-drill installation
The visors (set #896003) are easy to install. You only need to tape them on with the super adhesive 3m double-sided tape. There are also detailed instructions in the package that should help you do it properly and quickly.
Premium grade materials
The visors are made with high-quality materials that have been tested and passed for durability. They will withstand harsh weather and extreme temperatures to stay strong and maintain their streak for years after purchase.
Limited lifetime warranty
For every purchase of the AVS low profile vent visors, you get a limited lifetime warranty. The manufacturer warrants this product to be free from defects from materials or workmanship.
Made in the USA
The visors are proudly made in the USA with authentic OEM material. The craftsmen are highly skilled and experienced. The technology used is high-end and improves every day to make sure that you get the best in the market.
Sorry, there are no videos available.
The following part numbers are available in this product line:
772020
,
794002
,
794004
,
794005
,
794006
,
794007
,
794008
,
794009
,
794010
,
794011
,
794012
,
794015
,
794016
,
794017
,
794022
,
794025
,
794041
,
796001
,
796002
,
796003
,
892011
,
892015
,
892018
,
892020
,
892023
,
892024
,
894001
,
894002
,
894003
,
894004
,
894005
,
894006
,
894007
,
894008
,
894009
,
894010
,
894011
,
894012
,
894014
,
894015
,
894017
,
894019
,
894020
,
894021
,
894024
,
894025
,
894027
,
894030
,
894033
,
894034
,
894035
,
894037
,
894038
,
894040
,
894041
,
894044
,
894045
,
894047
,
894048
,
894049
,
894050
,
894052
,
894054
,
894055
,
896001
,
896002
,
896003
,
896004
,
896005
,
896007
,
994002
,
994003
,
994004
,
994014
,
994018
,
994022
,
994036
,
994051
,
994057