TruXedo TruXport Roll-Up Tonneau Cover
Find this for your car.
Current Step

Current Step

Current Step
Show Products
Roll-up cover installs in less than 20 minutes
Works in all climates with pre-set tension control
Quick, one person operation
Comes with a 5 year warranty
Choose one of the following options:
Sorry. There are no products matching your selection. Try reseting filters or choose different options
The Lowest Price Perfect Fit Guarantee
Our #1 value is customer service.
We believe in doing right by our customers, no matter what it takes.
In keeping with that, we offer a "perfect fit guarantee" that ensures your satisfaction on 3 levels: low price, free shipping, and perfect fitment.
- Alan Marek, Founder of PartCatalog.com
The Lowest Price Anywhere--Guaranteed
At PartCatalog, we'll beat any competing vendor's price. And we're so confident in our rock-bottom prices that we'll refund the difference if you find a lower price elsewhere.
Free Shipping Both Ways
Our "free shipping both ways" policy means that returns and orders ship free of charge. When you place an order, you pay only the list price and any applicable taxes. We cover the shipping to save you money and ensure timely delivery.
100% Guaranteed to Fit
In the highly unlikely event of a fitment problem, we'll return your purchase at no cost to you. We pay return shipping on all orders, so it won't cost you a penny to send back a defective part.
Learn more about TruXedo products
Roll-up tonneau cover that is easy to use
UV-resistant leather grain vinyl provides a long lasting durability
Pre-set tension control eliminates the need for manual adjustment during extreme weather
Low profile design allows the cover to lay low on the truck bed
Dual latch system makes opening and closing the tonneau easy
Tailgate seal ensures no water or dust gets into the truck bed
Cover rolls up easily to offer full truck bed access
Hassle-free installation with installation guide provided
5 year limited warranty protects the cover from manufacturer's defects
Made in the USA by experts and with cutting edge technology
Top mount soft rolling cover
Truxedo Roll-Up Tonneau Cover gives you a chance at both quality and affordability. Sold at a very decent price, this tonneau boasts high-quality material which is strong enough to protect your cargo and truck bed from road hazards like snow, stone chips, and debris. It also prevents access to the truck bed by unwanted hands.
UV-resistant leather grain vinyl
Even after several years of use, this cover will still look as new and fresh as the day you buy it. This is because it features an exceptionally high-quality leather-grain vinyl, which is both tear and UV resistant
Pre-set tension control
The Truxedo Roll-up Tonneau Cover is made with a pre-set tension control which automatically adjusts in different temperatures, eliminating the need for manual adjustment during weather and temperature changes
Low profile design
The cover is made with a low profile design so that it lays flush with the truck bed rails. It only rises 1.5" above the bed rails, creating a smooth and classy look.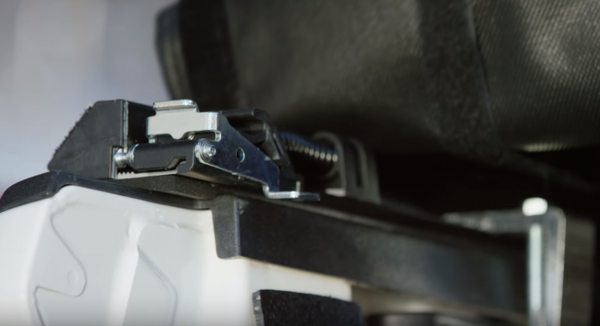 Dual latch system
With the dual latch system located on either side of the truck, opening this tonneau only requires a few seconds. It is also quite effortless and can be done by just one person.
Tailgate seals
The cover has a tight front and tailgate seals which help to maximally keep water and dust out, leaving your truck bed clean and dry every single moment.
Full truck bed access
The TruXedo Roll-Up Tonneau Cover offers quick full truck bed access. Simply unlatch the cover on both sides, roll it up and strap it against the cab using the storage straps provided.
Hassle free installation
Installing the tonneau cover is only a matter of minutes. It does not require any drilling or special tools. It also comes with an installation guide to make the process stress free.
5 year limited warranty
To save you from the cost of repairs and replacements of defective materials, this tonneau comes with a 5 year warranty, which also covers defects in workmanship.
Made in the USA
TruXedo Roll-Up Tonneau Cover is made in the USA with functionality and affordability in mind. It features one of the best quality material and cutting edge technology to ensure you get service equivalent to the value of your money.
Related Articles:
Sorry, there are no videos available.
TruXport®: Five Year Warranty
TruXedo warrants that all new, unused products are free from defects in material and workmanship. This warranty is effective for 5 years if the product is properly installed and used for the purpose intended. It applies to the original buyer only. TruXedo®'s obligation under this warranty is limited to repairing, or at its option, replacing any part that is returned, transportation prepaid, to TruXedo®, Yankton, South Dakota, if the product is, in our judgment, defective. All materials must be accompanied by an RMS (Returned Material Authorization) number requested by the dealer, distributor, or end user and authorized in advance of returning the materials. TruXedo® shall not be liable or responsible to supply or pay labor to replace any part found defective, nor shall it be liable for any damages of any kind or nature to person, product, or property.
There are no warranties for used products or products that have been repaired, altered, modified, subjected to misuse, negligence, accident or ordinary wear and tear.
TruXedo® products are sold without any express warranty except as set forth above.
TruXedo® is not obligated to honor warranty claims if TruXedo® parts are not utilized.
Direct all warranty claims to TruXedo® at 1-877-878-9336 or e-mail.
The following part numbers are available in this product line:
207701, 208801, 209101, 215001, 231001, 231101, 239101, 239601, 239801, 240601, 241101, 241601, 242101, 242601, 243101, 243301, 243601, 244101, 244601, 245701, 245801, 245901, 246601, 246701, 246801, 246901, 247101, 247601, 248101, 248601, 248901, 249801, 250101, 250601, 250801, 250901, 253301, 255801, 256001, 256801, 257001, 258101, 258601, 260801, 260901, 262101, 262301, 263701, 263801, 267101, 268101, 269101, 269601, 270601, 271101, 271601, 271801, 272001, 272201, 272401, 272601, 272801, 273601, 275801, 275901, 276801, 277601, 278101, 278201, 278601, 279601, 280601, 281101, 281601, 283601, 284101, 284901, 285901, 286901, 288601, 288701, 288801, 288901, 290101, 291101, 291601, 292101, 292301, 293101, 297101, 297201, 297301, 297401, 297601, 297701, 298101, 298201, 298301, 298601, 298701
To purchase this product for your vehicle, please select the Year, Make and Model of your vehicle at the top of this page.
Chevrolet (1973-2018)
C10, C10 Pickup, C1500, C20, C20 Pickup, C2500, C30, C30 Pickup, C3500, Colorado, K10, K10 Pickup, K1500, K20, K20 Pickup, K2500, K30, K30 Pickup, K3500, R10, R20, R2500, R30, R3500, S10, Silverado 1500, Silverado 1500 Classic, Silverado 1500 HD, Silverado 1500 HD Classic, Silverado 2500, Silverado 2500 HD, Silverado 2500 HD Classic, Silverado 3500, Silverado 3500 Classic, Silverado 3500 HD, V10, V20, V30, V3500
Dodge (1987-2010)
Dakota, Ram 1500, Ram 2500, Ram 3500
Ford (1973-2018)
F-150, F-150 Heritage, F-250, F-250 HD, F-250 Super Duty, F-350, F-350 Super Duty, Ranger
GMC (1970-2018)
C15, C15/C1500 Pickup, C1500, C25, C25/C2500 Pickup, C2500, C35, C35/C3500 Pickup, C3500, Canyon, K15, K15/K1500 Pickup, K1500, K25, K25/K2500 Pickup, K2500, K35, K35/K3500 Pickup, K3500, R1500, R2500, R3500, S15, Sierra 1500, Sierra 1500 Classic, Sierra 1500 HD, Sierra 1500 HD Classic, Sierra 2500, Sierra 2500 HD, Sierra 2500 HD Classic, Sierra 3500, Sierra 3500 Classic, Sierra 3500 HD, Sonoma, Syclone, V1500, V2500, V3500
Isuzu (1996-2008)
Hombre, i-280, i-290, i-350, i-370
Lincoln (2006-2008)
Mazda (1994-2009)
B2300, B2500, B3000, B4000
Mitsubishi (2006-2007)
Nissan (1986-2018)
D21, Frontier, Pickup, Titan, Titan XD
Ram (2011-2018)
Suzuki (2009-2012)
Toyota (1995-2018)