UnderCover Flex Folding Tonneau Cover
Find this for your car.
Current Step

Current Step

Current Step
Show Products
Hard folding tonneau cover
3 secure riding positions
Flush mounts with truck bed rails
Most water-tight cover on the market
Choose one of the following options:
Sorry. There are no products matching your selection. Try reseting filters or choose different options
The Lowest Price Perfect Fit Guarantee
Our #1 value is customer service.
We believe in doing right by our customers, no matter what it takes.
In keeping with that, we offer a "perfect fit guarantee" that ensures your satisfaction on 3 levels: low price, free shipping, and perfect fitment.
- Alan Marek, Founder of PartCatalog.com
The Lowest Price Anywhere--Guaranteed
At PartCatalog, we'll beat any competing vendor's price. And we're so confident in our rock-bottom prices that we'll refund the difference if you find a lower price elsewhere.
Free Shipping Both Ways
Our "free shipping both ways" policy means that returns and orders ship free of charge. When you place an order, you pay only the list price and any applicable taxes. We cover the shipping to save you money and ensure timely delivery.
100% Guaranteed to Fit
In the highly unlikely event of a fitment problem, we'll return your purchase at no cost to you. We pay return shipping on all orders, so it won't cost you a penny to send back a defective part.
Hard-folding tonneau cover offers full cargo protection
Heavy-duty aluminum panel provides strength and durability
Water-tight seal keeps the truck bed dry
3 secure riding positions offer hauling flexibility
No-drill installation which takes only a few minutes
Ultra-low profile design achieves a sleek look for the truck
Easy and quick truck bed access
Drain tubes carry water out of the truck bed
Lightweight material and low profile increase fuel efficiency
3-year warranty on material and craftsmanship
Made in the USA with the best technology
Hard-folding tonneau cover
This cover combines functionality, convenience, and quality to provide you with the best truck bed protection against harsh weather and the elements. It also offers full cargo protection against unwanted hands.
Heavy-duty aluminum panel
UnderCover Flex Folding Tonneau Cover will serve you for a long while, thanks to the heavy-duty aluminum panel which is UV protected, solid tough and of premium quality.
Water-tight seal
The perimeter of the tonneau cover is fully fit with rubber seals. This is to prevent rain or any moisture from getting into the cargo area; keeping your truck bed always clean and dry.
3 secure riding positions
Depending on what you need and the size of your cargo, you can always choose to have the tonneau cover fully open, 3/4 way open or at full bed access.
No-drill installation
UnderCover has installed a clamp system on the tonneau, which dismisses the need for drilling during installation.
Ultra-low profile design
The ultra-low profile of UnderCover Flex Folding Tonneau Cover allows it to lay flush with the truck bed rails, which gives it a sleek look and saves on fuel.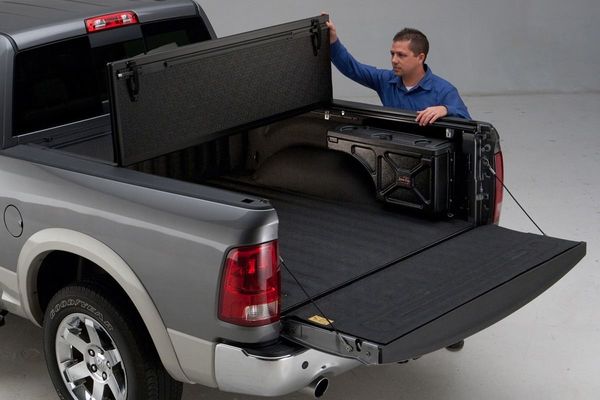 Easy truck bed access
The tonneau opens and closes easily to enable you to access the truck bed. You can also open it partially or fully depending on what you want.
Drain tubes
The cover features drain tubes that carry water out and away from the truck bed to keep your gear area dry and your cargo safe.
Increase fuel efficiency
This cover helps in improving fuel efficiency. Its low profile and lightweight design reduce wind drag, which ultimately reduces fuel usage.
3-year warranty
UnderCover Flex Folding Tonneau Cover comes with a 3-year warranty, protecting it from defects in workmanship and material resulting from manufacturer's error.
Made in the USA
UnderCover is America's number one tonneau cover provider. It applies the best technology and uses the best quality in manufacturing the tonneaus, to ensure you get the most out of what you pay.
Related Articles:
Sorry, there are no videos available.
This product comes with the manufacturer's 3 year warranty.
The following part numbers are available in this product line:
FX11000, FX11001, FX11002, FX11003, FX11005, FX11006, FX11008, FX11009, FX11012, FX11013, FX11018, FX11019, FX11020, FX11021, FX11022, FX11023, FX21000, FX21002, FX21004, FX21007, FX21010, FX21012, FX21019, FX21020, FX21021, FX21022, FX21023, FX31000, FX31001, FX31002, FX31004, FX31006, FX31008, FX31009, FX31010, FX41002, FX41003, FX41007, FX41008, FX41009, FX41010, FX41014, FX41015, FX51003, FX51004, FX51005, FX51006, FX51009, FX51010, FX51011, FX51012, FX51013, FX51016, FX81000
To purchase this product for your vehicle, please select the Year, Make and Model of your vehicle at the top of this page.
Chevrolet (1999-2018)
Colorado, Silverado 1500, Silverado 1500 Classic, Silverado 2500, Silverado 2500 HD, Silverado 3500 HD
Dodge (1995-2010)
Dakota, Ram 1500, Ram 2500, Ram 3500
Ford (1994-2018)
F-150, F-150 Heritage, F-250 Super Duty, F-350 Super Duty, Ranger
GMC (1999-2018)
Canyon, Sierra 1500, Sierra 1500 Classic, Sierra 2500, Sierra 2500 HD, Sierra 3500 HD
Honda (2017-2018)
Lincoln (2006-2008)
Mazda (1994-2009)
B2300, B2500, B3000, B4000
Mitsubishi (2006-2009)
Nissan (2004-2018)
Ram (2011-2018)
Suzuki (2009-2012)
Toyota (2005-2018)