WeatherTech Roll-Up Tonneau Cover
Find this for your car.
Current Step

Current Step

Current Step
Show Products
Soft roll-up tonneau cover
Water-resistant design
Easy to open and close with full truck bed access
Custom-fit, low profile design
Limited lifetime warranty
Made in the USA
Get Easy-to-Install Parts. No Hassle.
Choose one of the following options:
Sorry. There are no products matching your selection. Try reseting filters or choose different options
The Lowest Price Perfect Fit Guarantee
Our #1 value is customer service.
We believe in doing right by our customers, no matter what it takes.
In keeping with that, we offer a "perfect fit guarantee" that ensures your satisfaction on 3 levels: low price, free shipping, and perfect fitment.
- Alan Marek, Founder of PartCatalog.com
The Lowest Price Anywhere--Guaranteed
At PartCatalog, we'll beat any competing vendor's price. And we're so confident in our rock-bottom prices that we'll refund the difference if you find a lower price elsewhere.
Free Shipping Both Ways
Our "free shipping both ways" policy means that returns and orders ship free of charge. When you place an order, you pay only the list price and any applicable taxes. We cover the shipping to save you money and ensure timely delivery.
100% Guaranteed to Fit
In the highly unlikely event of a fitment problem, we'll return your purchase at no cost to you. We pay return shipping on all orders, so it won't cost you a penny to send back a defective part.
A tonneau cover that offers security, ease of use and convenience
Automatically locks for extra security
Water-resistant seal to protect your cargo from water damage
Opens easily by rolling up and rolling it over to close
You can haul large and tall cargo by rolling the cover up
Strong nylon straps to hold the cover when opened
Custom-fit design to fit your exact application perfectly
Low profile design for a sleek and smooth look
Easy clamp-on installation with no drilling
Manufacturer's guarantee of quality and excellent craftsmanship
Made in the USA with OEM grade materials and advanced technology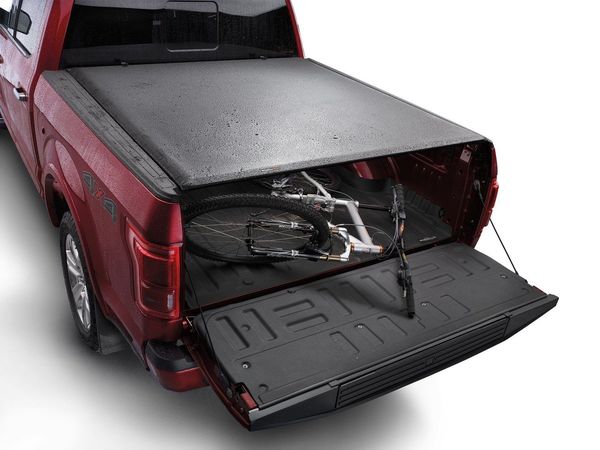 Soft roll-up tonneau cover
The WeatherTech Roll-Up Tonneau Cover is your ultimate solution for cargo protection against weather damage. It is also easy to use and is made with quality materials to last for years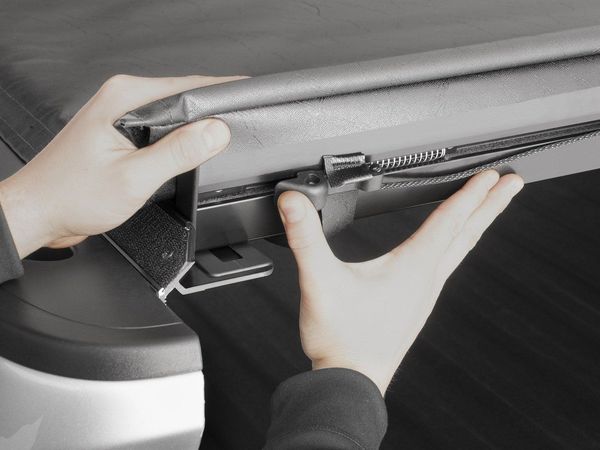 AutoLatch II locking system
The AutoLatch II locking system is automatic. It snaps in place quickly to boost the security of your cargo and protect it from loss, damage, and theft.
Water-resistant design
The cover is lined with water-tight seals on all sides. These put a barrier between the truck bed and the cover to prevent the entry of damaging weather elements such as water and snow.
Easy to open and close
The WeatherTech Roll-Up Tonneau Cover is also easy to operate. You only need to roll it back and tie it down with the traps to open the truck bed and roll it back on to close it. The AutoLatch locks in automatically to secure it in place.
Full truck bed access
When the cover is fully rolled up, you can access 100% of the truck bed. You can haul large and tall cargo that would otherwise not have fit with the cover closed.
Strong nylon straps
To hold the cover in place when open, just tie it down with the nylon straps. They are made strong and tough to last long without breaking or even scratching. They help to prevent the cover from beating against the cab while driving, which preserves its quality and appeal.
Custom-fit design
Your tonneau cover is custom-made to fit your vehicle application. Be sure to match your purchase with your vehicle's exact model, year, or make for that perfect fit.
Low profile design
The WeatherTech Roll-Up Tonneau Cover is designed for a low profile, barely rising over the truck bed. This not only gives it a smooth and sleek contoured look but also improves aerodynamics and increases your gas mileage.
Easy clamp-on installation
It is easy to install with no drilling required. You only need to clamp it on the truck bed rails, and its good to go. The operation is practically effortless and can be done quickly by just one person.
Limited lifetime warranty
PartCatalog is an authorized seller for WeatherTech products, and we make it our duty to make sure that you get the very best of quality and value. We are also here to help if you need any help with your warranty.
Made in the USA
The WeatherTech Roll-Up Tonneau Cover is manufactured in an economy-building industry. It is made by expert craftsmen using high-grade technology to make sure that you get nothing less than the value for your money.
Related Articles:
Sorry, there are no videos available.
This product comes with the manufacturer's limited lifetime warranty.
The following part numbers are available in this product line:
8RC1018, 8RC1026, 8RC1097, 8RC1116, 8RC1136, 8RC1218, 8RC1226, 8RC1265, 8RC1276, 8RC1288, 8RC1308, 8RC1316, 8RC1324, 8RC1336, 8RC1348, 8RC1356, 8RC1365, 8RC1376, 8RC1388, 8RC1396, 8RC1408, 8RC1415, 8RC1426, 8RC2018, 8RC2026, 8RC2118, 8RC2136, 8RC2144, 8RC2157, 8RC2166, 8RC2176, 8RC2188, 8RC2196, 8RC2228, 8RC2245, 8RC2256, 8RC2265, 8RC2286, 8RC2298, 8RC2305, 8RC2315, 8RC2326, 8RC2338, 8RC2345, 8RC2356, 8RC2365, 8RC2386, 8RC2408, 8RC2416, 8RC3126, 8RC3144, 8RC3155, 8RC3166, 8RC3175, 8RC3186, 8RC3197, 8RC3208, 8RC3216, 8RC3225, 8RC3238, 8RC4076, 8RC4108, 8RC4116, 8RC4128, 8RC4136, 8RC4145, 8RC4156, 8RC4165, 8RC4176, 8RC4188, 8RC4195, 8RC4205, 8RC4226, 8RC4235, 8RC4246, 8RC4268, 8RC5086, 8RC5118, 8RC5166, 8RC5176, 8RC5185, 8RC5205, 8RC5216, 8RC5228, 8RC5235, 8RC5246, 8RC5258, 8RC5265, 8RC5276, 8RC6035, 8RC7015, 8RC7025
To purchase this product for your vehicle, please select the Year, Make and Model of your vehicle at the top of this page.
Chevrolet (2007-2018)
Colorado, Silverado 1500, Silverado 2500 HD, Silverado 3500 HD
Dodge (2009-2010)
Ram 1500, Ram 2500, Ram 3500
Ford (2004-2018)
F-150, F-250 Super Duty, F-350 Super Duty
GMC (2007-2018)
Canyon, Sierra 1500, Sierra 2500 HD, Sierra 3500 HD
Honda (2017-2018)
Lincoln (2006-2008)
Nissan (2017-2018)
Ram (2011-2018)
1500, 2500, 3500
Toyota (2000-2018)