UnderCover Elite Smooth Paintable Tonneau Cover
Find this for your car.
Current Step

Current Step

Current Step
Show Products
Smooth Paintable Tonneau Cover
Constructed from ABS composite
Comes unpainted
X-Effect design
Double seal system
BOLT lock technology
LED lighting system
1-Year and Limited lifetime warranty
Choose one of the following options:
Sorry. There are no products matching your selection. Try reseting filters or choose different options
The Lowest Price Perfect Fit Guarantee
Our #1 value is customer service.
We believe in doing right by our customers, no matter what it takes.
In keeping with that, we offer a "perfect fit guarantee" that ensures your satisfaction on 3 levels: low price, free shipping, and perfect fitment.
- Alan Marek, Founder of PartCatalog.com
The Lowest Price Anywhere--Guaranteed
At PartCatalog, we'll beat any competing vendor's price. And we're so confident in our rock-bottom prices that we'll refund the difference if you find a lower price elsewhere.
Free Shipping Both Ways
Our "free shipping both ways" policy means that returns and orders ship free of charge. When you place an order, you pay only the list price and any applicable taxes. We cover the shipping to save you money and ensure timely delivery.
100% Guaranteed to Fit
In the highly unlikely event of a fitment problem, we'll return your purchase at no cost to you. We pay return shipping on all orders, so it won't cost you a penny to send back a defective part.
Keep your cargo safe from the elements and thieves
Tough enough to withstand the elements
Paint your tonneau cover your preferred color
X-Effect design adds the tonneau strength and durability
All the elements are blocked out by the double seal system
You can use your truck's ignition key to unlock and lock the tonneau
LED lighting system provide illumination through the entire truck bed
Guarantee of defects-free performance
Smooth Paintable Tonneau Cover
UnderCover Smooth Paintable Tonneau Cover combines functionality, style, and durability. When installed, this tonneau cover will keep all your cargo safe from the elements like rainwater, road debris, and flying stones. It will also keep unwanted hands off your cargo, thanks to the locking system. Additionally, when closed, the tonneau cover will reduce wind drag, which in turn reduces fuel consumption. The tonneau has a sleek and distinctive design that allows it to lay flush on your truck bed and create an aerodynamic look that will transform your whole vehicle appeal. Lastly, the tonneau has a tough construction that will outlive your vehicle, allowing you to enjoy years of protection.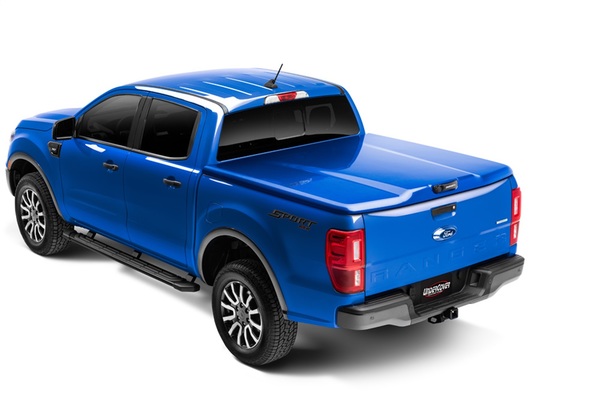 Tough enough to withstand the elements
The tonneau cover is constructed using ABS composite. The material is super sturdy. It contains a UV protectant that shields it from the sun's effects, preventing it from fading. It is also scratch-resistant and will not rust or corrode.
Paint your tonneau cover to your preferred taste
The tonneau cover comes unpainted, to allow you to choose the color of your choice, one that will match well with your factory's finish.
X-Effect design
UnderCover Smooth Paintable Tonneau Cover features the famous X-effect design. This design significantly adds more strength and durability to the cover, increasing its weight capacity to 500 lbs oof evenly distributed weight.
Double seal system
This tonneau cover is 100% weather-resistant. This is thanks to the double seal system, that ensures no single element, dust, debris, or moisture, squeezes itself through the edges into the truck bed.
Use your truck's ignition key to unlock and lock the tonneau
No need to have a separate key for your cover and another one for your truck. The tonneau cover uses a BOLT lock technology, that allows it to use the truck's ignition key, saving you the trouble of having to carry many keys.
LED lighting system
UnderCover Smooth Paintable Tonneau Cover comes with extra features to add to its convenience. It has its own removable LED lighting system, which is meant to provide illumination throughout the entire truck bed, making it easy to access your cargo especially at night.
1-Year and Limited lifetime warranty
The tonneau cover is backed by two warranties. A 1-year warranty on the finish and a limited lifetime warranty on the structure. This is a guarantee of excellent performance with no manufacturing defects.
Related Articles:
Sorry, there are no videos available.
This product comes with the manufacturer's lifetime warranty.
The following part numbers are available in this product line:
UC1118S UC1128S UC1138S UC1148S UC1158S UC1168S UC2138S UC2148S UC2158S UC2168S UC3078S UC3088S UC4118S UC4128S UC4138S UC4148S
To purchase this product for your vehicle, please select the Year, Make and Model of your vehicle at the top of this page.
Chevrolet (2014-2018)
Colorado, Silverado 1500, Silverado 2500 HD
Dodge (2009-2010)
Ford (2009-2018)
GMC (2014-2018)
Canyon, Sierra 1500, Sierra 2500 HD, Sierra 3500 HD
Ram (2011-2018)
1500, 2500, 3500
Toyota (2014-2018)