WeatherTech In-Channel Side Window Deflectors
Find this for your car.
Current Step

Current Step

Current Step
Show Products
Allows fresh air inside your cabin
Installs inside your window application
Available in light or dark smoke
No drill installation
Get Easy-to-Install Parts. No Hassle.
Choose one of the following options:
Sorry. There are no products matching your selection. Try reseting filters or choose different options
The Lowest Price Perfect Fit Guarantee
Our #1 value is customer service.
We believe in doing right by our customers, no matter what it takes.
In keeping with that, we offer a "perfect fit guarantee" that ensures your satisfaction on 3 levels: low price, free shipping, and perfect fitment.
- Alan Marek, Founder of PartCatalog.com
The Lowest Price Anywhere--Guaranteed
At PartCatalog, we'll beat any competing vendor's price. And we're so confident in our rock-bottom prices that we'll refund the difference if you find a lower price elsewhere.
Free Shipping Both Ways
Our "free shipping both ways" policy means that returns and orders ship free of charge. When you place an order, you pay only the list price and any applicable taxes. We cover the shipping to save you money and ensure timely delivery.
100% Guaranteed to Fit
In the highly unlikely event of a fitment problem, we'll return your purchase at no cost to you. We pay return shipping on all orders, so it won't cost you a penny to send back a defective part.
Affordable in-channel window deflectors that let in fresh air and reduce wind noise
Sleek and aerodynamic design for a great look, reduced wind noise and improved aerodynamics
Available in dark or light smoke for you to choose from
Model specific deflectors that are custom made to fit
Easy no drill installation with clear instructions for an effortless DIY project
Made with high-quality material for durability and flexibility
Limited lifetime warranty that guarantees
Proudly made in the USA with authentic material and expert craftsmen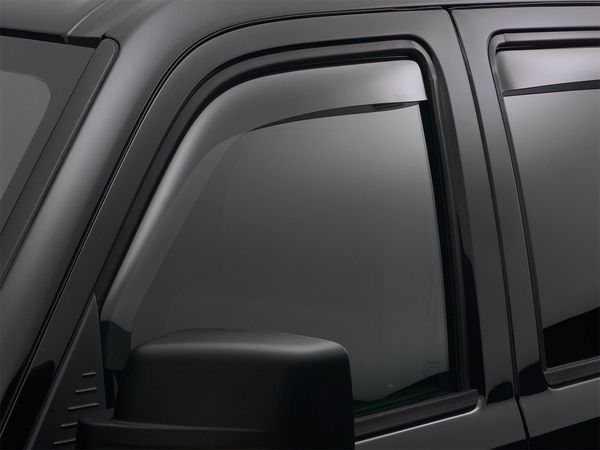 In-channel window deflectors
The WeatherTech in-channel window deflectors are installed inside the window channel. They let in fresh air and keep out the rain and dust. They also are more affordable compared to most window deflectors.
Sleek and aerodynamic design
They have a sleek and streamlined design that helps to reduce wind drag during rides. This improves the aerodynamics and reduces the wind noise when the windows are open.
Available in dark or light smoke
The deflectors are available in both dark and light shades of smoke. You can now choose the one that goes well with your vehicle's style. If you are debating which to choose, we recommend the dark smoke - this is the most popular choice and most common. Dark smoke works on all vehicles and gives a classy, sleek look.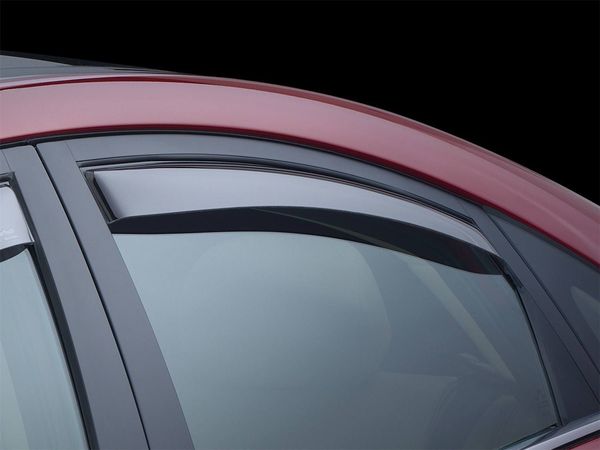 Custom made to fit
The WeatherTech in-channel window deflectors are custom made for your vehicle's specific model. They are cut to precision for that perfect fit.
Easy no drill installation
They are easy to install with no drilling or cutting involved. They also come with detailed installation instructions that are easy to follow for that easy DIY project.
High quality material
The deflectors are made with high-quality OEM-grade material. They are durable, flexible, and strong enough to last long and serve you for years after purchase.
Limited lifetime warranty
The manufacturer provides a limited lifetime warranty on all in-channel window deflectors. This is a guarantee that the window deflectors are free from any defects of quality or materials.
Made in the USA
They are proudly made in the USA with authentic premium grade material. Expert workmen carefully craft the deflectors and process them under advanced technology to make sure that you get the value for your money.
Related Articles:
Video is a representation and may not be the exact model listed
This product comes with the manufacturer's limited lifetime warranty.
The following part numbers are available in this product line:
70785, 70910, 71837, 80024, 80034, 80130, 80140, 80157, 80159, 80162, 80163, 80184, 80248, 80251, 80254, 80284, 80306, 80326, 80337, 80341, 80382, 80422, 80445, 80457, 80464, 80467, 80469, 80501, 80530, 80546, 80554, 80568, 80569, 80577, 80711, 80770, 80787, 80791, 80792, 80793, 80864, 81018, 81019, 81141, 81144, 81168, 81192, 81224, 81250, 81260, 81288, 81314, 81320, 81397, 81437, 81457, 81499, 81500, 81515, 81532, 81544, 81727, 81737, 81741, 81745, 81760, 81788, 81873, 81910, 81934, 82060, 82148, 82152, 82238, 82242, 82288, 82291, 82327, 82340, 82359, 82419, 82447, 82468, 82479, 82486, 82495, 82509, 82521, 82544, 82565, 82755, 82777, 82790, 82909, 83706, 83765, 84367, 84750, 85367, 85450
To purchase this product for your vehicle, please select the Year, Make and Model of your vehicle at the top of this page.
Acura (1996-2017)
CL, ILX, MDX, RL, RSX, SLX, TL, TLX, TSX
Audi (1988-2017)
100, 100 Quattro, 80, 80 Quattro, 90, 90 Quattro, A3, A3 Quattro, A4, A4 allroad, A4 Quattro, A6, A6 Quattro, A8, A8 Quattro, allroad, Allroad Quattro, Q5, Q7, RS4, RS6, S3, S4, S6, S8, SQ5
BMW (1982-2017)
318i, 318ti, 320i, 320i xDrive, 323Ci, 323i, 323iC, 325i, 325is, 325iX, 325xi, 328d, 328d xDrive, 328i, 328i GT xDrive, 328i xDrive, 328xi, 330e, 330i, 330i xDrive, 330xi, 335d, 335i, 335i GT xDrive, 335i xDrive, 335is, 335xi, 340i, 340i xDrive, 524td, 525i, 525xi, 528e, 528i, 528i xDrive, 528xi, 530i, 530xi, 533i, 535d, 535d xDrive, 535i, 535i GT, 535i GT xDrive, 535i xDrive, 535is, 535xi, 540i, 545i, 550i, 550i GT, 550i GT xDrive, 550i xDrive, 735i, 735iL, 740i, 740iL, 740Ld xDrive, 740Li, 740Li xDrive, 745i, 745Li, 750i, 750i xDrive, 750iL, 750Li, 750Li xDrive, 760i, 760Li, M3, M4, M5, X1, X3, X4, X5, X6
Buick (1991-2017)
Century, Commercial Chassis, Enclave, Encore, LaCrosse, LeSabre, Lucerne, Park Avenue, Rainier, Regal, Rendezvous, Terraza
Cadillac (1992-2017)
ATS, CTS, DeVille, DTS, Escalade, Escalade ESV, Escalade EXT, Seville, SRX, STS, XTS
Chevrolet (1982-2018)
Astro, Avalanche, Avalanche 1500, Avalanche 2500, Aveo, Blazer, Blazer K5, C1500 Pickup, C1500 Suburban, C2500 Pickup, C2500 Suburban, C3500 Pickup, Caprice, Captiva Sport, Cavalier, City Express, Classic, Cobalt, Colorado, Cruze, Cruze Limited, Equinox, Express 1500, Express 2500, Express 3500, Express 4500, HHR, Impala, Impala Limited, K1500 Pickup, K1500 Suburban, K2500 Pickup, K2500 Suburban, K3500 Pickup, Lumina, Lumina APV, Malibu, Malibu Limited, Monte Carlo, Prizm, R30 Pickup, R3500 Pickup, S10 Blazer, S10 Blazer (Canadian), S10 Pickup, Silverado 1500, Silverado 1500 Classic, Silverado 1500 HD, Silverado 1500 HD Classic, Silverado 2500, Silverado 2500 HD, Silverado 2500 HD Classic, Silverado 3500, Silverado 3500 Classic, Silverado 3500 HD, Sonic, Spark, Spark EV, Suburban 1500, Suburban 2500, T6500, T7500, Tahoe, Tracker, Trailblazer, Trailblazer EXT, Traverse, Trax, Uplander, V30 Pickup, V3500 Pickup, Venture, Volt
Chrysler (1991-2017)
300, 300M, Aspen, Cirrus, Concorde, LHS, Pacifica, PT Cruiser, Sebring, Town & Country, Voyager
Daewoo (1999-2002)
Lanos, Leganza, Nubira
Dodge (1976-2017)
B100 Van, B150 Van, B1500 Van, B200 Van, B250 Van, B2500 Van, B300 Van, B350 Van, B3500 Van, Caliber, Caravan, Charger, Dakota, Dart, Durango, Grand Caravan, Intrepid, Journey, Magnum, Neon, Nitro, Ram 1500, Ram 1500 Van, Ram 2500, Ram 2500 Van, Ram 3500, Ram 3500 Van, Sprinter 2500, Sprinter 3500, Stratus
Fiat (2012-2017)
500
Ford (1988-2017)
Aerostar, Bronco, Contour, Crown Victoria, E-150 Econoline, E-150 Econoline Club Wagon, E-250 Econoline, E-350 Econoline, E-350 Econoline Club Wagon, E-350 Super Duty, Edge, Escape, Escort, Excursion, Expedition, Explorer, Explorer Sport Trac, F-150, F-150 Heritage, F-250, F-250 HD, F-250 Super Duty, F-350, F-350 Super Duty, F-450 Super Duty, F-550 Super Duty, Fiesta, Five Hundred, Flex, Focus, Freestar, Freestyle, Fusion, Ranger, Taurus, Taurus X, Transit Connect, Windstar
Geo (1989-1997)
Tracker
GMC (1982-2017)
Acadia, Acadia Limited, C1500 Pickup, C1500 Suburban, C2500 Pickup, C2500 Suburban, C3500 Pickup, Canyon, Envoy, Envoy XL, Envoy XUV, G35/G3500 Van, K1500, K1500 Pickup, K1500 Suburban, K2500 Pickup, K2500 Suburban, K2500 Suburban (Canadian), K3500 Pickup, S15 Jimmy, S15 Pickup, Safari, Savana 1500, Savana 2500, Savana 3500, Savana 4500, Sierra 1500, Sierra 1500 Classic, Sierra 1500 HD, Sierra 1500 HD Classic, Sierra 2500, Sierra 2500 HD, Sierra 2500 HD Classic, Sierra 3500, Sierra 3500 Classic, Sierra 3500 HD, Sonoma, Syclone, Terrain, Tracker, Typhoon, Yukon, Yukon XL, Yukon XL 1500, Yukon XL 2500
Honda (1988-2017)
Accord, Accord Crosstour, Civic, CR-V, Crosstour, Element, Fit, Insight, Odyssey, Passport, Pilot, Prelude, Ridgeline
Hummer (2003-2010)
H2, H3
Hyundai (1992-2017)
Accent, Azera, Elantra, Elantra GT, Entourage, Genesis, Santa Fe, Sonata, Tucson, Veloster, Veracruz
Infiniti (1990-2017)
EX35, EX37, FX35, FX37, FX45, FX50, G20, G35, G37, I30, I35, J30, M35, M35h, M37, M45, M56, Q45, Q70, Q70L, QX4, QX56, QX70
Isuzu (1991-2008)
Amigo, Ascender, Axiom, Hombre, i-280, i-290, i-350, i-370, Oasis, Rodeo, Rodeo Sport, Trooper, VehiCROSS
Jaguar (2000-2008)
S-Type, X-Type
Jeep (1984-2017)
Cherokee (KL), Cherokee (XJ), Commander, Compass, Grand Cherokee (WJ), Grand Cherokee (WK), Grand Cherokee (WK2), Grand Cherokee (ZJ), Liberty, Patriot, Renegade, Wrangler (JK), Wrangler (LJ), Wrangler (TJ)
Kia (1995-2016)
Amanti, Borrego, Forte, Optima, Rio, Rondo, Sedona, Sephia, Sorento, Soul, Spectra, Spectra5, Sportage
Land Rover (1993-2017)
Defender 110, Defender 90, Discovery, Discovery Sport, Freelander, LR2, LR3, Range Rover, Range Rover Evoque, Range Rover Sport
Lexus (1990-2017)
CT200h, ES300, ES300h, ES330, ES350, GS F, GS200t, GS300, GS350, GS400, GS430, GS450h, GS460, GX460, GX470, IS F, IS Turbo, IS200t, IS250, IS300, IS350, LS400, LS430, LS460, LS600h, LX450, LX470, LX570, RX300, RX330, RX350, RX400h, RX450h
Lincoln (1994-2017)
Aviator, Blackwood, Continental, LS, Mark LT, Mark VIII, MKS, MKX, MKZ, Navigator, Town Car, Zephyr
Mazda (1989-2017)
3, 6, 626, B2300, B2500, B3000, B4000, CX-3, CX-5, Millenia, MPV, Navajo, Protege, Protege5, RX-8, Tribute
Mercedes-Benz (1972-2017)
190E, 240D, 280E, 280S, 280SE, 280SEL, 300D, 300E, 300SD, 300SE, 300SEL, 300TD, 300TE, 350SD, 350SDL, 400E, 420SEL, 450SE, 450SEL, 450SL, 450SLC, 500E, 560SEL, C220, C230, C240, C280, C32 AMG, C320, C350, C36 AMG, C43 AMG, C55 AMG, C63 AMG, E300, E320, E350, E420, E430, E500, E55 AMG, E550, G500, G55 AMG, G550, G63 AMG, G65 AMG, GL320, GL350, GL450, GL550, GLK250, GLK350, ML320, ML350, ML430, ML450, ML500, ML55 AMG, ML550, ML63 AMG, R320, R350, R500, R63 AMG, S350, S400, S430, S500, S55 AMG, S550, S600, S63 AMG, S65 AMG, Sprinter 2500, Sprinter 3500
Mercury (1988-2011)
Grand Marquis, Marauder, Mariner, Milan, Montego, Monterey, Mountaineer, Mystique, Sable, Tracer, Villager
Mini (2011-2016)
Cooper Countryman
Mitsubishi (1992-2017)
Endeavor, Galant, Lancer, Mirage, Mirage G4, Montero, Montero Sport, Outlander, Outlander Sport, Raider, RVR
Nissan (1986-2017)
200SX, 720 Pickup, Altima, Armada, D21 Pickup (Hard Body), Frontier, Juke, Maxima, Murano, NV200, Pathfinder, Quest, Rogue, Sentra, Titan, Titan XD, Versa, Versa Note, X-Trail, Xterra
Oldsmobile (1990-2004)
Achieva, Alero, Bravada, Custom Cruiser, Cutlass, Intrigue, LSS, Silhouette
Plymouth (1991-2000)
Breeze, Grand Voyager, Voyager
Pontiac (1990-2010)
Aztek, Bonneville, G5, G6, Grand Am, Grand Prix, Montana, Sunfire, Torrent, Trans Sport, Vibe
Porsche (2003-2016)
Cayenne
Ram (2011-2017)
1500, 2500, 3500, C/V, Dakota, ProMaster 1500, ProMaster 2500, ProMaster 3500
Saab (1981-2011)
9-3, 9-5, 9-7x, 900, 9000
Saturn (1991-2010)
Aura, Ion, L Series, L100, L200, L300, LS, LS1, LS2, LW1, LW2, LW200, LW300, Outlook, Relay, SC, SC1, SC2, SL, SL1, SL2, SW1, SW2, Vue
Scion (2004-2016)
iQ, tC, xA, xB, xD
Subaru (2006-2017)
B9 Tribeca, Crosstrek, Forester, Impreza, Legacy, Outback, Tribeca, WRX, WRX STI, XV Crosstrek
Suzuki (1989-2013)
Aerio, Equator, Esteem, Forenza, Grand Vitara, Sidekick, SX4, Verona, Vitara, XL-7
Toyota (1989-2017)
4Runner, Avalon, Camry, Corolla, Echo, FJ Cruiser, Highlander, Land Cruiser, Matrix, Pickup, Prado, Previa, Prius, Prius C, Prius Plug-In, Prius V, RAV4, Sequoia, Sienna, T100, T100 Pickup, Tacoma, Tundra, Venza, Yaris
Volkswagen (1980-2017)
Beetle, Corrado, EuroVan, Golf, Golf Alltrack, Golf R, Golf SportWagen, GTI, Jetta, Passat, R32, Rabbit, Routan, Tiguan, Touareg, Vanagon
Volvo (1985-2017)
740, 760, 850, 940, 960, C30, S40, S60, S60 Cross Country, S70, S80, S90, V40, V50, V60, V60 Cross Country, V70, XC60, XC70, XC90
Reviews From Verified Customers
Nice
fits perfectly, maximally satisfied
2021 lx570
Great product!!
%100000 recommend! Better then expected???
Awesome
Perfect fit for my 2011 Honda CR-V
Easy to put on, durable and a quick delivery.
2-3 day shipping my ass!
Still haven't received the product. Placed my order on the 15th, it's currently the 30th. Will never order from this site again!!

Weathertech window deflectors
Well made product. Perfect fit
Yukon Denali window deflector
I love it. Just fit in perfectly.
Works fine looks good
It looks fine the insulation was okay but stuff broke on the front windows inside my car door. So I have a bunch of plastic down inside my door now which could get into the motor.
Window vents
Excellent fit, item as described
Tks
Weather tech window vent
Very nice got for my wife's Denali wish I would've got for my truck