TrueEdge Sport Style Fender Flares - Available Painted
Find this for your car.
Current Step

Current Step

Current Step
Show Products
Closest to OE flare styling
Installation hardware included
Drilling required for some applications
Matte black or pre-painted
Get Easy-to-Install Parts. No Hassle.
Choose one of the following options:
Sorry. There are no products matching your selection. Try reseting filters or choose different options
The Lowest Price Perfect Fit Guarantee
Our #1 value is customer service.
We believe in doing right by our customers, no matter what it takes.
In keeping with that, we offer a "perfect fit guarantee" that ensures your satisfaction on 3 levels: low price, free shipping, and perfect fitment.
- Alan Marek, Founder of PartCatalog.com
The Lowest Price Anywhere--Guaranteed
At PartCatalog, we'll beat any competing vendor's price. And we're so confident in our rock-bottom prices that we'll refund the difference if you find a lower price elsewhere.
Free Shipping Both Ways
Our "free shipping both ways" policy means that returns and orders ship free of charge. When you place an order, you pay only the list price and any applicable taxes. We cover the shipping to save you money and ensure timely delivery.
100% Guaranteed to Fit
In the highly unlikely event of a fitment problem, we'll return your purchase at no cost to you. We pay return shipping on all orders, so it won't cost you a penny to send back a defective part.
Sport style fender flares that give your truck a sporty and bold look
Pre-painted any factory color for easy customization
Sufficient coverage and protection for oversized tires
Made with OE quality and style to look great
Custom made to fit your truck's fenders and body lines
Easy installation with minimal drilling (for certain applications) and a detailed instruction sheet
Protection from chalking and fading due to UV rays
Smooth black standard factory-like finish for as-is installation
No need for extra purchases
Limited lifetime warranty against faulty craftsmanship and poor grade materials
Sport style fender flares
The TrueEdge sport fender flares are made to look great on your truck. They give it a sporty and bold look that will set you apart on the road. They are also durable and tough enough to last years and add value to your truck.
Available pre-painted
You can also order your flares pre-painted any factory color. We will paint & color match them for you and make it easy for you to customize them to your truck's color and style.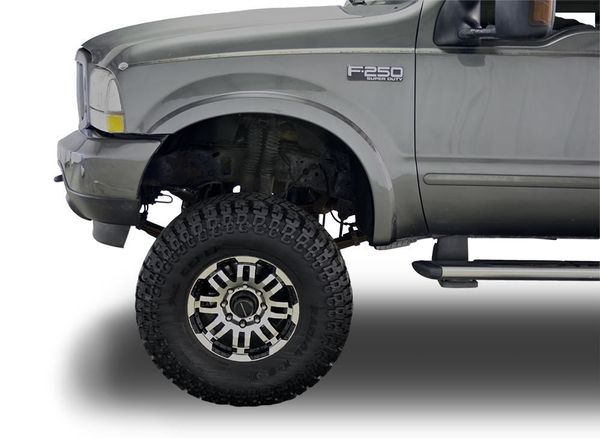 Sufficient coverage for oversized tires
They offer great coverage to your truck's oversized tires. They hide rust spots well and will protect your wheels and fenders against damages that can be caused by road debris and weather elements.
OE quality and style fender flares
Made with the same styling as factory fender flares, these will make your truck look like it just rolled off the showroom floor. They will look great on your truck and are very easy to customize, primarily because of the smooth standard black finish that can easily be repainted and color matched.
Custom made to fit your truck
The TrueEdge sports fender flares are custom made to fit your truck model like a glove. They have been tried and tested to ensure that they are a perfect fit for each truck model.
Easy installation with minimal drilling
You can install the fender flares easily and quickly using the detailed instruction sheet that is included with the purchase. They mount easily with minimum drilling for some truck models.
Protection from UV rays
The flares are protected against UV damage. They are guaranteed to serve you for years and add value to your vehicle without fading, chalking, and tarnishing.
As-is installation
You can install the TrueEdge fender flares directly after purchase. The smooth standard black finish is designed to look great with any truck model, color or style without any painting.
Includes all installation hardware
The purchase includes all the items you will need to install the fender flares, including stainless steel bolts and screws. You don't need to make any additional purchases.
Limited lifetime warranty
The manufacturer offers you a limited lifetime warranty on the flares for every purchase. You are protected defects in material and workmanship. Excludes normal wear & tear.
Related Articles:
Sorry, there are no videos available.
LIFETIME WARRANTY ON MATERIALS
TrueEdge Fender Flares carry a lifetime warranty for the materials and workmanship of the core product.
LIMITED WARRANTY ON PAINT FINISH
Painted flares carry a 3 year/36,000 mile warranty on the paint finish.
To purchase this product for your vehicle, please select the Year, Make and Model of your vehicle at the top of this page.
Chevrolet (1988-2013)
Avalanche 1500, Avalanche 2500, Blazer, C1500, C1500 Suburban, C2500, C2500 Suburban, C3500, K1500, K1500 Suburban, K2500, K2500 Suburban, K3500, Silverado 1500, Silverado 1500 Classic, Silverado 1500 HD, Silverado 1500 HD Classic, Silverado 2500, Silverado 2500 HD, Silverado 2500 HD Classic, Silverado 3500, Silverado 3500 Classic, Silverado 3500 HD, Suburban, Suburban 1500, Suburban 2500, Tahoe
Dodge (2002-2010)
Ram 1500, Ram 2500, Ram 3500
Ford (1999-2014)
F-150, F-250, F-250 Super Duty, F-350, F-350 Super Duty
GMC (1988-2013)
C1500, C2500, C3500, Jimmy, K1500, K2500, K3500, Sierra 1500, Sierra 1500 Classic, Sierra 1500 HD, Sierra 1500 HD Classic, Sierra 2500, Sierra 2500 HD, Sierra 2500 HD Classic, Sierra 3500, Sierra 3500 Classic, Yukon, Yukon XL 1500, Yukon XL 2500
Lincoln (2006-2008)
Ram (2010-2017)
1500, 2500, 3500
Reviews From Verified Customers
Nice
Nice fit good color match perfectly
Flare came in damaged box!
They did not fit with hardware sent. 3m tape provided had to be replaced because it would not adhere to flare. I paid to have them painted to match my truck. Exact match, dull finish! The only reason I gave this product 3 stars is only because I like the way they look on the truck. Would I recommend this product, maybe. Would I refer to pay for paint, NO! After purchase, it took almost a month to receive. I'm just glad I finally got them. They really dropped the ball on this sale.
09-14 F-150 TrueEdge Sport Flares
Would not recommend. Would not buy again. Paint was nice, that's about the only plus. Front driver flare was so warped it doesn't want to go on straight. Rear driver flare doesn't line up even close with the front bottom bolt hole. The front two flares should have 2 nuts and washers in a specific white insert, one of them came with the 2, the other had nothing. No other hardware, install template, or instructions. A lot of money for something that isn't worth it.

Perfect fit
Very nice look. Painted to match perfectly. Thank you.
Great Color, Below Average Finish
I recently purchased fender flares for my 2005 Dodge Ram Truck. I would like to state the color was perfect. (For that reason alone, I gave 4 stars). The finish wasn't the best. The paint has ripples throughout. Installation definitely took longer than expected.
2012 Silverado factory style flares
Fender flare fit very well. 2 holes on the front were off but it could have been off on my truck and not the flares. Had them painted to match. Black paint matched perfectly.

Subtle But Tough
They fit just fine, but we had them painted body color (white) to match the truck. I was a little disappointed I couldn't buy them already painted, as we had to buy too much paint just for these fender flares.
Fender Flares
Paint looks good
They fit terrible
Didn't receive any mounting hardware

True Edge Fender Flares
They fit perfect
Will purchase more from your Co.
Wouldn't recommend to anyone !!!!
Fitment is terrible !!!! Paint finish is terrible !!!! Over $500 for these things and the pre drilled holes are in the middle of no where they don't even land on the fender well lip and the paint looks like someone painted them in the parking lot. Buyer beware !!! You have been warned !