In recent years, more and more people have been gravitating towards personalized goods.
We've seen it in pens, gifts, clothes, phones, and even playlists. Everyone craves something they can feel enthused by and feel connected to.
In response to this mass shift in consumer preferences and product trends, more brands are abandoning their run-of-the-mill approaches and starting to think custom.
Automotive brands haven't lagged behind in the customization race. Major vehicle floor mat brands have found a way to splash more personal touch to their floor mats. From logos, initials, slogans, and names, to premium edge binding.
Unfortunately, most floor mat brands do not offer vehicle-specific logos, and you may have to sift through tons of brands to find the ones that do offer them.
The brand, however, isn't the only factor in finding a quality floor mat with a Ford logo.
We will take you through all you need to consider in order to land your yearned-for Ford logo mat.
Step 1 — Go for Licensed and Trusted Brands
Not every brand embeds a Ford logo on their mats. Most prefer their mats solely bearing their own brand names.
Think about it, who wouldn't want to show off and give more authority to their own brand?
Licensing is also the reason why finding your Ford logo floor mat may get harder than you think. Licencing is key and it's imperative that you choose a brand with Ford licensing to stand a chance of getting an authentic Ford logo.
Having a Ford license, means that the company agrees to stringent quality checks, including high clarity and exact colors.
Luckily, there are very few brands that are forward-looking and strive to cut off their cookie-cutter approaches while aiming to understand their customer's individual needs.
Some of these brands that have a provision for the Ford logo include Lloyd mats, Ford Mats, Plasticolor, and Auto Custom Carpets Inc.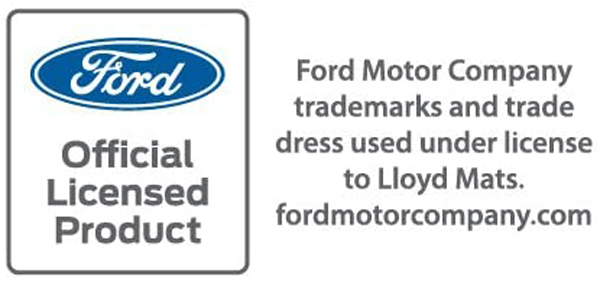 Lloyd Mats is one of the most popular and trusted manufacturers of floor mats.
"5,000,000+. That's the number of unique floor mat combinations that can be made with Lloyd."
PartCatalog
Lloyd Mats have over 1,000 officially registered automotive logos on their floor mats.
Our recommended mats with a Ford logo include:
Step 2 — Consider Mat Material
Can't wait to flaunt your new Ford logo floor mat?
Well, you may want to spend some time on material and surface finish selection. The material will determine if your Ford logo stands out or if it's even conspicuous at all.
That's not all.
A sturdy, durable material signifies a strongly and tightly embedded logo that won't peel off or get fazed over time.
Material can be carpet or rubber. Unfortunately, most rubber floor mats from major brands use the manufacturer's logo.
However, new carpet mats have numerous logo options. Plus, logos just look cooler on carpet floor mats. 
Lloyd, for instance, has five carpet lines that all have a Ford logo provision. They are made from premium, high-density continuous filament nylon or polypropylene yarn. Lloyd carpet material can further be described as a loop or cut pile material. Cut pile carpets feature short trimmed vertical threads while loop features non-trimmed continuous threads.
Surface finish varies from mat to mat. One example is the Velour finish of Lloyd Velourtex Floor Mat.
Step 3 — Nothing Shouts Louder Than Color
Whether it's for positive energy, love, or passion, we have the tendency to be attached to and identify with colors. Different colors carry different meanings for everyone.
The mat color makes your logo stick out and also gives a nice touch to your interior.
As you select your Ford Logo mat, don't hesitate to go for your ideal color.
Different brands offer different color options. Lloyd Velourtrex, for instance, offers 12 mat colors to blend perfectly with your interior. These include black, ebony, smoke, grey, light shale, light oak, tan, dark taupe, dark brown, red, burgundy, and dark blue.
Step 4 — Explore Various Ford Logotypes
Not just any Ford logo will look cool on your mat, especially having chosen your favorite color and material. You'll need a logo that agrees perfectly with them.
The good thing is, you can get the logo design that pleases you on Lloyd Mats. These include:
Ford Oval
Powered by Ford
Ford power stroke diesel
F-150, F-250, F-350 lettering
F-150 Super Duty, F-250 Super Duty, F-350 Super Duty lettering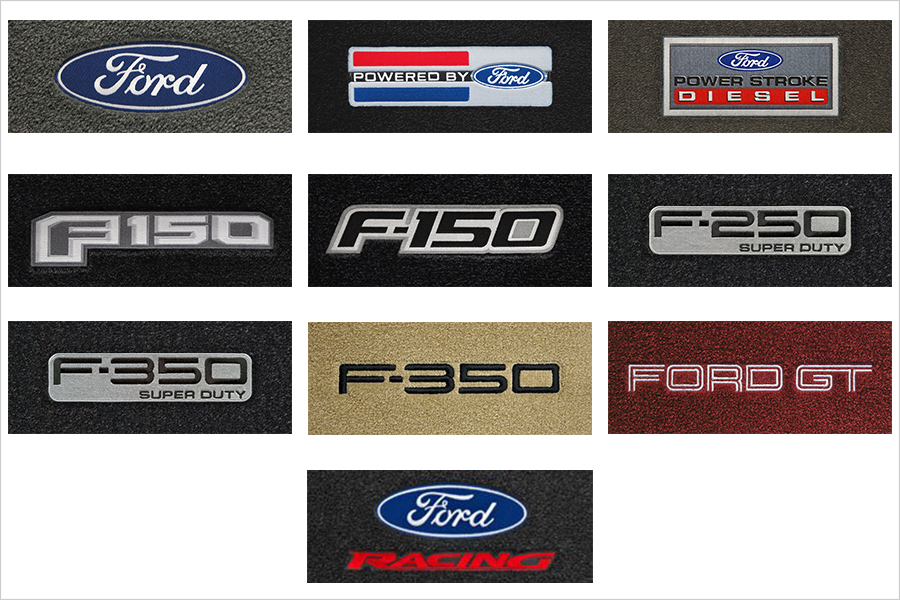 As you can see, there's plenty of ways you can customize your Ford logo.
Remember to consider logo thread color and font. You wouldn't want a screaming logo color that'll make your car's interior look weird.
The above designs aren't exhaustive. Reach out to an experienced and authorized seller to discuss your logo preferences.
Step 5 — Further Personalization Options
Personal touch doesn't have to stop at logos. Perhaps you need something that makes you feel more "you". 
Lloyd mats are at the top of the game with extra customization. They let you add other custom embroideries to complement your logo and boost the appearance of your mat. This includes premium binding or edging.
Lloyd Mats embroideries' heavy-duty stitching process enables the precise design of complex and detailed embroideries. The embroideries are tightly heat-bonded for durability and an awesome finish. You can choose from a wide range of colors and fonts for text embroideries.
Step 6 — Buy From an Experienced and Authorized Seller
Now that you've carefully considered all the factors, maybe it's time to reach out and specify how you want your Ford logo mat.
We're authorized sellers of nearly all major mat brands. We've been helping customers with automotive needs and concerns for over 10 years. You can trust us to understand your exact Ford logo mat requirements.
Get your hands on our great Lloyd mats that enable you to have a Ford logo or custom embroidery added.
Lloyd Velourtex Carpet Floor Mats

These are excellent mats that boast a smooth, silky texture. Cut pile material is perhaps their most impressive feature. It's constructed with precisely knitted continuous filament yarn for ultimate strength.

They offer 1,000 officially registered automotive optional logos for most major car manufacturers. They can be a perfect replacement for factory mats.

Lloyd Classic Loop Carpet Floor Mats.

These are low-cost but highly durable mats that are resistant to stain, soil, or fade. They are made of wear-resistant material. They offer options for 1,000 automotive logos and premium binding.

Lloyd Luxe Carpet Floor Mats

These are heavy-duty, plush, luxurious carpet mats. For an alluring finish, they have hand beveling around the edge and a logo provision. Continuous cloth edge preserves mat quality.

Anti-crush, twisted, and two-ply fabrication offers additional strength. They're soil and stain-resistant. There are options for an additional leather badge.
Lloyd Ultimat Carpet Floor Mats

These are thick, tough, durable, and the best-selling logo mats with 50+ color varieties. They are precision-cut for a perfect fit. No mat unraveling due to the presence of a continuous cloth edge. They resist crushing due to 2-ply yarn fabrication. They have premium binding and custom embroidery options.

Lloyd Berber Carpet Floor Mat.

This multi-tonal carpeting is heavy-duty to protect your factory mats. They feature a continuous clothed edge to prevent crushing. Logo and custom embroidery can be added. The mat is cut to precision for a perfect fit.
Let our website guide you to create an easy, safe, and fast order.
Our customers are saying:
"The product looks great. Seems to be of good quality. The logo looks very original. Love it."
Orlando C
Here's a breakdown of our Lloyd mats:
Comparison of Lloyd Carpet Lines – Line Versus Line
| | | | | | |
| --- | --- | --- | --- | --- | --- |
| | Luxe | Ultimat | Velourtex | Berber | Classic Loop |
| Price | $$$$$ | $$$ | $$ | $$$$ | $$ |
| Carpet Type | Cutpile (Very plush) | Cutpile (Normal) | Cutpile (Economical) | Berber (Industrial-Like) | Looped (Industrial-Like) |
| Carpet Yarn Type | Cont. Filament Nylon | Cont. Filament Nylon | Cont. Filament Nylon | 6-Ply Nylon | Polypropylene |
| Carpet Face | 2 Ply Cut Pile | 2 Ply Cut Pile | Cut Pile | Loop | Loop |
| Carpet Pile Height | .5″ | .3″ | .3″ | .2″ | .2″ |
| Carpet Face Weight | 48 oz/sq. yd | 32 oz/sq. yd | 20 oz/sq. yd | 32 oz/sq. yd | 20 oz/sq. yd |
| Mat Total Weight | 108 oz/sq. yd | 75 oz/sq. yd | 63 oz/sq. yd | 75 oz/sq. yd | 63 oz/sq. yd |
| # Colors | 11 | 50 | 10 | 9 | 8 |
| Mat Thickness | 12/16″ | 9/16″ | 9/16″ | 7/16″ | 4/16″ |
| Final Backing | TractionBac Rubber | TractionBac Rubber | TractionBac Rubber | TractionBac Rubber | TractionBac Rubber |
| Logos | Yes | Yes | Yes | Yes | Yes |
| Embroidery | Leather Patch | Yes | Yes | Yes | Yes |
| Premium Binding | No | Yes | Yes | No | No |
| Anchoring Device | Yes | Yes | Yes | Yes | Yes |
| Warranty | Lifetime | 5 Years | 3 Years | 5 Years | 2 Ye |
FAQs
Can I Get a Logo for My Ford Mustang?
Yes. Our Lloyd Mats have a Mustang logo option. You can select your ideal color for the pony emblem and the 'Mustang' wording. For instance, Pony Beige & Word Silver or Pony Silver & Mustang Silver. You can also have the pony emblem alone or just the "Mustang" lettering. Exact options will depend on the year of your Mustang.
Will the Ford Logo Stay Intact and Attractive for Long?
Yes. For our Lloyd Mats, the application process of embroidered designs or logos fosters durability and boosts the finished appearance of the logo.
This is because the embroidery is heat-bonded and recessed into the mat material using specially designed heat presses. This process enables the precise design of complex and detailed embroideries. The color of the logo is also durable.